Jaguars Top Fantasy Players
These are the top fantasy football players of the Jacksonville Jaguars as ranked by Average Draft Position (ADP) in PPR-format mock drafts.
Data as of March 3, 2021.
James Robinson
James Robinson's current ADP is 2.05, which is the 5th pick of the 2nd round, and 17th selection overall.
D.J. Chark
D.J. Chark's current ADP is 6.07, which is the 7th pick of the 6th round, and 67th selection overall.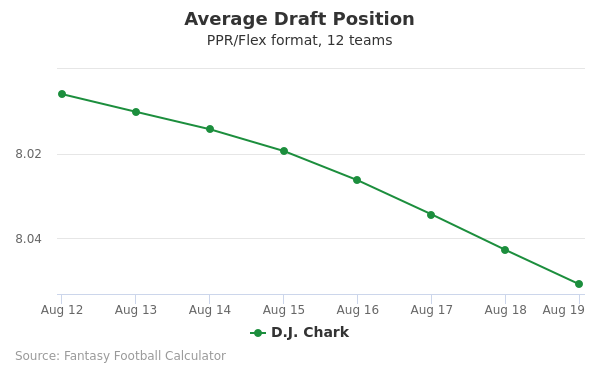 Laviska Shenault Jr.
Laviska Shenault Jr.'s current ADP is 10.09, which is the 9th pick of the 10th round, and 117th selection overall.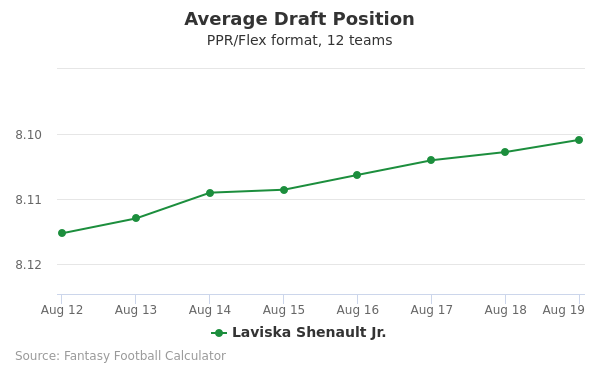 Gardner Minshew
Gardner Minshew's current ADP is 14.07, which is the 7th pick of the 14th round, and 162nd selection overall.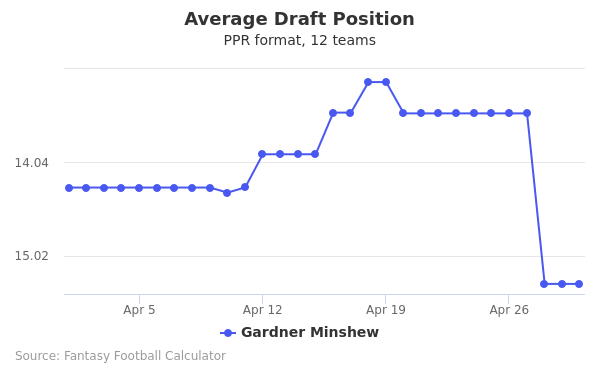 Jacksonville Jaguars 2020 Schedule
| Week | Home/Away | Opponent |
| --- | --- | --- |
| 1 | Home | Indianapolis Colts |
| 2 | Away | Tennessee Titans |
| 3 | Home | Miami Dolphins |
| 4 | Away | Cincinnati Bengals |
| 5 | Away | Houston Texans |
| 6 | Home | Detroit Lions |
| 8 | Away | Los Angeles Chargers |
| 9 | Home | Houston Texans |
| 10 | Away | Green Bay Packers |
| 11 | Home | Pittsburgh Steelers |
| 12 | Home | Cleveland Browns |
| 13 | Away | Minnesota Vikings |
| 14 | Home | Tennessee Titans |
| 15 | Away | Baltimore Ravens |
| 16 | Home | Chicago Bears |
| 17 | Away | Indianapolis Colts |
| 7 | Away | Los Angeles Chargers |
Jacksonville Jaguars News
Marcedes Lewis, Rewarded in red zone
Lewis caught 10 passes for 107 yards and three touchdowns over 15 games in 2020.
Analysis: The veteran tight end was rewarded for his blocking-oriented role with three trips to the end zone, but he spent most of the campaign keeping defenders off his quarterback and fellow skill players. Lewis will turn 37 in May, but according to Andy Herman of the Pack-A-Day Podcast, he intends to keep playing and wants to do so for the Packers, so he could reprise a similar role for the team in 2021.
February 10, 2021 2:58 PM EST
---
Jaydon Mickens, Three kickoff returns in SB win
Mickens returned three kickoffs for 75 yards during the Buccaneers' 31-9 win over the Chiefs in Super Bowl LV on Sunday.
Analysis: Mickens filled his usual role on special teams during the championship win while not logging any targets from scrimmage. The four-year veteran established a new career high this season with seven receptions, which netted a modest 58 yards. However, Mickens was largely an afterthought on offense for most of the season, unsurprising given the Buccaneers' wealth of talent at receiver. Mickens played the 2020 season on a one-year deal, and while he averaged a solid 24.3 yards per kickoff return and 6.2 yards per punt return, it remains to be seen if the Buccaneers will look to a younger, cheaper option for his role in 2021.
February 8, 2021 10:17 AM EST
---
Leonard Fournette, Closes out title run in fine form
Fournette rushed 16 times for 89 yards and a touchdown and secured all four targets for 46 yards during the Buccaneers' 31-9 win over the Chiefs in Super Bowl LV on Sunday.
Analysis: While Tom Brady and Rob Gronkowski will likely get more press for their performances, Fournette turned in another efficient performance through both the ground and air. The fourth-year back took the reins of the backfield beginning with the wild-card win over Washington and kept a firm hold of the top job even with Ronald Jones healthy over the last three postseason contests. Fournette's underrated ability as a receiver once again played a key role, as he checked in second in receptions and receiving yardage on the night for the Buccaneers. Fournette's strong finish during Tampa Bay's championship run may earn him a bigger payday elsewhere, but there's no question he filled a pivotal role in the team's Super Bowl title.
Leonard Fournette player page.
February 7, 2021 7:46 PM EST
---
TJ Yeldon, Infrequent contributor
Yeldon only suited up for three regular-season games in 2020, rushing 10 times for 70 yards and catching just one pass for 22 yards, which went for a touchdown.
Analysis: Yeldon nearly matched his entire regular-season total in the AFC Championship Game, where he picked up 56 yards from scrimmage on seven touches while serving as a change-of-pace option from Devin Singletary. Yeldon will turn 28 in October and has never lived up to his second-round draft status, but he has a good set of hands and has figured out a way to provide occasional value. If he re-signs with the Bills -- he's an unrestricted free agent this offseason -- he'll have a similar depth role behind Singletary and Zack Moss.
February 4, 2021 5:12 PM EST
---
Blake Bortles, Set to hit free agency
Bortles didn't see game action for the Rams during the 2020 campaign, and he's set to hit free agency during the offseason.
Analysis: The third overall selection in the 2014 NHL Draft is unlikely to re-sign with Los Angeles after spending the past two seasons with the franchise. There's potential for Bortles to latch on with another team and even see the field in 2021, but he also likely has a long road ahead before warranting fantasy attention -- even in the deepest of settings.
January 29, 2021 4:53 PM EST
---