Jaguars Top Fantasy Players
These are the top fantasy football players of the Jacksonville Jaguars as ranked by Average Draft Position (ADP) in PPR-format mock drafts.
Data as of October 19, 2020.
D.J. Chark
D.J. Chark's current ADP is 4.12, which is the 12th pick of the 4th round, and 48th selection overall.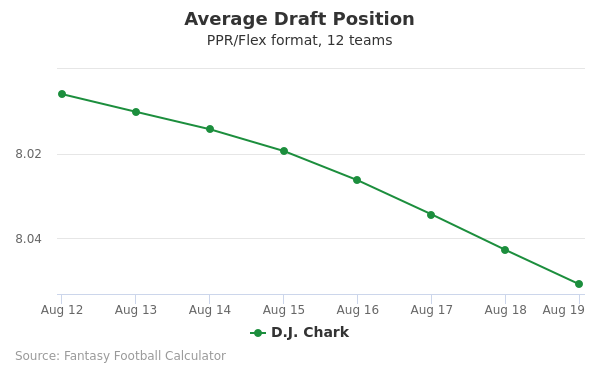 Chris Thompson
Chris Thompson's current ADP is 9.12, which is the 12th pick of the 9th round, and 107th selection overall.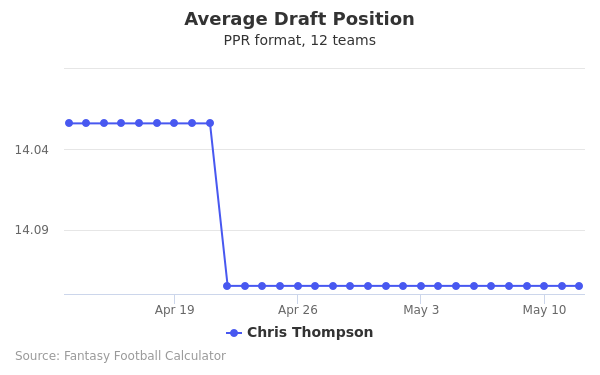 James Robinson
James Robinson's current ADP is 10.03, which is the 3rd pick of the 10th round, and 111th selection overall.
Gardner Minshew
Gardner Minshew's current ADP is 13.11, which is the 11th pick of the 13th round, and 154th selection overall.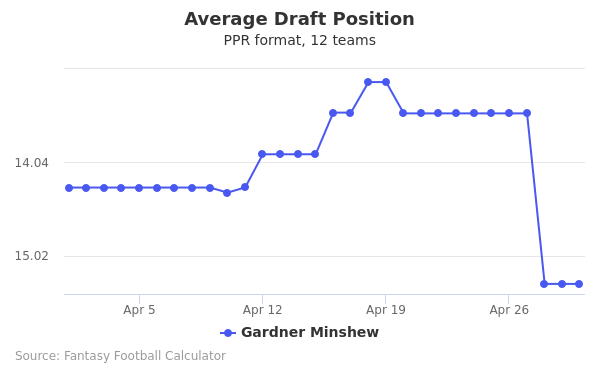 Jacksonville Jaguars 2020 Schedule
| Week | Home/Away | Opponent |
| --- | --- | --- |
| 1 | Home | Indianapolis Colts |
| 2 | Away | Tennessee Titans |
| 3 | Home | Miami Dolphins |
| 4 | Away | Cincinnati Bengals |
| 5 | Away | Houston Texans |
| 6 | Home | Detroit Lions |
| 8 | Away | Los Angeles Chargers |
| 9 | Home | Houston Texans |
| 10 | Away | Green Bay Packers |
| 11 | Home | Pittsburgh Steelers |
| 12 | Home | Cleveland Browns |
| 13 | Away | Minnesota Vikings |
| 14 | Home | Tennessee Titans |
| 15 | Away | Baltimore Ravens |
| 16 | Home | Chicago Bears |
| 17 | Away | Indianapolis Colts |
| 7 | Away | Los Angeles Chargers |
Jacksonville Jaguars News
Jaydon Mickens, Busy on punt returns
Mickens logged only three snaps from scrimmage without a target but returned four punts for 30 yards in the Buccaneers' 38-10 win over the Packers on Sunday.
Analysis: One game after recording his first two catches, Mickens was primarily limited to his usual returner role. The third-year wideout was expected to see his offensive role essentially disappear with the return of Chris Godwin (hamstring) and Justin Watson (chest) to action, which his exactly what came to fruition.
October 19, 2020 5:41 PM EST
---
Blake Bortles, Lands on practice squad
The Broncos signed Bortles to the practice squad Monday, Troy Renck of Denver 7 News reports.
Analysis: Bortles was released by the Broncos on Saturday, but he'll stick around as a scout team quarterback. The Broncos will push forward with Drew Lock as their starting quarterback, Brett Rypien as the backup and Jeff Driskel as the No. 3 option. If any of the three get hurt, Bortles likely will get called up again.
October 19, 2020 12:53 PM EST
---
TJ Yeldon, Inactive Monday
Yeldon is inactive for Monday's game against the Chiefs.
Analysis: Yeldon is the odd man out in the Bills' Week 6 backfield, with Zack Moss back from a toe injury and slated to work in tandem with Devin Singletary.
October 19, 2020 12:45 PM EST
---
Josh Lambo, Expected to return to practice
Lambo (hip) is slated to kick during Wednesday's practice so the training staff can assess his injury, Mark Long of the Associated Press reports.
Analysis: The Jaguars have trotted out five different kickers this season, but they could get some stability back if Lambo's healthy enough for Week 7. If he indeed returns to practice Wednesday, it would open up a 21-day window for the Texas A&M product to be activated from IR. The 29-year-old kicker made 33 of 34 field goals last season and connected on all three attempts before getting injured this season.
October 19, 2020 11:54 AM EST
---
James O'Shaughnessy, Fails to catch lone target
O'Shaughnessy failed to catch his only target during Sunday's 34-16 loss to Detroit.
Analysis: Tyler Eifert (neck) exited early due to injury, but O'Shaughnessy had minimal involvement in the passing game despite playing 75 percent of offensive snaps. Even if Eifert is sidelined for an extended period, O'Shaughnessy may not be a viable fantasy option given his inconsistent work in the passing game.
James O'Shaughnessy player page.
October 19, 2020 9:23 AM EST
---