Jaguars Top Fantasy Players
These are the top fantasy football players of the Jacksonville Jaguars as ranked by Average Draft Position (ADP) in PPR-format mock drafts.
Data as of May 29, 2023.
Christian Kirk
Christian Kirk's current ADP is 6.08, which is the 8th pick of the 6th round, and 67th selection overall.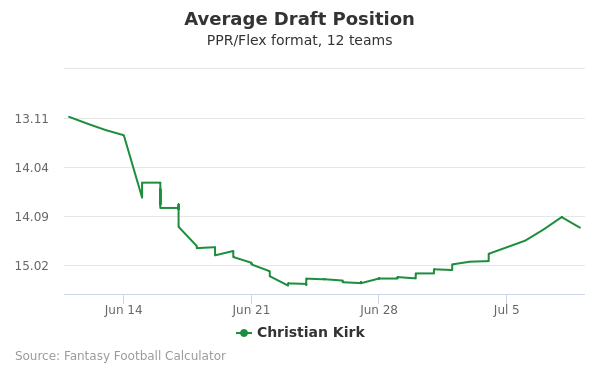 Trevor Lawrence
Trevor Lawrence's current ADP is 7.06, which is the 6th pick of the 7th round, and 77th selection overall.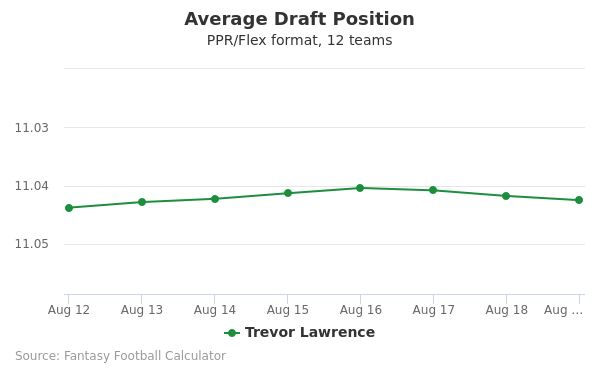 Evan Engram
Evan Engram's current ADP is 9.04, which is the 4th pick of the 9th round, and 100th selection overall.
Calvin Ridley
Calvin Ridley's current ADP is 11.01, which is the 1st pick of the 11th round, and 120th selection overall.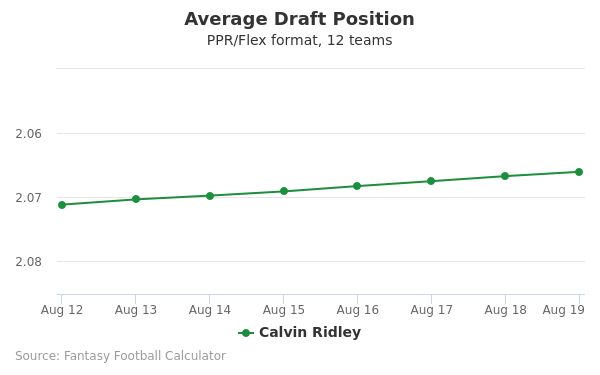 Jacksonville Jaguars 2020 Schedule
| Week | Home/Away | Opponent |
| --- | --- | --- |
| 1 | Home | Indianapolis Colts |
| 2 | Away | Tennessee Titans |
| 3 | Home | Miami Dolphins |
| 4 | Away | Cincinnati Bengals |
| 5 | Away | Houston Texans |
| 6 | Home | Detroit Lions |
| 8 | Away | Los Angeles Chargers |
| 9 | Home | Houston Texans |
| 10 | Away | Green Bay Packers |
| 11 | Home | Pittsburgh Steelers |
| 12 | Home | Cleveland Browns |
| 13 | Away | Minnesota Vikings |
| 14 | Home | Tennessee Titans |
| 15 | Away | Baltimore Ravens |
| 16 | Home | Chicago Bears |
| 17 | Away | Indianapolis Colts |
| 7 | Away | Los Angeles Chargers |
Jacksonville Jaguars News
Gardner Minshew, Sharing first-team reps with rookie
Minshew shared first-team reps with Anthony Richardson on Thursday, Stephen Holder of ESPN.com reports.
Analysis: Coach Shane Steichen told reporters it was an important step in the Colts' evaluation of Richardson to see him with the first-stringers, adding that the fourth overall pick "made some big plays, some next-level stuff" during Thursday's practice. Minshew may still end up getting more snaps with the starters this spring, but he's got a challenge on his hands to stay atop the depth chart throughout the summer and into Week 1.
May 26, 2023 6:23 AM EST
---
D.J. Chark, Held out of Team Drills
Chark (ankle) had his helmet at Monday's practice but didn't participate in team drills, Mike Kaye of The Charlotte Observer reports.
Analysis: Chark signed with the Panthers in March while he was still recovering from offseason ankle surgery, and it seems he's on track for full participation by training camp even if he remains limited this spring. An ankle injury cost him six games last year in his lone season with Detroit, but Chark came on strong at the end nonetheless with 24 catches for 404 yards and two touchdowns over the final seven weeks. He then settled for a one-year, $5 million contract with Carolina after signing for $10 million the year before in Detroit, perhaps suggesting he won't automatically start over 2021 second-round pick Terrace Marshall and rookie second-rounder Jonathan Mingo. Fellow new addition Adam Thielen is easily the best paid of the group, getting 56 percent of his three-year, $25 million contract guaranteed at signing.
May 23, 2023 6:59 AM EST
---
James Robinson, Competing for role behind Stevenson
Robinson, who believes he's fully past the Achilles injury that he sustained at the end of the 2021 season, is slated to have a chance to compete for the Patriots' No. 2 RB role behind starter Rhamondre Stevenson, Chad Graff of The Athletic reports.
Analysis: Robinson, who turns 25 in August, rushed for 1,070 yards in 2020 after signing with the Jaguars as an undrafted free agent. However, since then Jacksonville's first-round selection of Travis Etienne in 2021, coupled with injuries Robinson has dealt with have thwarted his momentum as a pro, and now the Illinois State product is looking to reboot his career with New England (with whom he signed a two-year deal with modest guarantees in March) after seeing limited action down the stretch last season following his October trade to the Jets. With the Patriots, Robinson has a chance to help fill the void created by the offseason departure of Damien Harris, and if he's healthy enough to run with the pace he did as a rookie, the 5-9, 219-pounder's ability as a pass-catcher (he caught 49 passes in 2020) could allow Robinson carve out a key complementary role behind Stevenson in a backfield that also includes Ty Montgomery and 2022 draftees Pierre Strong and Kevin Harris.
May 11, 2023 1:51 PM EST
---
Nick Foles, Released by Indianapolis
The Colts released Foles on Friday, ESPN's Adam Schefter reports.
Analysis: This was always coming for Foles after the Colts added Gardner Minshew in free agency and then Anthony Richardson in the Draft at No. 4 overall. The move saves Indy $2.1 million against the cap. Foles will look for backup work elsewhere.
May 5, 2023 12:59 PM EST
---
Jake Luton, Let go by New Orleans
The Saints waived Luton on Wednesday, Field Yates of ESPN reports.
Analysis: Luton spent last season with New Orleans' practice squad and signed a reserve/future contract with them in January, but he will now head to waivers. The Saints no longer had a need for the 27-year-old after signing Derek Carr and drafting Jake Haener in the fourth round of the draft, so Luton will now look for another opportunity elsewhere.
May 2, 2023 3:00 PM EST
---