Jaguars Top Fantasy Players
These are the top fantasy football players of the Jacksonville Jaguars as ranked by Average Draft Position (ADP) in PPR-format mock drafts.
Data as of May 17, 2021.
James Robinson
James Robinson's current ADP is 2.07, which is the 7th pick of the 2nd round, and 18th selection overall.
D.J. Chark
D.J. Chark's current ADP is 7.02, which is the 2nd pick of the 7th round, and 73rd selection overall.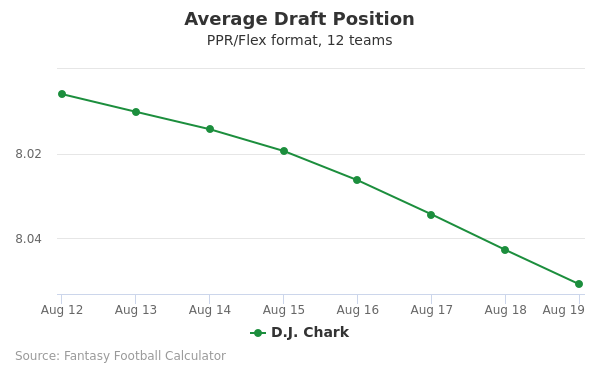 Laviska Shenault Jr.
Laviska Shenault Jr.'s current ADP is 9.02, which is the 2nd pick of the 9th round, and 98th selection overall.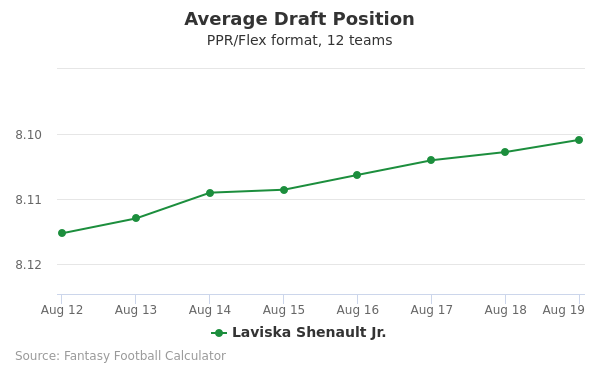 Travis Etienne
Travis Etienne's current ADP is 10.05, which is the 5th pick of the 10th round, and 112th selection overall.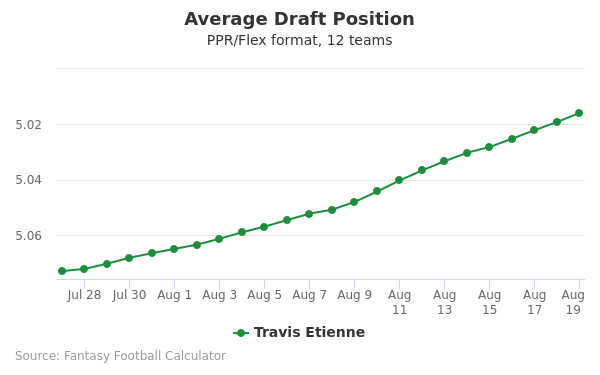 Marvin Jones
Marvin Jones's current ADP is 11.07, which is the 7th pick of the 11th round, and 127th selection overall.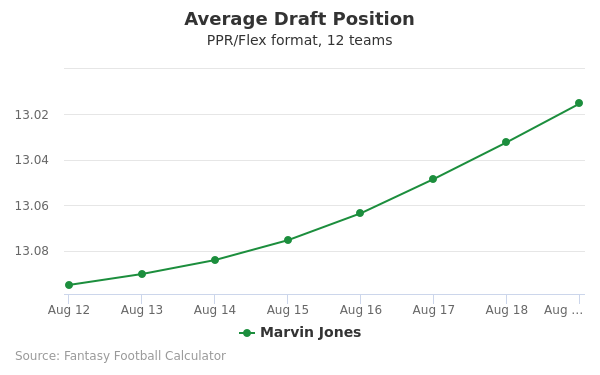 Trevor Lawrence
Trevor Lawrence's current ADP is 13.02, which is the 2nd pick of the 13th round, and 145th selection overall.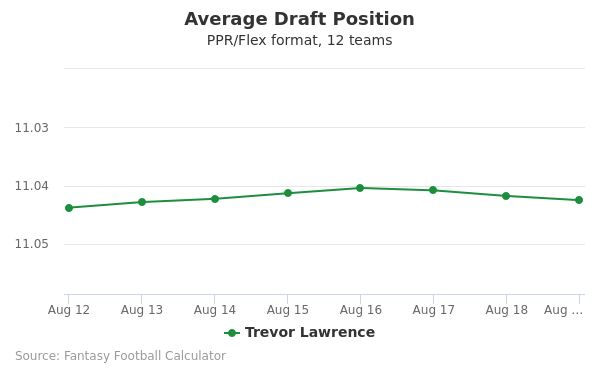 Carlos Hyde
Carlos Hyde's current ADP is 14.10, which is the 10th pick of the 14th round, and 166th selection overall.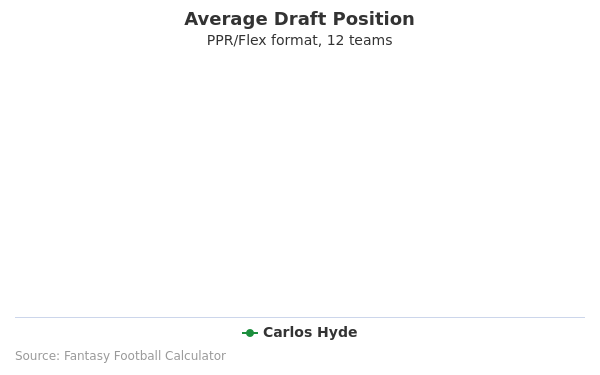 Josh Lambo
Josh Lambo's current ADP is 15.05, which is the 5th pick of the 15th round, and 173rd selection overall.
Jacksonville Jaguars 2020 Schedule
| Week | Home/Away | Opponent |
| --- | --- | --- |
| 1 | Home | Indianapolis Colts |
| 2 | Away | Tennessee Titans |
| 3 | Home | Miami Dolphins |
| 4 | Away | Cincinnati Bengals |
| 5 | Away | Houston Texans |
| 6 | Home | Detroit Lions |
| 8 | Away | Los Angeles Chargers |
| 9 | Home | Houston Texans |
| 10 | Away | Green Bay Packers |
| 11 | Home | Pittsburgh Steelers |
| 12 | Home | Cleveland Browns |
| 13 | Away | Minnesota Vikings |
| 14 | Home | Tennessee Titans |
| 15 | Away | Baltimore Ravens |
| 16 | Home | Chicago Bears |
| 17 | Away | Indianapolis Colts |
| 7 | Away | Los Angeles Chargers |
Jacksonville Jaguars News
Blake Bortles, Joins Packers as workouts approach
The Packers are signing Bortles to a contract Wednesday, Tom Pelissero of NFL Network reports.
Analysis: Bortles is getting a one-year deal in Green Bay, per Adam Schefter of ESPN. Prior to Bortles' signing, Jordan Love was the only quarterback slated to attend the start of in-person workouts April 17, so the 29-year-old's presence fills a clear practice need for the team. The ongoing saga of Aaron Rodgers' disgruntlement with management will serve to determine Bortles' chances of actually making the final roster in a reserve capacity.
May 12, 2021 2:39 PM EST
---
Charles Jones II, Jettisoned by Pittsburgh
The Steelers cut Jones on Monday, NFL reporter Aaron Wilson reports.
Analysis: Jones spent time on the Steelers' practice squad during the 2020 campaign, but he won't stick with the team through the offseason. He'll vie for a chance at a depth role elsewhere.
May 3, 2021 2:51 PM EST
---
Nick Foles, Could remain in Chicago
Despite Justin Fields and Andy Dalton being ahead of Foles on the depth chart, Foles' contract may make him difficult to trade Ian Rapoport of NFL.com reports.
Analysis: Foles has guaranteed money in his contract in both 2021 and 2022, so despite being third on the depth chart after the Bears drafted Justin Fields, Foles may be difficult to trade. Unless the team moves on from him, allowing him to become a free agent, his fantasy value will be nearly nonexistent, as it's unlikely he'd be more than the emergency quarterback on game day.
April 30, 2021 10:29 AM EST
---
James Robinson, Role in flux after Etienne addition
Robinson faces added competition in the Jacksonville backfield with the Jaguars' selection of Travis Etienne in the first round of the 2021 NFL Draft, Mia O'Brien of First Coast News reports. "We want to be Top-8 in the league, and with James Robinson, Hyde and Etienne, we think we're there," said coach Urban Meyer on Thursday.
Analysis: Per O'Brien, Meyer views Robinson and Hyde as the "1-2 punch" in the Jacksonville backfield with Etienne settling in as the third-down back. Meyer's comments aside, a team that takes a running back in the first round is going to find a significant role for that player. Robinson's passing down work is already in jeopardy with Etienne in the fold, and his carries are at major risk as well. It's no secret that Robinson had a great rookie season, averaging 4.5 yards per carry in an anemic offense, but Etienne is a rare talent at the position and his draft capital dictates that he will get the chance to take over the starting role in the not-too-distant future. Even if Robinson stays atop the depth chart to open the season, there's a strong likelihood that Etienne moves from "third-down back" to the top option in the backfield before long.
April 29, 2021 10:11 PM EST
---
Collin Johnson, Drops on depth chart
Johnson (hamstring) is poised to enter camp as Jacksonville's No. 4 wideout after the signing of Marvin Jones, John Shipley of SI.com reports.
Analysis: The 23-year-old came on strong during the second half of 2020 before the hamstring injury sidelined him for the final two weeks of the season, but he won't begin camp in line for a significant role. Johnson, a 2020 fifth-round pick, flashed his potential with eight catches for 162 yards and one touchdown between Weeks 12 and 13 last year, but he was never a likely bet to open 2021 as the team's No. 3 wide receiver. He still figures to be involved in the offense, but Jones, DJ Chark and Laviska Shenault should start out as the Jaguars top wideouts.
April 12, 2021 12:41 AM EST
---