Chiefs Top Fantasy Players
These are the top fantasy football players of the Kansas City Chiefs as ranked by Average Draft Position (ADP) in PPR-format mock drafts.
Data as of July 5, 2022.
Travis Kelce
Travis Kelce's current ADP is 2.02, which is the 2nd pick of the 2nd round, and 13th selection overall.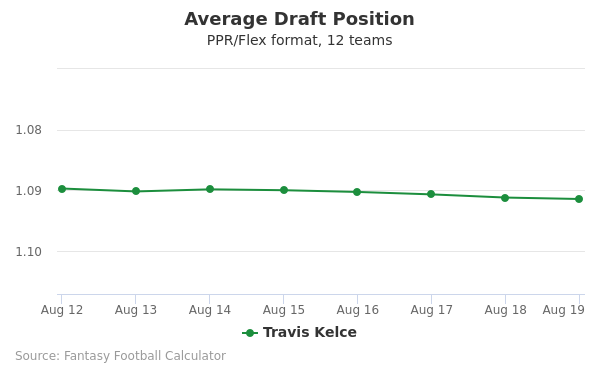 Patrick Mahomes
Patrick Mahomes's current ADP is 3.05, which is the 5th pick of the 3rd round, and 29th selection overall.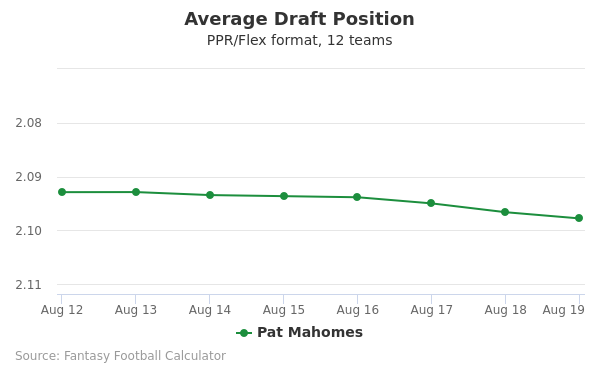 Clyde Edwards-Helaire
Clyde Edwards-Helaire's current ADP is 4.12, which is the 12th pick of the 4th round, and 48th selection overall.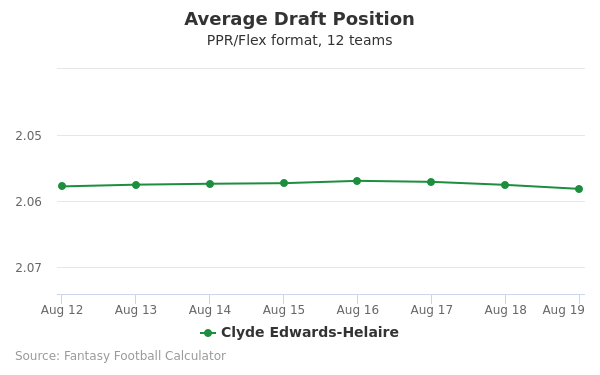 JuJu Smith-Schuster
JuJu Smith-Schuster's current ADP is 9.02, which is the 2nd pick of the 9th round, and 97th selection overall.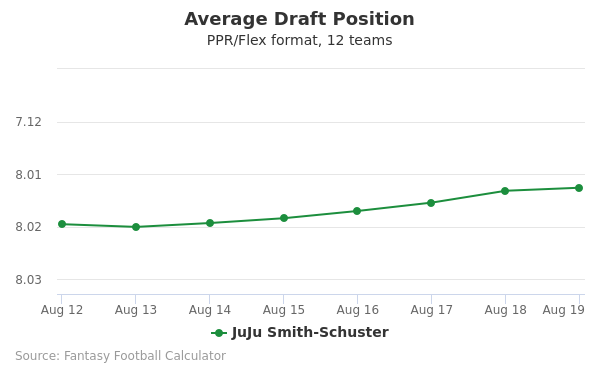 Ronald Jones II
Ronald Jones II's current ADP is 9.07, which is the 7th pick of the 9th round, and 102nd selection overall.
Harrison Butker
Harrison Butker's current ADP is 12.10, which is the 10th pick of the 12th round, and 142nd selection overall.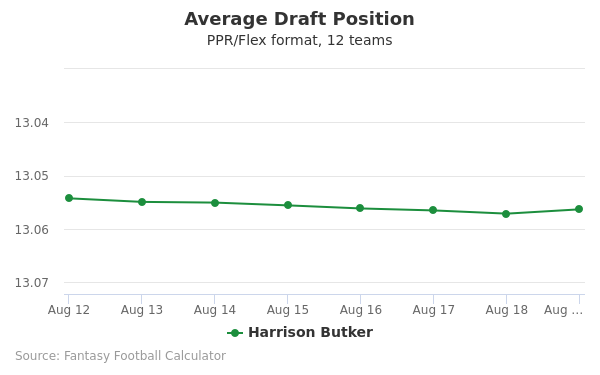 Skyy Moore
Skyy Moore's current ADP is 13.09, which is the 9th pick of the 13th round, and 153rd selection overall.
Mecole Hardman
Mecole Hardman's current ADP is 14.01, which is the 1st pick of the 14th round, and 156th selection overall.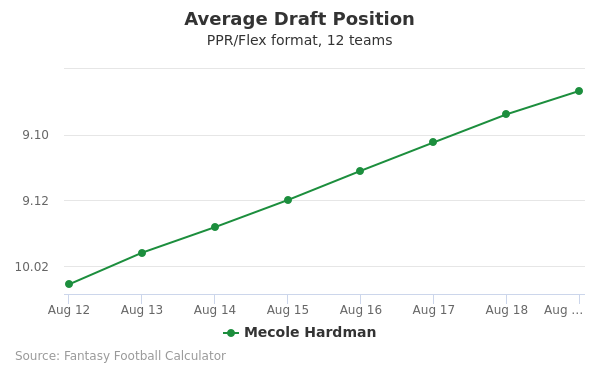 Marquez Valdes-Scantling
Marquez Valdes-Scantling's current ADP is 14.02, which is the 2nd pick of the 14th round, and 157th selection overall.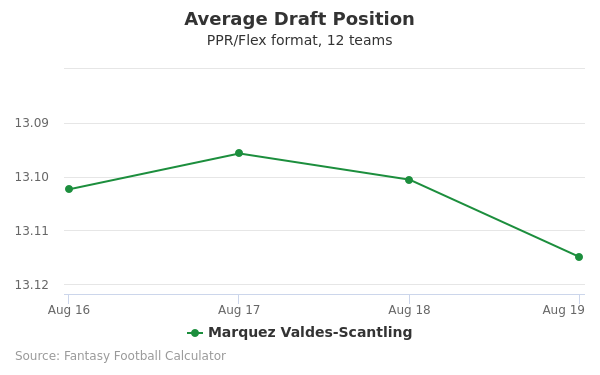 Jerick McKinnon
Jerick McKinnon's current ADP is 14.06, which is the 6th pick of the 14th round, and 162nd selection overall.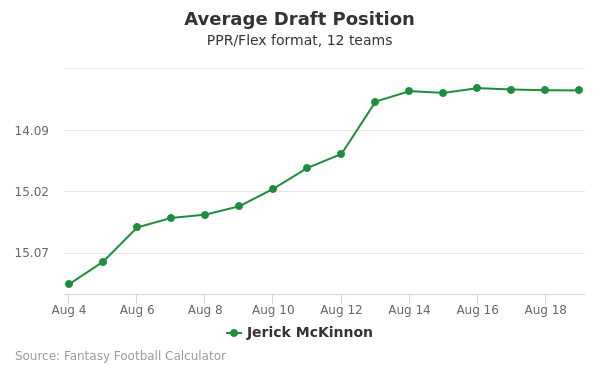 Kansas City Chiefs 2020 Schedule
| Week | Home/Away | Opponent |
| --- | --- | --- |
| 1 | Home | Houston Texans |
| 2 | Away | Los Angeles Chargers |
| 3 | Away | Baltimore Ravens |
| 4 | Home | New England Patriots |
| 5 | Home | Las Vegas Raiders |
| 6 | Away | Buffalo Bills |
| 7 | Away | Denver Broncos |
| 8 | Home | New York Jets |
| 9 | Home | Carolina Panthers |
| 11 | Away | Las Vegas Raiders |
| 12 | Away | Tampa Bay Buccaneers |
| 13 | Home | Denver Broncos |
| 14 | Away | Miami Dolphins |
| 15 | Away | New Orleans Saints |
| 16 | Home | Atlanta Falcons |
| 17 | Home | Los Angeles Chargers |
Kansas City Chiefs News
Kareem Hunt, Feels healthy heading into 2022
Hunt said Wednesday that he feels "100 percent" healthy and that there is nothing bothering him physically heading into Cleveland's training camp starting July 27, Scott Petrak of the Elyria Chronicle-Telegram reports.
Analysis: Hunt battled multiple injuries that limited him to just eight games in 2021, including a torn calf and separate ankle issue. The No. 2 running back still managed to accumulate 560 yards on 100 total touches in a crowded position group consisting of Nick Chubb, D'Ernest Johnson and Demetric Felton. Hunt is heading into the final year of his current contract with the Browns and he hopes to sign an extension with the team before the start of this coming season, according to Petrak. The 26-year-old has been a very effective complementary back during his three-year tenure with the Browns, but the team's difficult cap situation moving forward may complicate any extension talks this offseason.
June 29, 2022 11:35 AM EST
---
Joe Fortson, Playing 7-on-7 at minicamp
Fortson (Achilles) participated in 7-on-7 drills during the Chiefs' minicamp, Nate Taylor of the Athletic reports.
Analysis: Fortson tore his Achilles in October last year and was sidelined for the remainder of the 2021 season. He's been limited throughout OTAs, but his participation in minicamp team drills is an extremely encouraging sign for his availability heading into the 2022 campaign. The undrafted tight end out of Valdosta State caught five passes for 47 yards and two scores across six games during his rookie season, and if available to start the season, he'll compete with Noah Gray and Blake Bell for snaps behind Travis Kelce.
June 20, 2022 1:21 PM EST
---
Mecole Hardman, Returns for minicamp
Hardman (hamstring) participated in June minicamp, The Kansas City Star reports.
Analysis: Hardman missed a few days of OTAs in late May but was back on the field for mandatory minicamp less than three weeks later. He's one of the main candidates to benefit from Tyreek Hill's departure, along with offseason additions JuJu Smith-Schuster, Marquez Valdes-Scantling and Skyy Moore. He's no Hill, but Hardman does offer some of the same traits, namely speed and elusiveness, and he's only 24 years old heading into the fourth and final season of his rookie contract. The injury won't be noteworthy unless it pops up again during training camp, as Hardman doesn't have any reported history of hamstring issues and has played in each of the Chiefs' 58 games (including playoffs) since they drafted him
June 19, 2022 11:57 AM EST
---
Gehrig Dieter, Retires from football
Dieter announced he is retiring Wednesday via his personal Twitter account.
Analysis: Dieter finishes his NFL career with two receptions for 32 yards on five targets over the course of 10 games. He bounced on and off Kansas City's practice squad during his three years in the league. His absence opens up opportunities for rookie UDFA additions Mathew Sexton and Trevor Begue.
June 8, 2022 7:34 AM EST
---
Kareem Hunt, Still has role
Hunt remains in Cleveland's plans despite a surplus of running backs, Mary Kay Cabot of the Cleveland Plain Dealer reports.
Analysis: The Browns' selection of Jerome Ford in the fifth round of the 2022 draft set off speculation about the crowded running back room and how the team would accommodate the depth. The first thoughts were that Hunt or D'Ernest Johnson could be moved -- Hunt's in the final year of a deal and Johnson's tendered. However, there was a lot of Hunt and Nick Chubb on the field together during OTAs, suggesting the offense could feature them together more this season.
June 2, 2022 6:47 PM EST
---