Fantasy football is all about relative value. Getting a running back with eight TDs is great, but getting him in the 10th round is even better. Too many fantasy players make the mistake of forming a draft list, picking a few sleepers, and then just going hard after their guys.
Fantasy drafts are more finesse than science. No player should be totally off your draft board. Ezekiel Elliott might not be a good pick in the 1st round anymore, but he'd be a great pick if he's still there in the 6th for some reason.
Never enter a draft with a set target for each round. You have to play the draft as it comes. Use Average Draft Position to get a sense of where guys will go, and watch for value that drops.
So who's overvalued, and what players are undervalued? Here are four quarterbacks to avoid at their current ADP…
Tom Brady - ADP 3.05
Brady is coming off an incredible season with 28 TDs, two interceptions, and a Super Bowl victory. Now the Patriots added Brandin Cooks and a healthy Rob Gronkowski, and Brady is the second QB off the boards.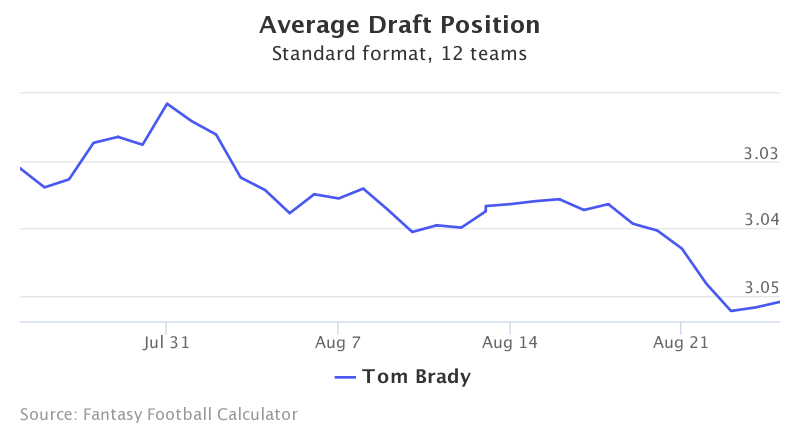 The Patriots are in a division with two teams openly tanking and the other starting an unretired Jay Cutler at QB. They could have the division locked up by Thanksgiving and put teams away early, and Brady could be watching much of the season from the sidelines. He's coming off his highest TD% since 2010 and his lowest INT% ever. Both should regress toward the mean, and with QB as deep as ever, you need Brady to throw 40 TDs to justify his price. You're better off waiting.
Matt Ryan - ADP 5.08
Yes, you should pass on both Super Bowl quarterbacks. Regression to the mean is real, and it could hit poor Matty Ice harder than anyone. Ryan entered last season with a career 4.4 TD% before nearly doubling it at 7.1, and he crushed his career 7.2 yards per attempt with an absurd 9.3 YPA. Those career highs led the league and are among the highest in NFL history, and they have nowhere to go but down.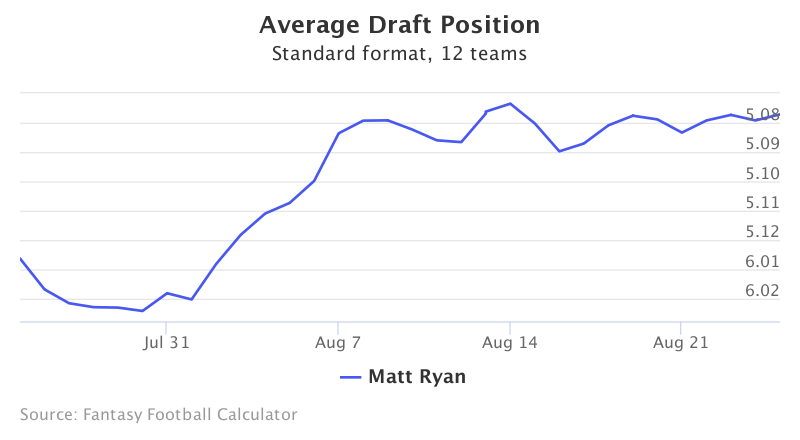 Ryan also lost all-world offensive coordinator Kyle Shanahan, and the offense is sure to feel his absence. Take away some scoring chances and return Ryan to his career averages and he could end up closer to 4500 yards and 28 TDs. That's a fine season but he'd need to come close to matching his MVP season to merit this price.
Derek Carr - ADP 6.09
Everything went right for the Raiders last year, right up until Derek Carr broke his fibula in Week 16. Oakland seemed to catch every bounce, and Carr was an MVP candidate. Fantasy owners are pricing that into expectations this season when the reality is that the luck is more likely to even out in the other direction.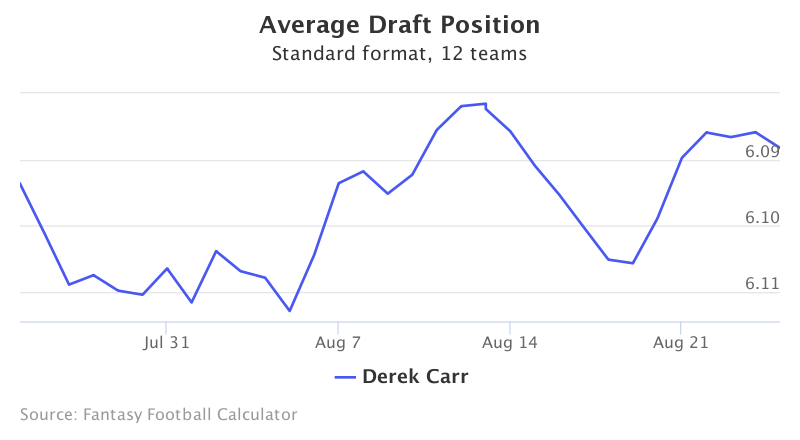 The Raiders face a much more difficult schedule in 2017 and opponents will see. They also feature a much more balanced attack with Marshawn Lynch at running back. Carr will be good again but there's no real reason to believe he will improve a lot from last season, when he wasn't even a top 15 QB. Why should he suddenly be QB5 now?
Kirk Cousins - ADP 8.03
Cousins has become a favorite fantasy sleeper with a quickly rising ADP, up almost a whole round over the past month and still rising.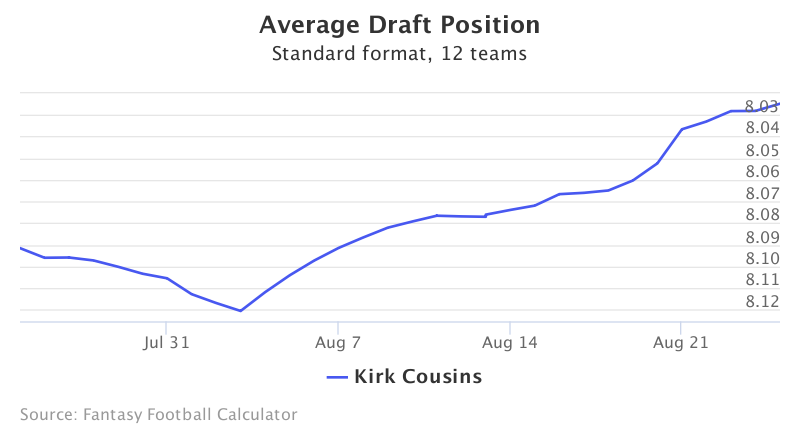 Cousins returns stud tight end Jordan Reed and star newcomer Terrelle Pryor, but he's missing his secret weapon: Sean McVay. McVay was the QB-friendly offensive coordinator for the Redskins the past three seasons, and he's now coaching the Rams. New OC Matt Cavanaugh was the QB coach the past two years but has spent the last two decades with the Ravens, Jets, and Bears?—?not exactly beacons of passing success.
Cousins wasn't particularly great in Washington, but his numbers piled up with a ton of passing attempts in a system with an inflated completion percentage and YPA. As those numbers return to average, Kirk's value will too. He may struggle to finish as a starting fantasy QB.
---
Filed under: Free Articles