Late last night, Andrew Luck shocked the world and announced his retirement .
He cited his frequent injuries sapping his love of the game. His shoulder injury two years ago started the process, and this recent ankle injury seems to have been too much for him to deal with mentally.
Let's see how this impacts the key offensive players on the Colts. You can check out our updated fantasy rankings and print out a cheatsheet with those updated rankings .
Jacoby Brissett
The clear fantasy winner, Jacoby Brissett increases in value. He's one of the better backups in the league and has decent weapons at his disposal. When he replaced Luck in 2017, over 16 games he had a 59% completion percentage with 3,098 yards, 13 touchdowns and 7 interceptions. His serviceable performance is reason for Colts' fans to not be worried about going 2-14 again , but there is nothing special about Brissett from a fantasy perspective.
Brissett is now likely to be drafted, but only in the late rounds. In a 15 or 16-round draft, there is no reason to draft him ahead of Matt Stafford (14.05) or Josh Allen (13.10).
While there is still some wishful thinking out there that Luck could return, it seems unlikely to happen for the next several months. Brissett is the starting QB in Indianapolis for the near future.
T.Y. Hilton
Hilton's value takes a huge hit with Luck gone. In the time T.Y. has spent playing without Luck, his stats have been particularly worse .
His ADP before the news broke had him drafted in the mid-3rd round in PPR leagues. He will now likely plummet to the 5th round and possibly even further. See his real-time value in our updated rankings .
Marlon Mack
Marlon Mack is also unlikely to fare better with Luck retired and Brissett behind center. J.J Zachariason notes that when the Colts were behind last year, he was on the field less and ranked as an RB3 or RB4 in those games.
With the Colts likely to play from behind much more without Luck, that indicates fewer fantasy opportunities for Mack.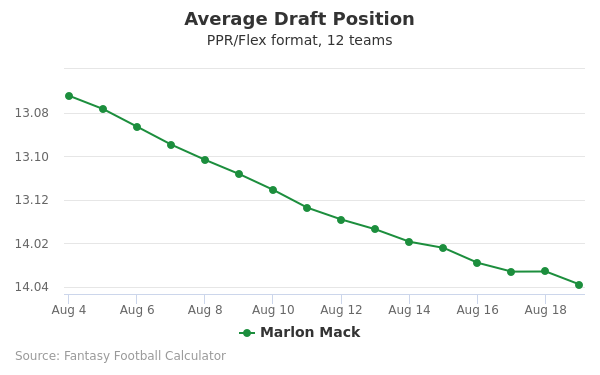 Conclusion
Overall, things are not looking good for the Colts' offense this year without Andrew Luck. Temper your expectations for all skill position players and bump them down in your fantasy rankings and start / sit decisions .
---
Filed under: Free Articles