Mitch Trubisky QB (CHI)
Mitch Trubisky Comfortable with Nagy: Trubisky feels much more confident in his second season under coach Matt Nagy, John Kampf of The News-Herald reports.
What it means: The core of the Chicago offense looks quite similar to last season, only with Mike Davis and David Montgomery replacing Jordan Howard in the backfield while Cordarrelle Patterson potentially adds a new wrinkle to both the passing game and rushing attack. The offseason moves show an emphasis on versatility, with the Bears presumably hoping to use their running backs as receiving threats and their wide receivers as occasional ballcarriers. Trubisky's individual growth will be the most important factor, but there's additional potential for major development with Anthony Miller, who was limited by shoulder injuries throughout this rookie season. It also can't hurt to have Allen Robinson further removed from the ACL tear that wiped out his 2017 campaign in Jacksonville, and Trey Burton (sports hernia) could be a bit better in his second season as a starter.
Up until now, Mitch Trubisky has been drafted at the 13.07 in PPR leagues.
How much this impacts Trubisky remains to be seen.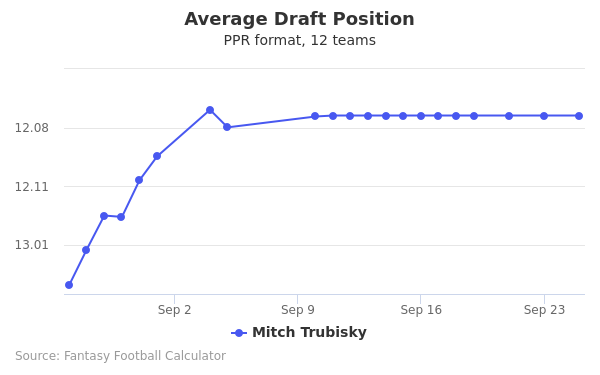 Trace McSorley QB (BAL)
Trace McSorley Getting work on special teams: McSorley has taken practice reps on special teams, including some as a punt returner, Ryan Mink of the Ravens' official website reports.
Fantasy impact: The rookie sixth-round pick may be Baltimore's version of Taysom Hill rather than a competitor for Robert Griffin's backup quarterback job. That being said, McSorley ran a 4.57-second 40-yard dash at 202 pounds, while Hill blazed 4.44 at 230 pounds back in 2017. The latter is a freak athlete by any standard, while the former merely is fast by the standards of a quarterback. It does make sense to develop McSorley as a long-term backup for Lamar Jackson, whose speed demands an offensive system much different from any other in the NFL. The Ravens likely will keep McSorley inactive on gamedays his rookie season, or perhaps even try to stash him on the practice squad or injured reserve. His best shot at a rookie-year impact is a small role on trick plays and some snaps on special teams.
McSorley isn't currently being drafted in fantasy drafts right now.
Alex Smith QB (WAS)
Alex Smith Still hopes to resume career: Smith (leg) told Angie Goff of FOX5 DC that he plans to resume his football career.
What it means: Smith hopes to have the external fixture on his leg removed by the end of July, at which point he could start jogging and doing some other light activity. He won't be ready to play during the upcoming season, but he conceivably could make it back for 2020. The 35-year-old quarterback is signed through 2022, with his base salaries guaranteed for the next two years. Case Keenum, Dwayne Haskins and Colt McCoy (leg) will compete for the starting job in Washington this season.
Smith isn't currently being drafted in fantasy drafts right now.
Colt McCoy QB (WAS)
Colt McCoy Could win starting job: McCoy (leg) shouldn't be counted out of the quarterback competition, according to JP Finlay of NBC Sports Washington.
What it means: McCoy has been with the team throughout Jay Gruden's tenure as head coach, while Case Keenum and Dwayne Haskins are still learning a new system. Despite being limited to rehab work throughout the offseason program, McCoy is on track to practice at the start of training camp in late July. He should still be viewed as the underdog, but it does appear to be a legitimate three-way battle.
McCoy isn't currently being drafted in fantasy drafts right now.
Philip Rivers QB (LAC)
Philip Rivers Active in offseason practices: Rivers has been an active participant in offseason practices, Ricky Henne of the Chargers' official site reports.
Our take: Rivers' participation in offseason workouts is specifically relevant since he bowed out of this past winter's Pro Bowl "due to injury." That he's been heavily involved in practices this spring all but confirms said injury has long been a thing of the past, if the 37-year-old ever even had a significant injury to begin with. Entering the last season of his contract, Rivers is one of the top candidates league-wide to get an extension at some point this summer.
It's possible to track the change in Philip Rivers's fantasy value over time by looking at where he's drafted. According to the latest PPR average draft position data, he's being drafted in at the 10.08 spot.
How much this impacts Rivers remains to be seen.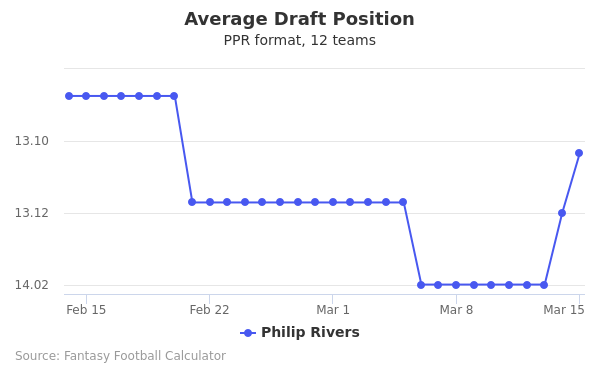 Pat Mahomes QB (KC)
Pat Mahomes Working on footwork this offseason: Mahomes is working to improve his footwork this offseason, Dianna Russini of ESPN reports.
Our take: Mahomes has a big enough arm to often make up for his poor footwork, but improvement in that area could help him improve on an already impressive 66 completion percentage in his first year under center. He may have to adjust to life without one of his biggest weapons from last year, Tyreek Hill (suspended indefinitely from team), and he's reportedly had good chemistry with Sammy Watkins early in the offseason.
The fantasy value of Pat Mahomes is measured by his average draft position (ADP). The graph below shows how it's trending in the latest mock drafts . In recent drafts, Mahomes's current ADP is 3.06
How much this impacts Mahomes remains to be seen.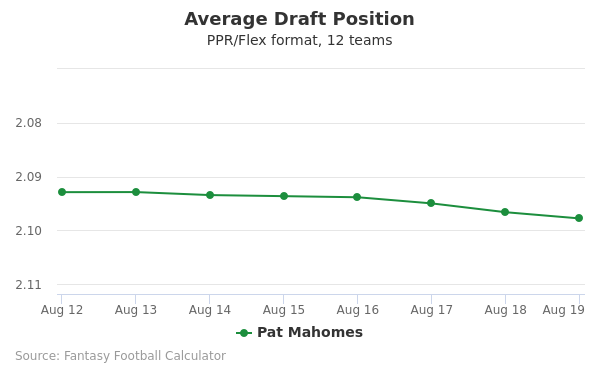 Taysom Hill QB (NO)
Taysom Hill More comfortable with receiving now: Hill expects to have an easier time with blocking and running routes this upcoming season, FOX 8 New Orleans reports.
What it means: Hill is locked in for another season as a third-string quarterback, gadget player and core special teamer. He's a natural runner who produced 5.3 yards per carry on 37 attempts last season, but the blocking and receiving aspects of his unique role seemed to present a challenge, with Hill catching just three of seven targets for four yards. His continued development in those areas will only make the Saints more dangerous in the red zone, potentially allowing them to utilize Hill without wasting Drew Brees .
Hill isn't currently being drafted in fantasy drafts right now.
Drew Brees QB (NO)
Drew Brees Dealing with lawsuit: Brees missed some spring practices while dealing with a lawsuit against a California jeweler, Rod Walker of The New Orleans Advocate reports.
What it means: Given his wealth of experience in coach Sean Payton's offense, Brees shouldn't be impacted by a few missed practice sessions in May and June. He's once again set up with an excellent situation, as the Saints replaced Mark Ingram with Latavius Murray and later signed tight end Jared Cook . The team did lose starting center Max Unger to retirement, but then acquired two potential replacements in free-agent signing Nick Easton and second-round pick Erik McCoy. With Terron Armstead and Ryan Ramczyk locked in at the tackle spots, Brees should still be well protected as he looks to rebound from a modest finish to the 2018 campaign. A healthier season from Ted Ginn and continued development from Tre'Quan Smith could lead to a more balanced passing game that isn't so dependent on quick passes to Michael Thomas and Alvin Kamara.
The fantasy value of Drew Brees is measured by his average draft position (ADP). The graph below shows how it's trending in the latest mock drafts. In recent drafts, Brees's current ADP is 7.02
Keep an eye out on his value going forward.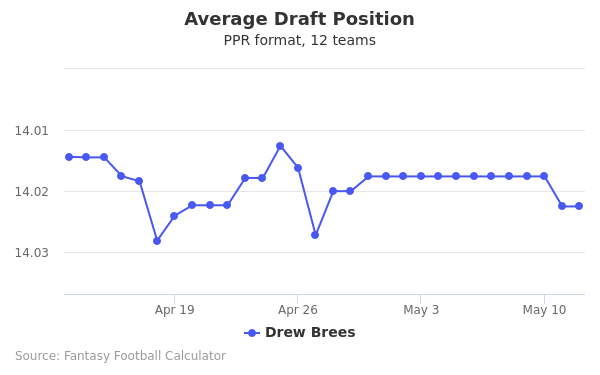 Matthew Stafford QB (DET)
Matthew Stafford Hobbled down the stretch in 2018: According to Mike O'Hara of the Lions' official site, Stafford played with "broken bones in his back" during the later stages of the 2018 season.
Our take: A regular on Lions injury reports over the final four weeks of the campaign, Stafford wasn't listed as less than limited on any of them while gutting out a back injury. The extent of the issue wasn't revealed until O'Hara's proclamation, though. With that knowledge, it's understandable why Stafford dipped below 200 passing yards twice in that four-game stretch after doing so just two times in the first 12 contests of the season. His health hasn't been a question mark during the offseason program as he acclimates to a more run-based offense under the direction of coordinator Darrell Bevell. Considering that development, Stafford's output could take a hit, though the presence of rising third-year wideout Kenny Golladay (chest) doesn't hurt his cause.
Up until now, Matthew Stafford has been drafted at the 14.09 in PPR leagues.
Watch out to see if Stafford's value changes in light of this update.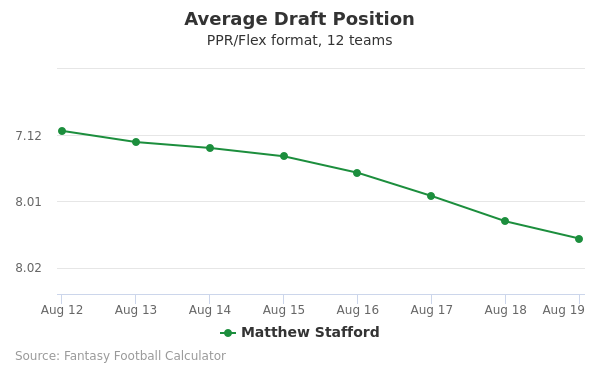 News and analysis powered by RotoWire.
---
Filed under: Free Articles