Andre Ellington RB (TB)
Andre Ellington Chances improve with Wilson release: Ellington is one of five running backs currently remaining on the Buccaneers' roster following last Friday's release of Shaun Wilson, Scott Smith of the team's official site reports.
What it means: The veteran reunited with former Cardinals head coach Bruce Arians back on Feb. 19, when he inked a free-agent deal with the Buccaneers after spending 2018 out of the NFL. Ellington, a 2013 sixth-round pick, beat the odds over his first two seasons, rushing for 1,312 yards, adding another 766 through the air, and scoring nine total touchdowns (six rushing, three receiving). However, after a pair of forgettable campaigns in 2016 and 2017, Ellington finds himself trying to resurrect his career under the man who originally brought him into the league. The 30-year-old back is hoping to hold off Dare Ogunbowale and Bruce Anderson, both which also have special teams experience, for a backup job behind the top duo of Peyton Barber and Ronald Jones II.
Ellington isn't currently being drafted in fantasy drafts right now.
Sony Michel RB (NE)
Sony Michel Running at full speed: Michel (knee) has been running at full speed and is making good progress in his recovery from arthroscopic surgery, Michael Giardi of NFL Network reports.
Our take: The second-year pro is working out at the TB12 Sports Therapy Center in Foxborough, hoping to improve the range of motion in his knee and become a more explosive runner. Michel had minor surgery at some point during the offseason, participating in team activities through April and at least part of May before sitting out June minicamp. His mounting history of knee injuries has contributed to speculation about rookie third-round pick Damien Harris stealing carries or even the lead role, but it sounds like Michel will be healthy enough to defend his workload come August. He's now dealt with knee injuries three consecutive years, including two separate issues that led to missed games last season.
It's possible to track the change in Sony Michel's fantasy value over time by looking at where he's drafted. According to the latest PPR average draft position data, he's being drafted in at the 5.03 spot.
Keep an eye out on his value going forward.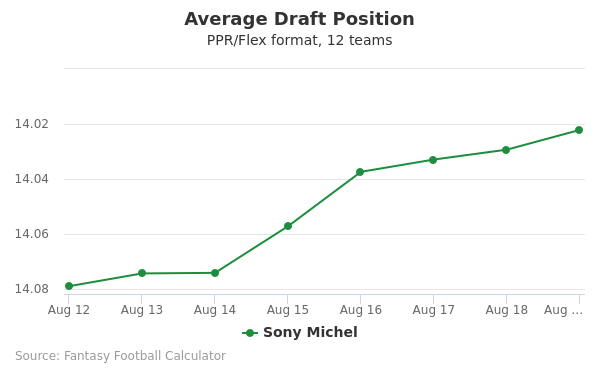 Devonta Freeman RB (ATL)
Devonta Freeman Looking good during offseason: Coach Dan Quinn said Freeman looks like his old self again, Kelsey Conway of the Falcons' official website reports. "He was another one who had so much to prove and to get back out on the field and to recapture his energy and style so quickly," Quinn said. "I was very happy to see that. He looks so much like himself."
Our take: Entering Year 2 of a five-year, $41.25 million extension, Freeman returned from season-ending groin surgery to participate in OTAs and June minicamp. Between the contract and Tevin Coleman's departure for San Francisco, the Falcons have every incentive to reinstall Freeman as a heavily featured part of their offense. He's only 27 years old and will be running behind an offensive line that added two first-round picks during the draft, but his prime setup won't matter if Freeman can't stay healthy. He missed games early last season with a knee bruise and a foot contusion before the groin issue wiped out his campaign for good. The 2017 injury log included two concussions and an MCL/PCL sprain, though Freeman only missed two games along the way. Atlanta's subpar backup RB situation -- Ito Smith, Qadree Ollison, Brian Hill, Kenjon Barner -- hints at a degree of confidence in Freeman returning to form.
The fantasy value of Devonta Freeman is measured by his average draft position (ADP). The graph below shows how it's trending in the latest mock drafts . In recent drafts, Freeman's current ADP is 3.04
How much this impacts Freeman remains to be seen.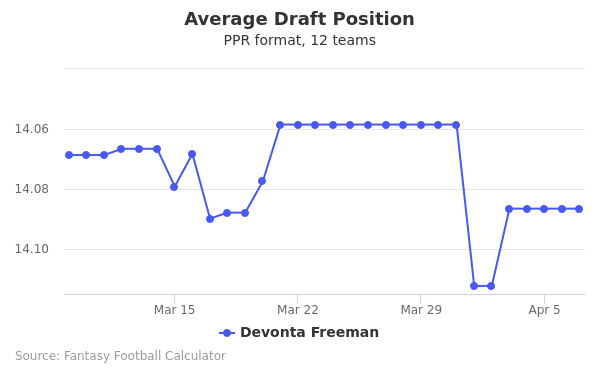 Austin Ekeler RB (LAC)
Austin Ekeler Focused on route running: Ekeler said he will focus on his route running this summer.
Our take: Ekeler often replaces Melvin Gordon on passing downs, though the latter also gets plenty of work as a receiver. Their roles should look much the same in 2019, considering undrafted rookie Jeremy Cox was the only offseason addition to the Los Angeles backfield. Ekeler's career marks of 5.3 yards per carry and 7.8 per target rank as elite by RB standards, but he was limited to 3.2 YPC and 3.8 YPT in three starts last season, failing to approach his usual efficiency when tasked with a larger workload (40 carries, 20 targets in those three games).
Up until now, Austin Ekeler has been drafted at the 9.05 in PPR leagues.
Keep an eye out on his value going forward.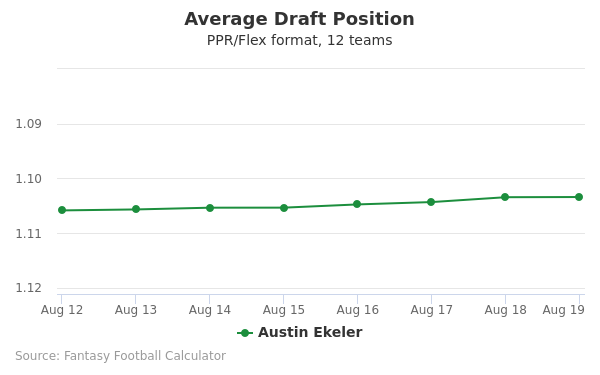 Justin Jackson RB (LAC)
Justin Jackson Little competition added: Jackson is benefiting from the extra reps with Melvin Gordon (holdout) not at OTAs, Eric D. Williams of ESPN.com reports.
Fantasy impact: After spending last season as the No. 3 back on the depth chart, Jackson has been an early standout during the summer, utilizing the extra snaps left over from Gordon, who was absent during OTAs as he seeks a contract extension. The Northwestern product, who saw limited action in his rookie season after injuries to Gordon (knee) and Austin Ekeler (concussion), will likely be primed for a repeat role considering the team added little competition to the depth chart.
Jackson isn't currently being drafted in fantasy drafts right now.
News and analysis powered by RotoWire.
---
Filed under: Free Articles