Austin Ekeler
Los Angeles Chargers
Running Back #30
Los Angeles Chargers
Running Back #30
Photo: Icon Sportswire
Personal
| | |
| --- | --- |
| Age | 27 |
| Birthdate | May 17, 1995 |
| Height | 5'9" |
| Weight | 191 lb |
Draft
College
Western State (CO)
Year
2017
Pick
UDFA
Team
LAC FA
Fantasy Value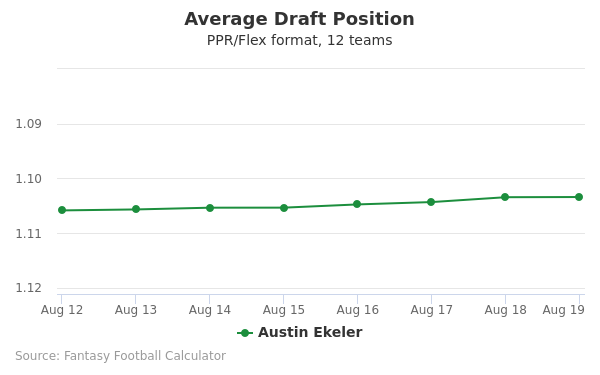 The code below will display a graph that updates every day to show the ADP data for Austin Ekeler for the past 30 days in 12-team PPR leagues.
You may use this graph on your website for free with a link back to this page for attribution.
Player News
Austin Ekeler: Two TDs caps off historic season
Ekeler registered 16 carries for 64 yards and also caught five of his 12 targets for 35 yards to go along with two total touchdowns in Sunday's 35-32 overtime loss to the Raiders.
Analysis: Ekeler ultimately tied the Colts' Jonathan Taylor for the most total touchdowns this season despite playing one fewer game as the dynamic running back asserted himself as one of the premier red-zone specialists in the NFL and answered his critics by remaining mostly healthy despite a massive increase in workload. The fifth-year running back did fall short of his lofty projections in terms of receptions, but that's in large part because Ekeler was forced to take on far more carries than anticipated. The Chargers are expected to aggressively target a complimentary back to Ekeler this offseason either through the draft or free agency, but after a career year nearly across the board in his first year in Joe Lombardi's system, it's hard to imagine the genie getting put back in the bottle.
Jan. 9, 2022 10:01 PM EST
Player Stats
YEAR
TM
GM
Rushing
Receiving
ATT
YDS
YPC
TD
FUM
REC
TGT
%
YDS
TD
YPC
2017
LAC
16
47
260
5.5
2
2
27
35
77.1
279
3
10.3
2018
LAC
16
106
554
5.2
3
1
39
53
73.6
404
3
10.4
2019
LAC
16
132
557
4.2
3
2
92
108
85.2
993
8
10.8
2020
LAC
10
116
530
4.6
1
0
54
65
83.1
403
2
7.5
Recent Articles
The 2021 fantasy football season comes down to Week 17! There have been countless amount of injuries and absences this year that have...
Read more »
December 30, 2021. Premium
December 30, 2021
Premium
Let's take a look at the players who were injured in Week 16, as well as updates on COVID and returning players.
Read more »
December 29, 2021. Premium
December 29, 2021
Premium
Between the Buccaneers' offense dropping like flies and COVID running rampant, there are plenty of injuries worth talking about this...
Read more »
December 22, 2021. Premium
December 22, 2021
Premium
Who Should You Start?
Who Should You Draft?