Chris Warren III RB (OAK)
Chris Warren III Approaching 260 pounds: Warren is up to around 260 pounds, Scott Bair of NBC Sports Bay Area reports.
Our take: Warren apparently has put on weight since last year's combine, where he ran a 4.69 40-yard dash while checking in at 6-foot-2, 247 pounds. His new weight likely makes him the largest halfback in the league, which could prove useful for blocking on special teams. With Josh Jacobs, Jalen Richard and Doug Martin all expected to have spots on the 53-man roster, Warren and 205-pound scatback DeAndre Washington seem to be competing for the possibility of a single job. Undrafted out of Texas last year, Warren ran for a league-high 292 yards during preseason and then spent the entire regular season on injured reserve with a knee issue. There hasn't been any report of the injury impacting his participation in Oakland's offseason program.
Warren III isn't currently being drafted in fantasy drafts right now.
Darren Sproles RB (FA)
Darren Sproles Working out with Brees: Sproles was recently seen catching passes from Drew Brees , Mike Kaye of NJ Advance Media reports.
What it means: The pair was working with San Diego-based strength and conditioning coach Todd Durkin alongside other NFL athletes such as Chase Daniel and Donnel Pumphrey. While it's clear Sproles is taking his time with his decision to sign a contract, his willingness to participate in workouts at least reflects some level of desire to continue playing. New Orleans doesn't have much cap space, but a reunion with Brees isn't entirely out of the picture given the underwhelming depth behind Alvin Kamara and Latavius Murray .
Sproles isn't currently being drafted in fantasy drafts right now.
Dan Vitale RB (GB)
Dan Vitale Working with starters: Vitale took every first-team rep at fullback in practices open to the media this spring, Wes Hodkiewicz of the Packers' official site reports.
Our take: Vitale is one of two fullbacks on the roster alongside practice-squad holdover Malcolm Johnson . During his time with the Browns in 2016 and 2017, he showed he can play on all four phases of special teams. While he hasn't done much offensively since being made a sixth-round draft pick in 2016, the former "super back" in college -- who caught 135 passes for 1,427 yards and 11 scores in four seasons at Northwestern from 2012 through 2015 -- seems to be capable of catching passes in the mold of someone like Kyle Juszczyk. It's no guarantee he'll make Matt LaFleur's roster, but Vitale's potential presence in 2019 could mean fewer touches to go around for the rest of the Packers' backfield.
Vitale isn't currently being drafted in fantasy drafts right now.
Dexter Williams RB (GB)
Dexter Williams Well positioned for roster spot: Williams is one of four tailbacks on the Green Bay roster after the team cut Kapri Bibbs earlier in June.
What it means: The rookie sixth-round pick is in excellent position for a spot on the 53-man roster, likely competing with 26-year-old Tra Carson (ribs) for a single job. Williams may even have an opportunity to push Jamaal Williams for backup work -- a potentially valuable role given that lead back Aaron Jones has suffered three MCL sprains in two pro seasons. Jones returned healthy for the start of the offseason program and reportedly is in much better shape after he changed his diet to reduce sugar intake.
Williams isn't currently being drafted in fantasy drafts right now.
Jamaal Williams RB (GB)
Jamaal Williams Facing competition from rookie: Williams could face competition from sixth-round pick Dexter Williams , FOX Sports Wisconsin reports.
What it means: The rookie posted better marks in every combine drill than what his new teammate did two years ago, but the veteran should retain a role on the basis of his pass-blocking acumen if nothing else. In any case, Aaron Jones is locked in as Green Bay's lead runner, coming off back-to-back, injury-plagued seasons with 5.5 yards per carry. The Packers likely would turn to a mix of Jamaal and Dexter Williams if Jones were to miss more time this upcoming season. The team finished June minicamp with only four tailbacks on its roster, holding on to Tra Carson (ribs) but cutting Kapri Bibbs.
It's possible to track the change in Jamaal Williams's fantasy value over time by looking at where he's drafted. According to the latest PPR average draft position data, he's being drafted in at the 14.03 spot.
Watch out to see if Williams's value changes in light of this update.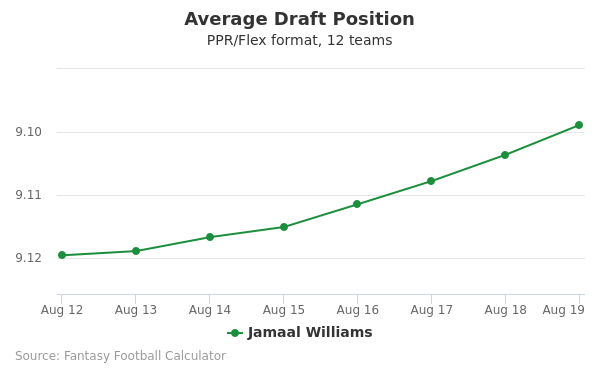 News and analysis powered by RotoWire.
---
Filed under: Free Articles