Royce Freeman RB (DEN)
Royce Freeman Could split carries with Lindsay: After taking a backseat to Phillip Lindsay as a rookie last season, Freeman could see an increased role -- particularly in short-yardage and goal-line situations -- this season, Benjamin Allbright of KOA News Radio reports.
What it means: Freeman topped 50 yards three times and scored thrice in his first four games last season, but was later slowed by an ankle injury and the emergence of fellow rookie Phillip Lindsay. He scored just twice during the rest of the season and didn't top 50 yards again until Lindsay sat in Week 17. Lindsay isn't like other diminutive backs in that he has shown toughness and ball security when running between the tackles. Still, his best work has been on stretch plays and, after ending his season with a wrist injury, it might not be a bad idea for the big-bodied Freeman to see an increased load so that Lindsay can stay fresh. The zone-heavy attack offensive coordinator Rich Scangarello is set to implement would seem to suit Freeman based on the latter's college success at Oregon.
Up until now, Royce Freeman has been drafted at the 8.08 in PPR leagues.
Keep an eye out on his value going forward.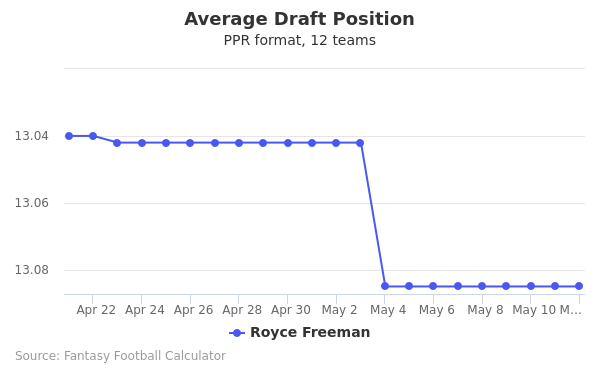 Devontae Jackson RB (DEN)
Devontae Jackson Starts training camp off hot: Jackson has impressed through the first three days of training camp, Benjamin Allbright of KOA News Radio reports.
What it means: Just a season after Phillip Lindsay went from undrafted free agent to turning heads at camp, Jackson looks to be making a similar impression. Jackson is even smaller than Lindsay was coming out of college and features fairly average timed speed, but still managed to total 2,495 rushing yards and 19 rushing touchdowns during his final two seasons at Division II West Georgia. The Broncos' depth chart appears to be set up top with Lindsay and fellow sophomore Royce Freeman, but Jackson's apparent abilities as a receiver could threaten veteran Devontae Booker 's role on the squad. How Booker, Jackson, former track star Khalfani Muhammad, and the big-bodied David Williams shake out in the coming weeks is a battle worth monitoring.
Jackson isn't currently being drafted in fantasy drafts right now.
Darren Sproles RB (PHI)
Darren Sproles Heading back to Philly: The Eagles and Sproles agreed to a one-year contract Friday, Dave Spadaro of the team's official site reports.
What it means: With less than a week remaining before the start of training camp, Philly welcomes back the 14-year veteran. Sproles has been limited to just nine appearances the past two seasons, the result of multiple lower-body injuries. Even if his body can't hold up to the rigors of regular work out of the backfield at age 36, his prowess as a punt returner should help him earn a role on the Eagles' 53-man roster. Such a gig may be his destiny anyway after the team brought in Jordan Howard and Miles Sanders (hamstring) via trade and the draft, respectively, this offseason.
Sproles isn't currently being drafted in fantasy drafts right now.
Todd Gurley RB (LAR)
Todd Gurley Feeling good before camp: Coach Sean McVay said Gurley (knee) is feeling great and has earned the right to scale back his offseason workload, NFL.com's Kevin Patra reports. "I think he's earned the right to be able to have the plan that we had this offseason," McVay said. "Can't wait to get him back going. I know he's ready to go and it's going to be fun for the Rams this year."
Our take: Gurley and McVay have maintained optimism all along, while the Rams' offseason actions hint at some level of concern, with the team matching a two-year, $3.3 million offer sheet for Malcolm Brown and later trading up to draft Darrell Henderson. Reports of arthritis in Gurley's knee have driven his fantasy stock down, though his trainer suggested it's no surprise for the running back to have long-term issues in the same knee that was comprised by an ACL tear in 2014. The Rams likely knew about the potential for complications last offseason when they signed Gurley to a four-year, $57.5 million extension that includes full guarantees for his 2019 and 2020 salaries. Although the days of massive, three-down workloads may be gone, the Rams seemingly still expect Gurley to lead their backfield. McVay already said he won't play his key starters during the preseason, so visual evidence may be limited to whatever training camp practices are open to the media.
The fantasy value of Todd Gurley is measured by his average draft position (ADP). The graph below shows how it's trending in the latest mock drafts . In recent drafts, Gurley's current ADP is 2.05
Watch out to see if Gurley's value changes in light of this update.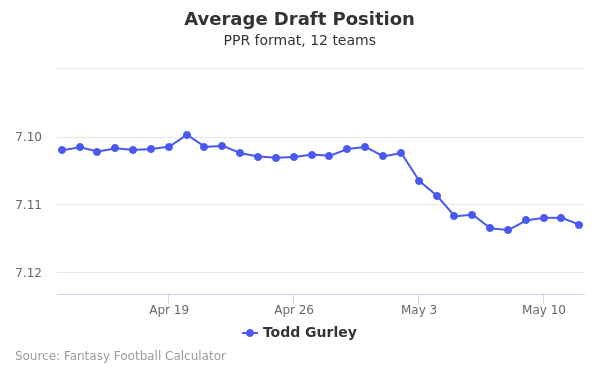 David Williams RB (DEN)
David Williams Signing with Denver: Williams signed a contract with the Broncos on Thursday, Ryan O'Halloran of The Denver Post reports.
What it means: Williams was drafted by the Broncos in the seventh round of last-year's draft but was waived prior to the regular season. He was ultimately picked up by the Jaguars and appearing in six games for the team, rushing for 36 yards on eight carries. He'll now set his sights on securing a depth running back position with Denver.
Williams isn't currently being drafted in fantasy drafts right now.
News and analysis powered by RotoWire.
---
Filed under: Free Articles