Phillip Lindsay
Houston Texans
Running Back #23
Houston Texans
Running Back #23
Photo: Icon Sportswire
Personal
| | |
| --- | --- |
| Age | 27 |
| Birthdate | July 24, 1994 |
| Height | 5'7" |
| Weight | 185 lb |
Draft
College
None
Year
2018
Pick
UDFA
Team
DEN FA
Fantasy Value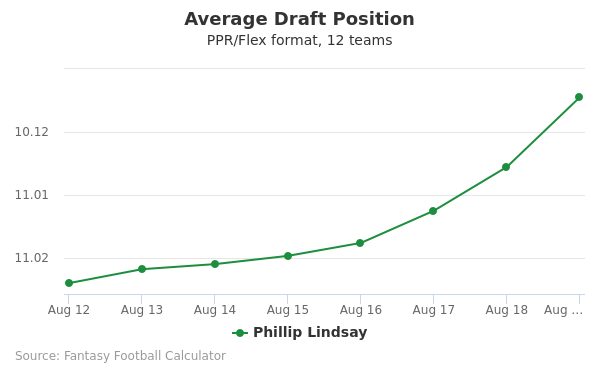 The code below will display a graph that updates every day to show the ADP data for Phillip Lindsay for the past 30 days in 12-team PPR leagues.
You may use this graph on your website for free with a link back to this page for attribution.
Player News
Phillip Lindsay: Stays healthy throughout offseason
Lindsay enjoyed a healthy offseason, including throughout Houston's spring practices, Deepi Sidhu of the Texans' official website reports.
Analysis: Lindsay missed his final two games with the Broncos, landing on injured reserve in late December due to hip and knee injuries. With no report of surgery and now full participation in spring practices, Lindsay should be at full strength when the Texans head to training camp in late July. He's signed to a one-year, $3.25 million contract that includes only $1 million guaranteed, competing for reps in a veteran backfield with David Johnson, Mark Ingram and Rex Burkhead.
Jul. 8, 2021 12:28 PM EST
Player Stats
YEAR
TM
GM
Rushing
Receiving
ATT
YDS
YPC
TD
FUM
REC
TGT
%
YDS
TD
YPC
2018
DEN
16
192
1,037
5.4
9
0
35
47
74.5
241
1
6.9
2019
DEN
16
224
1,011
4.5
7
0
35
48
72.9
196
0
5.6
2020
DEN
14
118
502
4.3
1
0
7
14
50.0
28
0
4.0
Recent Articles
Week 12 was slammed with COVID-19 cases and injuries, and things are starting to go in the wrong direction for the NFL.  We had one game...
Read more »
November 30, 2020. Premium
November 30, 2020
Premium
As we do every week, we saw players who had their dynasty outlook trend upwards and others who you should play the matchup with and are...
Read more »
November 17, 2020. Premium
November 17, 2020
Premium
Another crazy week with COVID in Week 7, although we were able to make it through the week unscathed.  There were plenty of storylines...
Read more »
October 26, 2020. Premium
Who Should You Start?
Who Should You Draft?