Tony Pollard RB (DAL)
Tony Pollard Carries load on lone drive: Pollard carried five times for 42 yards and a touchdown while catching his lone target for a nine-yard gain during Saturday's 14-10 preseason win over the Rams.
Our take: Pollard only participated on one drive, but he touched the ball six times while racking up 51 scrimmage yards and a touchdown to cap off an impressive 97-yard march by the Dallas offense. He was especially impressive on his 14-yard touchdown run, exploding through the hole and lowering his shoulder to punch his way in. Pollard has drawn rave reviews during camp and finally showed what he's capable of after a solid albeit unspectacular preseason debut. Ezekiel Elliott 's contract holdout continues to dominate the headlines, but at the very least, Pollard makes for a nice contingency plan. He should play deeper into Saturday's game against the Texans.
The fantasy value of Tony Pollard is measured by his average draft position (ADP). The graph below shows how it's trending in the latest mock drafts . In recent drafts, Pollard's current ADP is 13.05
Keep an eye out on his value going forward.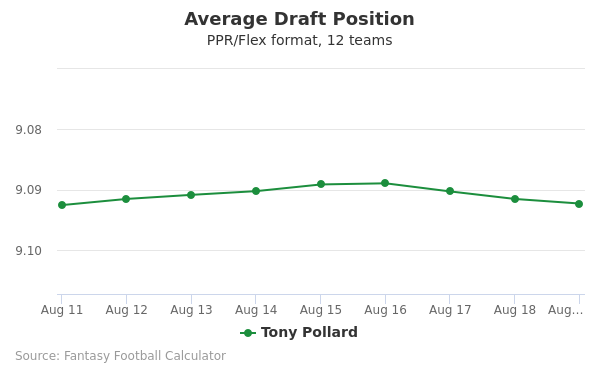 Alex Barnes RB (TEN)
Alex Barnes Leads team in rushing: Barnes carried the ball seven times for 42 yards in the Titans' second preseason game against the Patriots.
Our take: Barnes led the team in rush attempts for the second preseason contest, but this time managed more efficiency with his work. On the team's first offensive possession of the second half, Barnes received five consecutive carries and rushed for a solid 31 yards. This was a vast improvement over his first preseason performance and could keep him in the running to make the roster, especially if Dalyn Dawkins (undisclosed) is held out for any considerable amount of time.
Barnes isn't currently being drafted in fantasy drafts right now.
Dion Lewis RB (TEN)
Dion Lewis Limited work again: Lewis carried the ball four times for 16 yards in the Titans' second preseason game against the Patriots. He also hauled in one pass for nine yards.
What it means: Lewis worked as the primary back to begin the game, but began to split work with Jeremy McNichols in team's third offensive possession. He didn't put forward any particularly noteworthy plays but did rush for a solid gain of eight yards on his first touch of the contest. Once the regular season hits, Lewis figures to work primarily as the Titans' pass-catching back as well as to spell Derrick Henry (calf) periodically.
It's possible to track the change in Dion Lewis's fantasy value over time by looking at where he's drafted. According to the latest PPR average draft position data, he's being drafted in at the 13.04 spot.
Keep an eye out on his value going forward.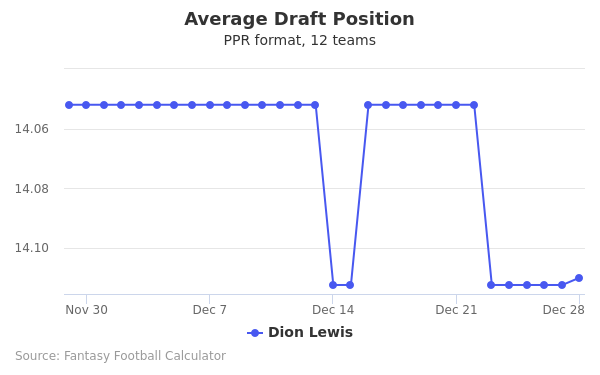 Jeremy McNichols RB (TEN)
Jeremy McNichols Contributes in passing game: McNichols ran for 13 yards on six attempts, adding three receptions for 24 yards and a touchdown during Saturday's 22-17 loss to the Patriots.
Fantasy impact: The former Boise State Bronco continues to pop in the preseason, supplying one of Tennessee's two receiving touchdowns Saturday after leading the team in rushing in the opener against Philadelphia. He was listed as the Titans' fourth-string running back on the initial unofficial depth chart, but could foreseeably elevate over David Fluellen with continued production against the Steelers and Bears in the third and fourth preseason installments.
McNichols isn't currently being drafted in fantasy drafts right now.
Gregory Howell Jr. RB (HOU)
Gregory Howell Jr. Hefty workload in preseason win: Howell rushed 15 times for 84 yards and a touchdown and wasn't targeted in the passing game in the Texans' 30-23 preseason win over the Lions on Saturday.
Fantasy impact: The second-year back led all ballcarriers in rushing attempts and yardage on the night, averaging an impressive 5.6 yards per tote along the way. Howell's long run was a modest 14 yards, meaning he consistently picked up solid chunks of real estate throughout the night. The Texans now have Duke Johnson in the fold as an experienced complement to Lamar Miller , but there certainly could be room for Howell as the third back, a role he likely went a long way toward securing with Saturday's production.
Howell Jr. isn't currently being drafted in fantasy drafts right now.
News and analysis powered by RotoWire.
---
Filed under: Free Articles