Derrick Henry
Tennessee Titans
Running Back #22
Tennessee Titans
Running Back #22
Photo: Icon Sportswire
Personal
| | |
| --- | --- |
| Age | 26 |
| Birthdate | July 17, 1994 |
| Height | 6'3" |
| Weight | 247 lb |
Draft
College
Alabama
Year
2016
Pick
Round: 2, Overall: 45
Team
TEN
Fantasy Value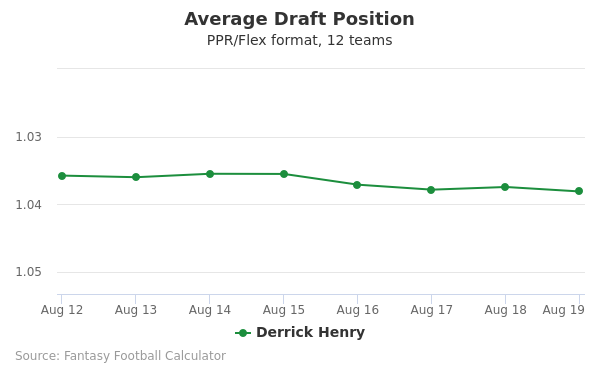 The code below will display a graph that updates every day to show the ADP data for Derrick Henry for the past 30 days in 12-team PPR leagues.
You may use this graph on your website for free with a link back to this page for attribution.
Player News
Derrick Henry: Bottled up by Ravens
Henry carried the ball 18 times for 40 yards in the team's wild card round loss to the Ravens. He added three receptions for 11 yards.
Analysis: Henry ran over the Ravens' in the team's divisional-round matchup last postseason, racking up 195 rushing yards. However, this season's matchup was a different story as Henry was limited to 51 total yards, with his longest gain of the day going for just eight yards. It was a sour close to the season after a dominant regular season campaign for Henry during which he racked up over 2,000 yards on the ground. As some consolation, Henry will remain under contract with the Titans in 2021, giving him another chance to contribute to a playoff run.
Jan. 10, 2021 1:38 PM EST
Player Stats
YEAR
TM
GM
Rushing
Receiving
ATT
YDS
YPC
TD
FUM
REC
TGT
%
YDS
TD
YPC
Recent Articles
Top picks for your Sunday NFC and AFC Championship games.
Read more »
January 22, 2021. Premium
Week 1 of the playoffs is played over two days, so we will be lumping all six games into one article this week. DraftKings (and other...
Read more »
January 8, 2021. Premium
With the 2020 fantasy season finishing, many players deserve recognition for their performance in a season unlike any other. Between...
Read more »
January 7, 2021. Premium
Who Should You Start?
Who Should You Draft?