Jeffery Wilson RB (SF)
Jeffery Wilson Misses cut: The 49ers released Wilson as part of Saturday's final roster cuts, Matt Maiocco of NBC Sports Bay Area reports.
Our take: Maiocco noted that Wilson was the last player to be alerted of his release, showing that the team's front office was heavily debating whether or not to keep the back up until the 11th hour. San Francisco would likely keep the 23-year-old on the practice squad if he clears waivers, but their chances may be slim after Wilson's strong preseason (178 yards, four touchdowns and a 4.3 YPC) and brief success against NFL defenses last season (66 carries for 266 rushing yards).
Wilson isn't currently being drafted in fantasy drafts right now.
Dare Ogunbowale RB (TB)
Dare Ogunbowale Wins third running back job: Ogunbowale is one of only three running backs currently on the Buccaneers' roster following the release of Andre Ellington on Saturday, Scott Smith of the team's official site reports.
Our take: Ogunbowale made his presence felt throughout training camp and preseason and evidently showed enough as a pass catcher in particular to convince coach Bruce Arians with a known entity in Ellington. As one of only three running backs on the roster alongside Peyton Barber and Ronald Jones, Ogunbowale is one injury away from an expanded role, and he figures to see a fairly solid complementary role even when the top duo is at full health. Ogunbowale also has some experience as a kickoff returner, although Bobo Wilson is projected to open the season in that role.
It's possible to track the change in Dare Ogunbowale's fantasy value over time by looking at where he's drafted. According to the latest PPR average draft position data, he's being drafted in at the 14.05 spot.
Watch out to see if Ogunbowale's value changes in light of this update.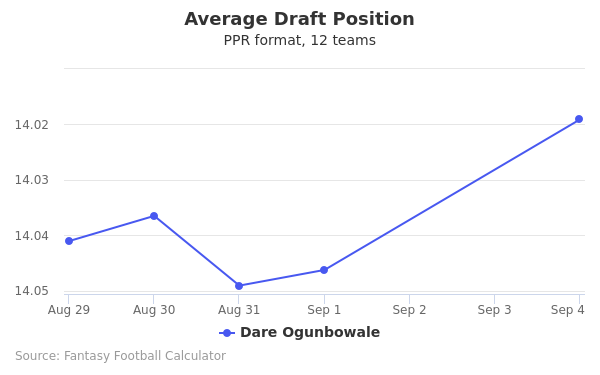 Darwin Thompson RB (KC)
Darwin Thompson New competiton for backup RB role: Thompson faces new competition for touches in the Kansas City backfield with Adam Schefter of ESPN reporting that the Chiefs are set to sign LeSean McCoy .
Our take: Thompson appeared to bypass Carlos Hyde for the backup running back job to starter Damien Williams late in the preseason. Hyde was traded to Houston on Saturday, but the Chiefs then reportedly signed McCoy to a contract that includes a guaranteed $3 million. Thompson may begin the season as the No. 3 RB as a result, but he still has the potential for a larger role if Williams or McCoy falter.
It's possible to track the change in Darwin Thompson 's fantasy value over time by looking at where he's drafted. According to the latest PPR average draft position data, he's being drafted in at the 7.05 spot.
How much this impacts Thompson remains to be seen.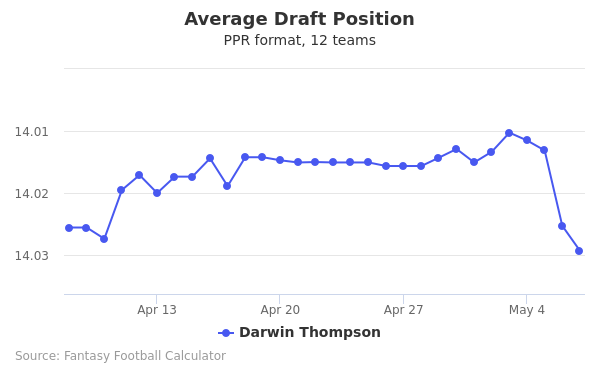 Damien Williams RB (KC)
Damien Williams New backfield competition: Williams will have a new teammate in the backfield after the Chiefs signed LeSean McCoy on Saturday night.
Fantasy impact: Williams owners got some breathing room when Carlos Hyde dropped out of the carries picture, but McCoy will offer a serious threat even at 31 years of age. While we'll still consider Williams the starter, he seemed to lose some mojo while working through a hamstring injury this summer. It's worth noting McCoy has a history with coach Andy Reid, not to mention Shady is a strong pass catcher out of the backfield. Williams could use a strong start to hold off McCoy before the latter gets up to speed with his new team.
Up until now, Damien Williams has been drafted at the 2.09 in PPR leagues.
Watch out to see if Williams's value changes in light of this update.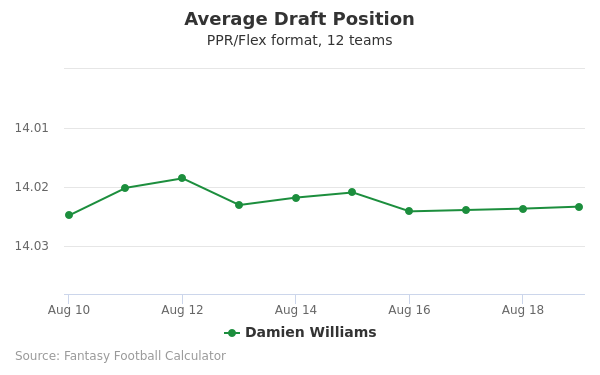 LeSean McCoy RB (BUF)
LeSean McCoy Slides over to KC: McCoy, released by the Bills earlier Saturday, will sign a one-year, $4 million deal that includes $3 million guaranteed with the Chiefs, Adam Schefter of ESPN reports.
What it means: Well, it didn't take long for Shady to find a new spot, as he'll reunite with long-time coach Andy Reid. From a fantasy perspective, there might have been landing spots that offered more opportunity -- such as Houston or with the Los Angeles Chargers -- but Kansas City runs as dynamic an offense as anyone and if McCoy can somehow wrestle the top spot from Damian Williams, it'd be a huge home run for his value. For now, however, we have to think of him as part of a committee behind Williams, one that offers a nice pass-catching option for star quarterback Patrick Mahomes.
The fantasy value of LeSean McCoy is measured by his average draft position (ADP). The graph below shows how it's trending in the latest mock drafts . In recent drafts, McCoy's current ADP is 8.12
Keep an eye out on his value going forward.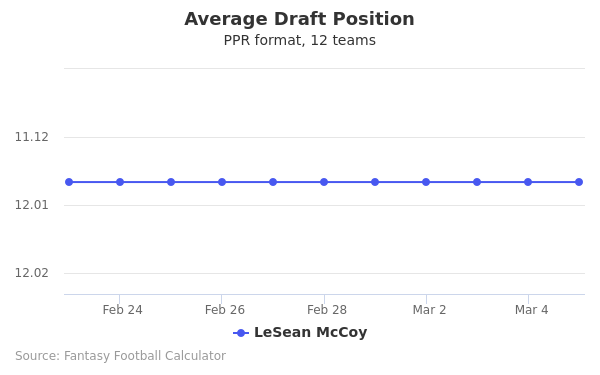 News and analysis powered by RotoWire.
---
Filed under: Free Articles