Delanie Walker TE (TEN)
Delanie Walker Starts, but no targets: Walker (ankle) started but did not garner a target before the starters were pulled in Sunday's preseason dress rehearsal against the Steelers.
Our take: While Walker was not involved in the box score, it is still positive news that he will head into the regular season with a clean bill of health after dealing with an ankle injury earlier this preseason. Marcus Mariota 's play may be inconsistent at times, but Walker seems to be the one constant that works with him. The veteran tight end has gained at least 800 receiving yards in each of the last four seasons, making him a steady fringe top-10 fantasy option.
It's possible to track the change in Delanie Walker's fantasy value over time by looking at where he's drafted. According to the latest PPR average draft position data, he's being drafted in at the 11.03 spot.
Watch out to see if Walker's value changes in light of this update.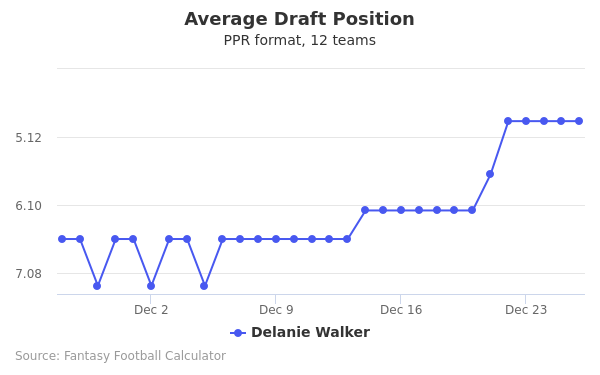 Jordan Leggett TE (TB)
Jordan Leggett Makes good use of one catch: Leggett brought in his only target for 20 yards and a touchdown in the Buccaneers' 13-12 preseason win over the Browns on Friday.
Our take: Leggett hasn't had many opportunities to showcase his skills this preseason, but he certainly made a mark in Friday's contest. Leggett's 20-yard touchdown marked the only time the Buccaneers visited the end zone, and it allowed him to make an impression in a game where fellow reserve tight end Anthony Auclair exited with a calf injury. Despite the success, Leggett would seemingly need a monumental performance in Thursday's preseason finale to measure up to the excellent summer that position mate Tanner Hudson has put together.
Leggett isn't currently being drafted in fantasy drafts right now.
Jake Butt TE (DEN)
Jake Butt Nabs two passes in preseason debut: Butt caught both of his targets for 17 total yards during Saturday's 10-6 preseason loss to the Rams.
Our take: Recovering from his third ACL tear, Butt finally made his preseason debut on Saturday -- logging 11 offensive snaps and making two nice catches underneath. The Broncos are thin down the tight-end depth chart with Austin Fort and Bug Howard on injured reserve. Fullback Andy Janovich (pectoral) should also miss the first few games of the year. Provided he doesn't suffer another setback in his rehab, Butt has a decent shot at making the final roster as TE4.
Butt isn't currently being drafted in fantasy drafts right now.
Troy Fumagalli TE (DEN)
Troy Fumagalli Stands out in preseason loss: Fumagalli brought in all five of his targets for 44 yards in the Broncos' 10-6 preseason loss to the Rams on Saturday.
What it means: With Jeff Heuerman (shoulder) and Noah Fant (ankle) both nursing injuries, Fumagalli saw extensive playing time Saturday and outperformed fellow reserve Jake Butt (2-17). The 2018 fifth-round pick is also logging time at fullback this summer as the Broncos look to find an in-house replacement for the sidelined Andy Janovich (pectoral), but Saturday's performance certainly helped him make a case as a fine pass-catching option at a tight end position that still has a fair amount of uncertainty attached to it as the regular season approaches.
Fumagalli isn't currently being drafted in fantasy drafts right now.
Jared Cook TE (NO)
Jared Cook Misses Saturday's game: Cook didn't suit up for Saturday's preseason contest against the Jets, Herbie Teope of The New Orleans Times-Picayune reports.
Fantasy impact: Veterans are often held out of exhibition action, even one on a new team like Cook. Making the decision easier was logging his first catch as a Saint last Sunday. However, Katherine Terrell of The Athletic noted that Cook was gimpy in the first part of Thursday's practice, and while he fit in some reps afterward, he was unable to complete the session. The nature of any health concern is unknown, but Cook is likely sitting out more as a precaution than anything.
The fantasy value of Jared Cook is measured by his average draft position (ADP). The graph below shows how it's trending in the latest mock drafts . In recent drafts, Cook's current ADP is 7.01
Keep an eye out on his value going forward.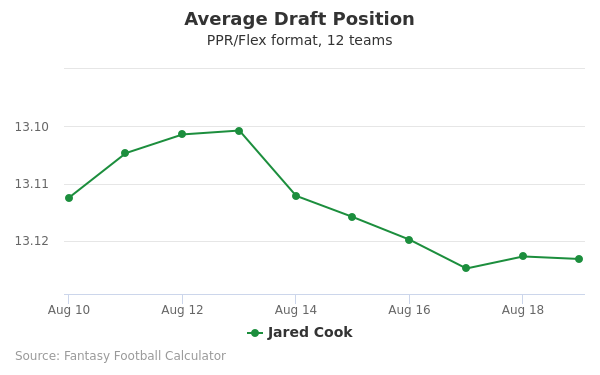 News and analysis powered by RotoWire.
---
Filed under: Free Articles