Tyreek Hill's ascension from undrafted fantasy player to top 12 wide receiver is just like how he plays football, extremely fast. An unknown factor after his dismissal at Oklahoma State, he was taken in the 5th round by Kansas City and slotted in as the teams 4th wide receiver and punt returner.
After only sparse use through the first 5 games, Hill became a big play machine, scoring 126 of his 144 standard league points in his last 11 games. This included an 86 yard kick return, a 95 yard punt return, two rushing touchdowns of over 65 yards and two receiving touchdowns of over 37 yards. By the end of the year he compiled an impressive 860 yards and 12 touchdowns, good for 12th among wide receivers.
That imposing output as a rookie makes Hill one of the hottest names in fantasy. His current ADP of 34 puts him as the 15th wide receiver off the board and slots him as a 3rd round pick in 12 team leagues. He has a somewhat higher standard deviation than other players (6.1), meaning there is a wide opinion on exactly where he should go, but he is typically falling between the late second and early fourth round.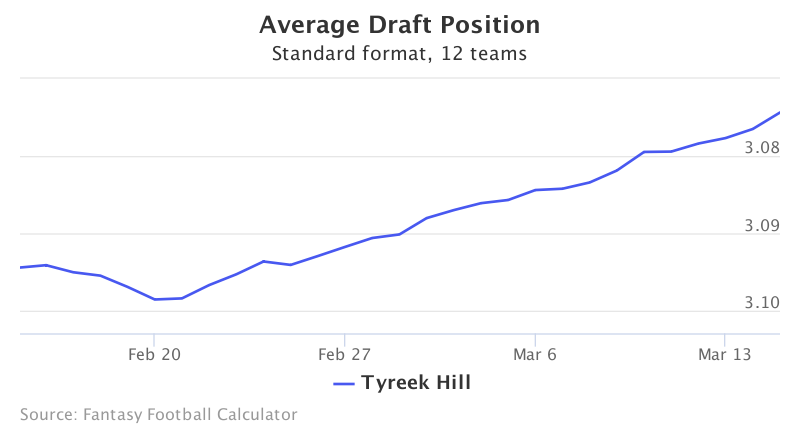 That being said, I would urge caution in reaching for Hill too early. Ask a good fantasy player what they value most, and the answer often is consistency. A weekly 13 point output is infinitely more useful than 20 points one week and a goose egg the next. If you can't trust a player to start him, you can't capitalize on the rare big outputs. Hill was consistent last year because he created an unbelievable amount of big plays (13 plays of 20 or more yards if you include his return touchdowns.) The question to ask before drafting Hill is, are these plays sustainable in 2017?
A potential answer to that question comes in the form of Cordarrelle Patterson's 2013 rookie season. Patterson produced 10 touchdowns with a variety of big plays and contributed rushing, receiving and return yards. This led him to enter 2014 as a hot commodity, actually slotting in the exact same ADP spot (34) that Hill currently occupies. But an inability to run routes and catch the ball has relegated him to primarily special teams, and sapped all fantasy value.
This isn't to say that players should avoid Hill. He has better hands and route running than Patterson, can be used in more dimensions out of the backfield, and Kansas City will manufacture him touches. But Hill posses more risk than many players due to the volatility in his outputs. Big plays come and go, and until he proves a reliable receiver, he offers an undesirably low floor. Additionally, he is being drafted above much more consistent options in Brandin Cooks, Dough Baldwin and Jarvis Landry. The big play potential is exciting, but he may have achieved his ceiling in 2016.
---
Filed under: Free Articles