Wide receivers are critical in fantasy football.
A good fantasy roster is deep in pass catching talent, especially in PPR leagues.
These 3 players are the latest ones in the news.
Use this information to help start the right players, monitor the waiver wire and identify trade targets.
Courtland Sutton WR (DEN)
Courtland Sutton Comfortable under new coordinator: Sutton said he will enter training camp with a good grasp of the new scheme from offensive coordinator Rich Scangarello, Kyle Frederickson of The Denver Post reports.
Our take: The Broncos are counting on development from their trio of second-year wideouts -- Sutton, DaeSean Hamilton and Tim Patrick -- after passing on any draft picks or free-agent signings to bolster the position. The team did trade for 34-year-old quarterback Joe Flacco , and later used its first two draft picks on tight end Noah Fant and QB Drew Lock. With Emmanuel Sanders (Achilles) absent from spring practices and looking uncertain for the beginning of the season, Sutton has a chance to establish himself as the No. 1 receiver. The 23-year-old said he was impressed with Flacco during the offseason program, noting that the veteran's deep ball lives up to its reputation. Flacco fell shy of 7.0 yards per attempt each of his final four seasons in Baltimore, throwing 64 touchdowns and 46 interceptions in 51 games during that stretch.
It's possible to track the change in Courtland Sutton's fantasy value over time by looking at where he's drafted. According to the latest PPR average draft position data, he's being drafted in at the 10.04 spot.
Keep an eye out on his value going forward.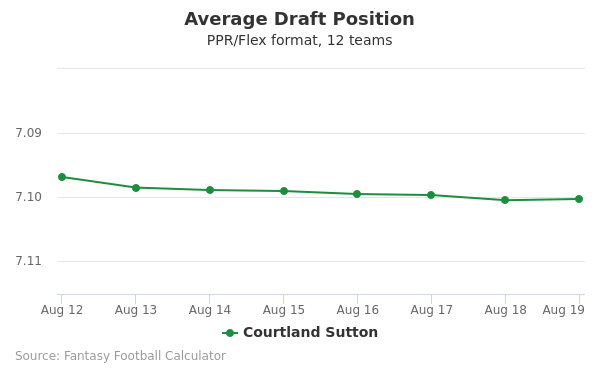 Jakeem Grant WR (MIA)
Jakeem Grant Preparing for training camp: Grant (Achilles) said he is "over the mental hump" in his rehab process, Hal Habib of The Palm Beach Post reports.
Fantasy impact: Grant hasn't commented on the exact nature of his injury, merely denying that it was an Achilles tear. Whatever the case, he was a limited participant in Miami's offseason program and may be eased into practice during training camp. Despite the injury limiting him to 10 games, Grant enjoyed his best season to date in 2018, catching 21 of 34 targets for 268 yards and two scores while adding a kick return touchdown and a punt return touchdown. His ability to handle both return jobs and also serve as a third or fourth receiver could inspire the Dolphins to offer him an extension as he prepares for the final year of his rookie contract.
Grant isn't currently being drafted in fantasy drafts right now.
Chris Godwin WR (TB)
Chris Godwin Expectations high heading into '19: Head coach Bruce Arians recently reiterated he stands by an earlier statement that Godwin could log triple-digit receptions in the coming season, Scott Smith of the Buccaneers' official site reports.
Fantasy impact: Arians originally set the lofty bar via a comment in March, and he doubled down on his public expectations in the midst of OTAs at the end of May. While a 100-catch haul for a No. 2 receiver in a Mike Evans -helmed wideout corps may ultimately be a bit ambitious, Godwin would certainly generate an impressive line in the coming season were he to mirror the same degree of year-over-year improvement he demonstrated between his rookie campaign and his sophomore season. Godwin upped his catches from 34 to 59, boosted his receiving yards from 525 to 842, and saw his touchdowns surge from one to seven in 2018, and despite being tasked with learning a new offense this offseason, Godwin appreciates and echoes his new head coach's confidence in his ability. "I always think I can be a red zone threat," said Godwin. "I think I can be a threat from wherever on the field. That's my goal, is to keep progressing as a receiver and be one of the top guys in the league. I've got a lot of work to do but I'm looking forward to putting that work in."
It's possible to track the change in Chris Godwin's fantasy value over time by looking at where he's drafted. According to the latest PPR average draft position data, he's being drafted in at the 5.05 spot.
Watch out to see if Godwin's value changes in light of this update.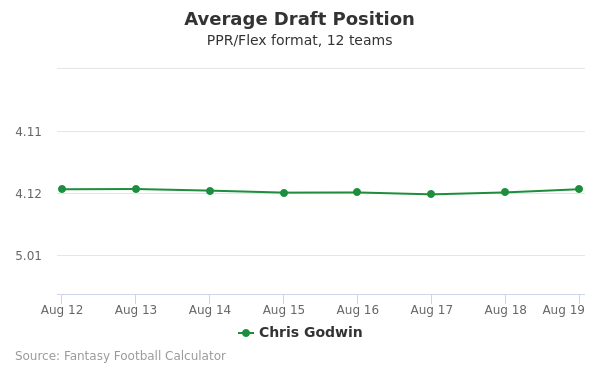 News and analysis powered by RotoWire.
---
Filed under: Free Articles