Wide receivers are critical in fantasy football.
A good fantasy roster is deep in pass catching talent, especially in PPR leagues.
These 4 players are the latest ones in the news.
Use this information to help start the right players, monitor the waiver wire and identify trade targets.
Greg Dortch WR (NYJ)
Greg Dortch Making strong case with versatility: Dortch is building a good case for a spot on the 53-man roster, Connor Hughes of The Athletic reports.
Fantasy impact: The undrafted rookie had 1,800 receiving yards and 1,211 return yards in 20 games at Wake Forest, scoring 17 touchdowns on offense and two more on special teams. He's one of the smallest players in the NFL at 5-foot-7, 173 pounds, so his strong work during the offseason program won't necessarily carry over to padded practices at training camp. If it does, Dortch could serve as the backup for Jamison Crowder 's slot role while also returning punts and/or kickoffs. Second-year players Deontay Burnett and Quadree Henderson are hoping to win the same type of job, but the former hasn't seen return work since his sophomore year of college and the latter doesn't have much experience as a receiver.
Dortch isn't currently being drafted in fantasy drafts right now.
Terry McLaurin WR (WAS)
Terry McLaurin Stays busy throughout offseason: McLaurin got regular work on both offense and special teams during the offseason program, Andrew Breitfelder of the team's official website reports.
What it means: Coach Jay Gruden said McLaurin was the top special teams player on Washington's draft board, pointing to his strong work covering kicks and punts in four seasons at Ohio State. Gruden's assessment provides an explanation for using a third-round pick on a player with just 75 receptions during his college career, though it also helps that McLaurin had 11 touchdowns last season before lighting up the 2019 Scouting Combine with a 4.35-second 40-yard dash, 37.5-inch vertical and 125-inch broad jump -- all while checking in at a sturdy 6-foot, 208 pounds. With Paul Richardson (shoulder) coming off an injury-marred season and Josh Doctson still a major disappointment, McLaurin has a realistic shot to push for regular snaps on offense in addition to his presumed role on special teams coverage units.
McLaurin isn't currently being drafted in fantasy drafts right now.
Robby Anderson WR (NYJ)
Robby Anderson Withdraws from 40-yard competition: Anderson (undisclosed) withdrew from Saturday's "40 Yards of Gold" competition after winning his first race, NJ.com's Matt Stypulkoski reports.
Our take: Anderson missed part of June minicamp with an undisclosed injury but apparently returned to health in time to outrace Alvin Kamara in the opening round of last weekend's competition. The 26-year-old wideout then pulled out of the event, which led to speculation about a possible injury. With nothing substantiative reported so far, it's possible Anderson never intended to run more than one race. Whatever the case, he'll have a few weeks to rest before the Jets report to training camp July 24.
It's possible to track the change in Robby Anderson's fantasy value over time by looking at where he's drafted. According to the latest PPR average draft position data, he's being drafted in at the 7.03 spot.
Watch out to see if Anderson's value changes in light of this update.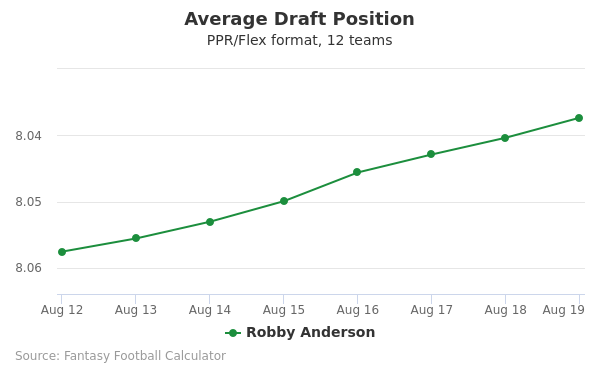 Josh Doctson WR (WAS)
Josh Doctson Preparing for 2020 departure: Doctson anticipates being a free agent next offseason, ESPN.com's John Keim reports. "I think I'm hitting free agency next year. I won't be the first, won't be the last," Docton said. "It's nothing to be sad about, be mad about. I'm not trying to prove nothing to nobody. Just trying to get chemistry with the quarterbacks."
Fantasy impact: Washington declined the fifth-year option on its 2016 first-round pick, making an easy decision after Doctson managed just 6.8 yards per target and two touchdowns on 44 catches last season. The 26-year-old wideout presumably will open training camp with a spot in the starting offense, but he may face competition from rookie third-round pick Terry McLaurin or even 2018 UDFA Cam Sims. Coach Jay Gruden already put a damper on any fantasy-related optimism, noting that Doctson may struggle to draw targets in an offense that also needs to create opportunities for Paul Richardson, Trey Quinn, Jordan Reed and Chris Thompson. The team also hopes to lean heavily on its running game, led by Derrius Guice (knee) and Adrian Peterson.
Doctson isn't currently being drafted in fantasy drafts right now.
News and analysis powered by RotoWire.
---
Filed under: Free Articles