Wide receivers are critical in fantasy football.
A good fantasy roster is deep in pass catching talent, especially in PPR leagues.
These 5 players are the latest ones in the news.
Use this information to help start the right players, monitor the waiver wire and identify trade targets.
John Ross WR (CIN)
John Ross Expected back for Week 1: Coach Zac Taylor expects Ross (hamstring) to be available Week 1 against the Seahawks, Geoff Hobson of the Bengals' official site reports.
What it means: The expectation feels a bit optimistic, considering Ross missed all of training camp and isn't likely to make an appearance in any preseason games. He does hope to be back at practice Sunday, but it's fair to wonder about the extent of his Week 1 role even if he puts the hamstring injury behind him. The missed practice time would be less of a concern if the Bengals weren't in the process of installing a new offense under a new coaching staff. There's also no reason for confidence when evaluating the wideout's medical history or the quality of his play last year. On the other hand, there's no shortage of opportunity for Ross to eventually earn snaps and targets, as No. 1 receiver A.J. Green (ankle) is set to miss at least the first few games of the season.
Ross isn't currently being drafted in fantasy drafts right now.
Antonio Brown WR (OAK)
Antonio Brown Gets hearing scheduled for Friday: Brown's second helmet-related grievance against the NFL likely will be heard Friday in front of an arbitrator, Ian Rapoport of NFL Network reports.
Our take: After his initial grievance was denied, Brown located three more copies of his preferred Schutt AiR Advantage helmet, including at least one that the NFL already has rejected. The ridiculous saga at least seems to be nearing a conclusion, with Brown rejoining the Raiders on Monday and returning to practice Tuesday with a league-certified helmet. His foot injuries from a mishap in a cryotherapy chamber seem to have healed while he was absent from training camp to deal with the helmet situation. Raiders general manager Mike Mayock expressed frustration with Brown on Sunday, but it's likely that all will be forgiven if the 31-year-old can prove he's mentally and physically prepared for Week 1 against Denver.
Up until now, Antonio Brown has been drafted at the 2.10 in PPR leagues.
Watch out to see if Brown's value changes in light of this update.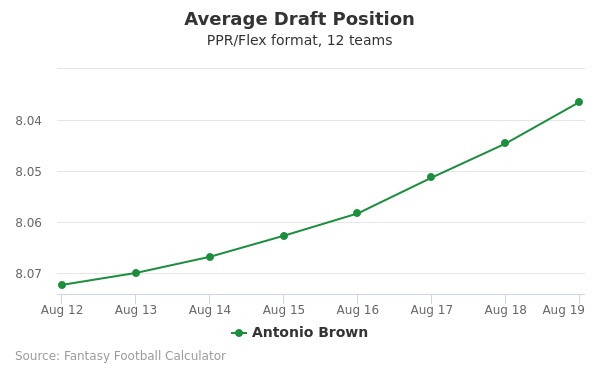 Jakeem Grant WR (MIA)
Jakeem Grant Reaches four-year extension: Grant (hamstring) signed a four-year extension with the Dolphins on Tuesday, Ian Rapoport of NFL Network reports.
What it means: Grant is in the final year of his four-year rookie contract, but he'll now be able to stay with Miami through the 2023 campaign. The 26-year-old caught 21 of 34 targets for 268 yards and two touchdowns in 10 games before suffering an Achilles injury in November. He also made an impact in the return game, with one kick and one punt return touchdown. Grant is currently dealing with a hamstring injury, but he;s returned to practice and could make his preseason debut Thursday versus the Jaguars.
Grant isn't currently being drafted in fantasy drafts right now.
Dontrelle Inman WR (LAC)
Dontrelle Inman Heading to familiar home: Inman agreed to a contract with the Chargers on Tuesday, Ian Rapoport of NFL Network reports.
Fantasy impact: After visiting the Jets on Tuesday and receiving an offer per Rapoport, the wide receiver decided a reunion with the team he's spent four seasons with in his career was too good to pass up. Familiarity with the offense, and primarily Philip Rivers , could lead to a possible role in the offense for the 30-year-old. The depth chart is pretty set in three-wide sets, but Inman stands to battle with Geremy Davis and Artavis Scott for the fourth receiver role as it stands now.
Inman isn't currently being drafted in fantasy drafts right now.
Tyreek Hill WR (KC)
Tyreek Hill Expected back Wednesday: Coach Andy Reid expects Hill (personal) to return to practice Wednesday, Adam Teicher of ESPN.com reports.
Our take: Hill was absent from practice Tuesday for personal reasons, but it appears as though he'll be back with the Chiefs in short order, as the team continues its preparation for Saturday's preseason game against the 49ers.
It's possible to track the change in Tyreek Hill's fantasy value over time by looking at where he's drafted. According to the latest PPR average draft position data, he's being drafted in at the 2.02 spot.
How much this impacts Hill remains to be seen.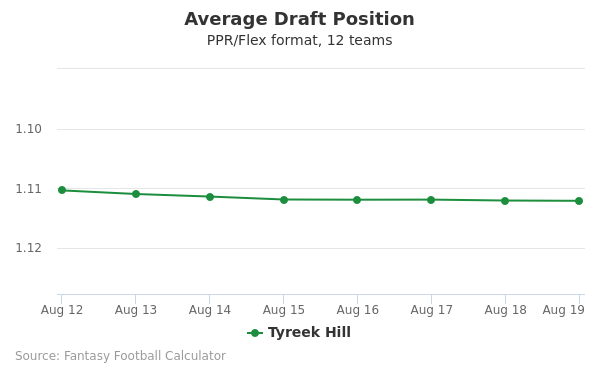 News and analysis powered by RotoWire.
---
Filed under: Free Articles