Wide receivers are critical in fantasy football.
A good fantasy roster is deep in pass catching talent, especially in PPR leagues.
These 5 players are the latest ones in the news.
Use this information to help start the right players, monitor the waiver wire and identify trade targets.
Quincy Enunwa WR (NYJ)
Quincy Enunwa Done for season with neck injury: Enunwa suffered neck injury in Sunday's 17-16 loss to the Bills and will be shut down for the rest of the season, Brian Costello of the New York Post reports.
Our take: The Jets' acquisition Tuesday of Demaryius Thomas (hamstring) had already cast some doubt on Enunwa's status as a starter, but a job competition won't be in the offing with the latter being shuttered for the season. Enunwa was sent in for further testing Monday, and while the Jets determined he was dealing with a serious injury, it's unclear at this time if his latest setback with his neck is career-threatening. Enunwa previously missed the entire 2017 season after injuring his neck in training camp that year, but after returning healthy in 2018, he inked a four-year, $36 million contract extension in December. Assuming he's healthy in his own right, Thomas could immediately take on a sizable snap share in Week 2 against the Browns, working alongside deep threat Robby Anderson and slot specialist Jamison Crowder.
Enunwa isn't currently being drafted in fantasy drafts right now.
Tyreek Hill WR (KC)
Tyreek Hill Expected to miss 4-6 weeks: Hill (collarbone) is expected to miss 4-to-6 weeks, but it could end up being longer, Ian Rapoport of NFL Network reports.
What it means: The Chiefs don't intend to place Hill on injured reserve, preferring to first see how he progresses in the early stages of his rehab from a sternoclavicular joint injury. It sounds like he'll miss the rest of September, with no assurances of a return in October. The Chiefs will turn to Mecole Hardman, Demarcus Robinson and De'Anthony Thomas behind Sammy Watkins at wide receiver.
It's possible to track the change in Tyreek Hill's fantasy value over time by looking at where he's drafted. According to the latest PPR average draft position data, he's being drafted in at the 2.03 spot.
How much this impacts Hill remains to be seen.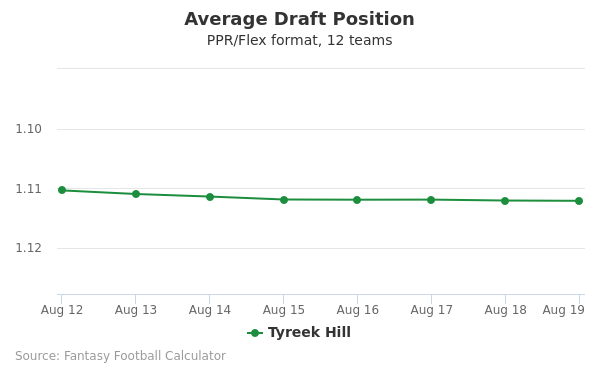 Antonio Brown WR (NE)
Antonio Brown Accused of sexual assault in lawsuit: Brown has been accused of sexual assault by a former trainer in a lawsuit filed Tuesday in Federal court, ESPN reports. Brown's lawyer denies the charges saying the relationship was "entirely consensual."
What it means: Brown has been accused of three separate incidents of sexual assault that allegedly took place in 2017 and 2018. Brown's lawyer, Darren Heitner, told ESPN he has not been in contact with the NFL about the lawsuit. Brown signed with the Patriots on Monday after his release from the Raiders on Saturday. He is scheduled to practice with the Patriots for the first time Wednesday.
The fantasy value of Antonio Brown is measured by his average draft position (ADP). The graph below shows how it's trending in the latest mock drafts . In recent drafts, Brown's current ADP is 2.09
Watch out to see if Brown's value changes in light of this update.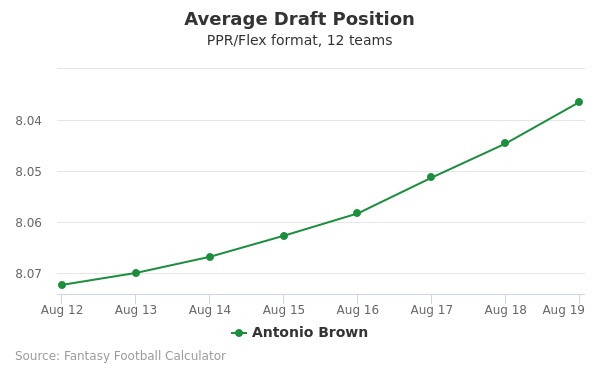 Tajae Sharpe WR (TEN)
Tajae Sharpe Targeted twice in win: Sharpe was unable to haul in either of his targets during Sunday's 43-13 win over Cleveland.
Fantasy impact: The scoreboard says that the Titans offense dominated Sunday, but the boxscore says otherwise, as much of Sunday's success was predicated by an unreal defensive effort and a handful of big plays by Derrick Henry and rookie A.J. Brown. Sharpe saw a pair of targets on the final drive of the first half -- a drive that ended in a three-and-out -- but was otherwise silent. Sharpe might be listed as WR3 on the depth chart, but in an offense that is likely to pound the ball, throw plenty to the tight ends, and rely on a strong defense -- Sharpe's value is probably not as high as a lot of other WR3s in the league.
Sharpe isn't currently being drafted in fantasy drafts right now.
Dwayne Harris WR (OAK)
Dwayne Harris Breaks Denver with kick return: Harris caught his only target for a seven yard gain during Monday's 24-16 win over Denver. He added 101 return yards during the contest.
Our take: Even on an Oakland team looking to allocate targets, Harris was not very involved on the offense. Instead, he did his damage in the return game -- returning a fourth-quarter kickoff 72 yards to set up an Oakland field goal and throw a wet blanket on Denver's comeback attempt. With the likes of Hunter Renfrow and Ryan Grant ahead of him, Harris probably doesn't offer much value as a receiver this season, but Monday showed that he needs only a touch or two in space to get the job done.
Harris isn't currently being drafted in fantasy drafts right now.
News and analysis powered by RotoWire.
---
Filed under: Free Articles