Brandon Aiyuk
San Francisco 49ers
Wide Receiver #11
San Francisco 49ers
Wide Receiver #11
Photo: Icon Sportswire
Personal
| | |
| --- | --- |
| Age | 24 |
| Birthdate | March 17, 1998 |
| Height | 6'0" |
| Weight | 200 lb |
Draft
College
Arizona State
Year
2020
Pick
Round: 1, Overall: 25
Team
SF
Fantasy Value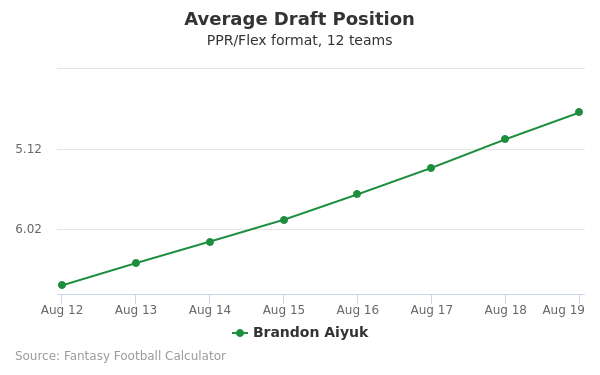 The code below will display a graph that updates every day to show the ADP data for Brandon Aiyuk for the past 30 days in 12-team PPR leagues.
You may use this graph on your website for free with a link back to this page for attribution.
Player News
Brandon Aiyuk: Sees eight targets to close out '21
Aiyuk hauled in four of eight targets for 69 yards in Sunday's 20-17 loss to the Rams.
Analysis: Aiyuk bounced back from a zero-touch outing in the 49ers' win over the Packers in the divisional round, finishing first in targets and second in receiving behind Deebo Samuel (4-72-1). The 23-year-old finished the regular season with roughly the same amount of production (843 combined yards and five TDs) as we saw in his rookie year (825 combined yards and seven TDs). It is worth noting that a good portion of those stats came in the second half after he worked his way out of Kyle Shanahan's doghouse to begin the year. Deebo Samuel and George Kittle are the proven superstars on this offense, but Aiyuk has the YAC ability to post some meaningful fantasy lines in 2022 if he can carry over his late-season momentum, especially if Trey Lance takes over as starting quarterback and opens up what was a limited gameplan under Jimmy Garoppolo.
Jan. 30, 2022 8:50 PM EST
Player Stats
YEAR
TM
GM
Receiving
Rushing
REC
TGT
%
YDS
TD
YPC
ATT
YDS
YPC
TD
FUM
2020
SF
16
60
96
62.5
748
5
12.5
6
77
12.8
2
0
Recent Articles
Congratulations to those that have made it through to the fantasy semi-finals! Week 15 is a prime example of why you want to get that...
Read more »
December 22, 2021. Premium
December 22, 2021
Premium
Week 15 is already upon us - the first week of the fantasy football playoffs - and we have an outbreak in COVID cases throughout the...
Read more »
December 17, 2021. Premium
December 17, 2021
Premium
Well, we finally had a pretty brutal week in the NFL, with multiple big-time players going down with significant injuries.  With the...
Read more »
November 30, 2021. Premium
November 30, 2021
Premium
Who Should You Start?
Who Should You Draft?