Chase Edmonds
Miami Dolphins
Running Back #29
Miami Dolphins
Running Back #29
Personal
| | |
| --- | --- |
| Age | 26 |
| Birthdate | April 13, 1996 |
| Height | 5'9" |
| Weight | 205 lb |
Draft
College
null
Year
2018
Pick
Round: 4, Overall: 134
Team
ARZ
Fantasy Value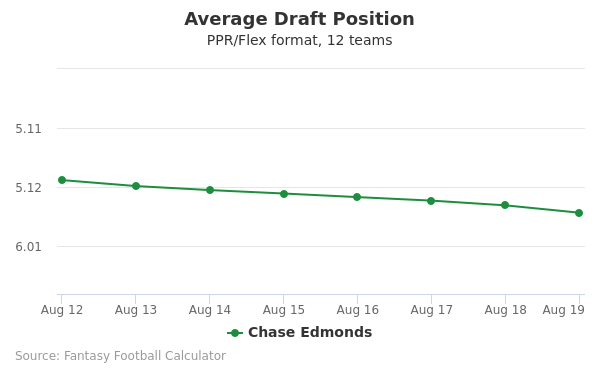 The code below will display a graph that updates every day to show the ADP data for Chase Edmonds for the past 30 days in 12-team PPR leagues.
You may use this graph on your website for free with a link back to this page for attribution.
Player News
Chase Edmonds: Gets competition for touches
Edmonds has been joined by Raheem Mostert (knee) atop Miami's backfield depth chart, Joe Schad of the Palm Beach Post reports.
Analysis: Edmonds and Mostert, who is recovering from knee surgery but expected to be ready for Week 1, look set to helm the Dolphins' revamped rushing game. New coach Mike McDaniel helped craft a prolific zone rushing attack in San Francisco, a scheme which Mostert has already proven himself in and which Edmonds appears perfect for, but it's uncertain whether each player's workload will be consistent. If the Dolphins employ a committee approach, or ride the hot hand on a game-by-game basis, fantasy managers may have difficulty extracting predictable production. Incumbents Myles Gaskin and Salvon Ahmed also remain in the building, but appear more suited for depth roles under the new coaching staff.
Mar. 17, 2022 6:27 AM EST
Player Stats
YEAR
TM
GM
Rushing
Receiving
ATT
YDS
YPC
TD
FUM
REC
TGT
%
YDS
TD
YPC
2018
ARI
16
60
208
3.5
2
0
20
23
87.0
103
0
5.2
2019
ARI
16
60
303
5.0
4
0
12
21
57.1
105
1
8.8
2020
ARI
16
97
448
4.6
1
0
53
67
79.1
402
4
7.6
Recent Articles
Week 17's Dynasty Week stashes all the running backs, also stashes a Detroit wide receiver, wonders about Trey Lance, and tries to sort...
Read more »
January 1, 2022. Premium
Week 13's Dynasty Week In Review has an eye on some roster stashes for the future, some roster stashes based on league transactions,...
Read more »
December 3, 2021. Premium
Your FanDuel values and busts for NFL Week 10.
Read more »
November 11, 2021. Premium
November 11, 2021
Premium
Who Should You Start?
Who Should You Draft?