Chris Carson
Seattle Seahawks
Running Back #32
Seattle Seahawks
Running Back #32
Photo: Icon Sportswire
Personal
| | |
| --- | --- |
| Age | 27 |
| Birthdate | September 16, 1994 |
| Height | 6'2" |
| Weight | 206 lb |
Draft
College
Oklahoma State
Year
2017
Pick
Round: 7, Overall: 249
Team
SEA
Fantasy Value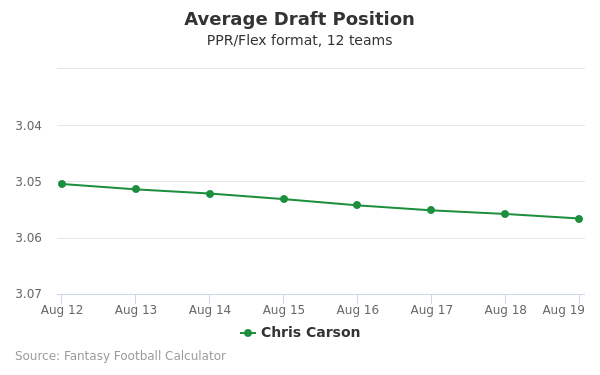 The code below will display a graph that updates every day to show the ADP data for Chris Carson for the past 30 days in 12-team PPR leagues.
You may use this graph on your website for free with a link back to this page for attribution.
Player News
Chris Carson: Return remains uncertain
Head coach Pete Carroll didn't provide a timeline for Chris Carson's (neck) return to full speed, Gregg Bell of The News Tribune reports. "We won't know for some time here, and we can't predict it yet. So there is a little bit of uncertainty that we are waiting on," Carroll said.
Analysis: The Seahawks' decision to draft running back Kenneth Walker in the second round (41st overall) of the NFL Draft after already signing Rashaad Penny to a one-year deal should make us more wary of Carson's health than any of Carroll's press conference. Carson is still recovering from November neck surgery, and he wasn't guaranteed the starting role even before the draft. The 27-year-old simply can't match the explosiveness of Penny or Walker, so if he's able to make a return, his impact for fantasy is suspect.
Apr. 30, 2022 8:40 AM EST
Player Stats
YEAR
TM
GM
Rushing
Receiving
ATT
YDS
YPC
TD
FUM
REC
TGT
%
YDS
TD
YPC
2017
SEA
11
49
208
4.2
0
0
7
8
87.5
59
1
8.4
2018
SEA
15
247
1,151
4.7
9
2
20
24
83.3
163
0
8.2
2019
SEA
16
278
1,230
4.4
7
4
37
47
78.7
266
2
7.2
2020
SEA
16
141
681
4.8
5
0
37
46
80.4
287
4
7.8
Recent Articles
Week 15's Dynasty Week In Review is dealing with Covid Chaos, says goodbye to two Bills dynasty assets, takes a look at ascending Joe...
Read more »
December 17, 2021. Premium
December 17, 2021
Premium
Week 14's Dynasty Week In Review is here for Minshew Mania, is afraid of the Seattle situation, and needs Big Ben to retire yesterday.
Read more »
December 12, 2021. Premium
December 12, 2021
Premium
Week 12's Dynasty Week In Review salivates over Elijah Moore, is impressed with Denver's pass-catchers, and is sad about pretty much...
Read more »
November 28, 2021. Premium
November 28, 2021
Premium
Who Should You Start?
Who Should You Draft?