Clyde Edwards-Helaire
Kansas City Chiefs
Running Back #25
Kansas City Chiefs
Running Back #25
iconsportswire.com
Personal
| | |
| --- | --- |
| Age | 23 |
| Birthdate | April 11, 1999 |
| Height | 5'7" |
| Weight | 207 lb |
Draft
College
LSU
Year
2020
Pick
Round: 1, Overall: 32
Team
KC
Fantasy Value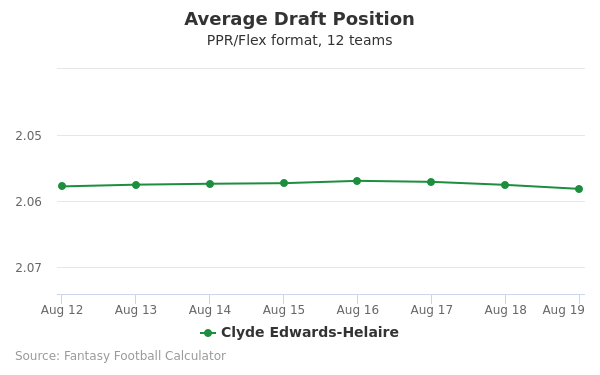 The code below will display a graph that updates every day to show the ADP data for Clyde Edwards-Helaire for the past 30 days in 12-team PPR leagues.
You may use this graph on your website for free with a link back to this page for attribution.
Player News
Clyde Edwards-Helaire: Backfield depth added
The Chiefs have signed Ronald Jones to work in tandem with Edwards-Helaire this coming season, Nate Taylor of The Athletic reports.
Analysis: Signing Jones addresses a void in the team's backfield, with Darrel Williams and Jerick McKinnon still unsigned in free agency. The former Buccaneer will now pair with Edwards-Helaire, creating the potential for a time-share that could hamper the weekly volume of the duo, when both are available. That said, in an offense that will no longer have explosive wideout Tyreek Hill to throw to, it's plausible that the Chiefs running backs, including Edwards-Helaire, will be presented with more receiving opportunities in 2022. Though it's possible that the team will continue to bring in additional skill players via free agency and/or the draft, for now things are set up for Edwards-Helaire and Jones to compete for RB slotting this summer.
Mar. 29, 2022 10:43 AM EST
Player Stats
YEAR
TM
GM
Rushing
Receiving
ATT
YDS
YPC
TD
FUM
REC
TGT
%
YDS
TD
YPC
2020
KC
16
181
803
4.4
4
0
36
54
66.7
297
1
8.2
Recent Articles
Before we get into my mock draft, if you're new to fantasy football, here's a rundown on the scoring in PPR leagues that I will be...
Read more »
June 28, 2022. Premium
Who Should You Start?
Who Should You Draft?