Golden Tate (WR) #15
| | |
| --- | --- |
| ADP: | Round: 11, Pick: 1 |
| Team: | Philadelphia |
| Ht / Wt: | 5'10" / 202 lb. |
| College: | Notre Dame |
| Age: | 28 |
| Born: | August 2, 1988 |
| Drafted: | 2010 / Rd. 2 (60) |
| Draft Team: | SEA |
Injury Status - Week 18
Not on injury report
.
News
Finds home with Giants
Thursday, March 14, 1:47 PM
The Giants signed Tate on Thursday, Adam Schefter of ESPN reports.
.
Average Draft Position (ADP) Value
March 22, 2019
Golden Tate's fantasy value is measured by his average draft position (ADP) in fantasy football mock drafts. In recent drafts, Tate's current ADP is 11.01, which indicates that his fantasy outlook is to be the 1st pick of the 11th round, and 121st selection overall.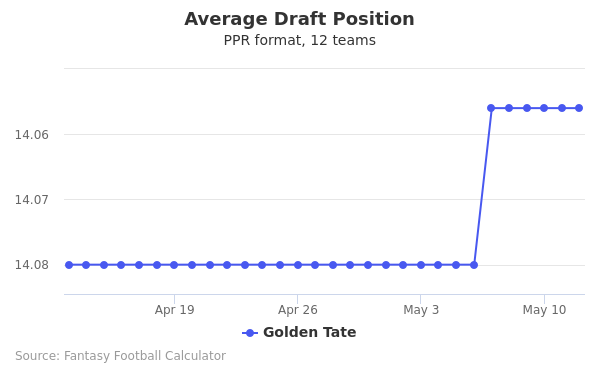 The code below will display a graph that updates every day to show the ADP data for Golden Tate for the past 30 days in 12-team PPR leagues.
You may use this graph on your website for free with a link back to this page for attribution.
Data from fantasy football 12-team standard scoring average draft position data, based off of the latest fantasy football mock drafts.
Recent drafts with Golden Tate:
| Draft # | Date | Format | Tate's Draft Pick |
| --- | --- | --- | --- |
| 5947772 | 3/22/2019 | Standard | 118th |
| 5947133 | 3/22/2019 | Standard | 128th |
| 5947130 | 3/22/2019 | Standard | 117th |
| 5947041 | 3/22/2019 | Standard | 120th |
| 5947032 | 3/22/2019 | Standard | 133rd |
| 5947029 | 3/22/2019 | Standard | 130th |
| 5947028 | 3/22/2019 | Standard | 125th |
| 5946847 | 3/21/2019 | Standard | 97th |
| 5946844 | 3/21/2019 | Standard | 122nd |
| 5946842 | 3/21/2019 | Standard | 124th |
Players drafted after Golden Tate:
.
Golden Tate Biography
Childhood and High School
Golden Tate was born August 2, 1988 in Hendersonville, Tennessee. As a senior, Tate rushed 140 times for 1,413 yards and 23 touchdowns, had 28 receptions for 510 yards and 6 touchdowns, had 3 interceptions on defense and returned a kickoff for a touchdown. According to Rivals.com, Tate was ranked 7th among athletes and was the 101st top prospect.
College
Golden Tate turned down professional baseball to attend Notre Dame. During his three seasons with the Irish, Tate had 157 receptions for 2,707 yards for 26 touchdowns. He also rushed for 3 touchdowns. His college highlights can be seen here. In 2009, Tate was a unanimous All-American selection and was also presented with the Fred Biltenikoff Award. Tate decided to forego his senior season and enter the NFL draft.
NFL Draft
Tate was drafted by the Seattle Seahawks in the 2nd round with the 60th overall pick of the 2010 draft. With a 4.42 second 40 time and 35 inch vertical leap at the combine, Tate was considered a strong receiver with experience in a pro-style system. However, his overall explosiveness remained a question.
2010 NFL Season
After signing a four-year deal with Seattle worth $3.261 million, Tate began his career catching 21 passes for 227 yards. He also returned 16 punts and 1 kickoff during his rookie year.
2011 NFL Season
On September 11, he caught his first touchdown in a loss to San Francisco. Tate would end the season with 35 receptions for 382 yards and 3 touchdowns.
2012 NFL Season
Tate was involved in one of the more controversial plays of the season during a contest against Green Bay. With replacement referees calling games, Tate simultaneously caught a last second pass in the end zone with Packers safety M.D. Jennings. After referees made differing calls, the play was ruled a Seattle touchdown. Tate finished with 45 receptions for 688 yards and completed his first touchdown pass.
2013 NFL Season
Tate had 64 receptions for 898 yards and 5 touchdowns. Tate and the Seahawks would go on to win Super Bowl XLVIII against the Denver Broncos.
2014 NFL Season
On March 12, 2014, Golden Tate signed a 5-year, $31 million contract to play for the Detroit Lions. His salary included $13.25 million guaranteed. His 99 receptions were sixth highest in the NFL and his 1,331 receiving yards were seventh highest in the NFL. He also contributed with 4 receiving touchdowns earning Tate his first Pro Bowl appearance.
2015 NFL Season
In his second season in Detroit, both Tate and the Lions got off to a slow start, but performances picked up in the second half of the season. As a result, Tate would finish with 90 receptions for 813 yards and 6 touchdowns.
2016 NFL Season
Tate became the focal point of the Detroit passing game. He finished the season with 91 receptions for 1,077 yards and 4 touchdowns, including a winning touchdown in overtime against Minnesota to cap off a come from behind victory.
Personal Life
Golden Tate was drafted to play baseball by the Arizona Diamondback in 2007 and again by the San Francisco Giants in 2010 but declined both offers to focus on football. On Twitter and Instagram, Tate can be followed @ShowtimeTate. For Golden Tate jerseys, click here.
.
Player Comparison
Who should you draft?
Golden Tate or Sterling Shepard
Antonio Callaway or Golden Tate
Giovani Bernard or Golden Tate
Baltimore Defense or Golden Tate