Greg Zuerlein
Dallas Cowboys
Place Kicker #4
Dallas Cowboys
Place Kicker #4
Photo: Icon Sportswire
Personal
| | |
| --- | --- |
| Age | 33 |
| Birthdate | December 27, 1987 |
| Height | 6'0" |
| Weight | 187 lb |
Draft
College
Missouri Western
Year
2012
Pick
Round: 6, Overall: 171
Team
SL
Fantasy Value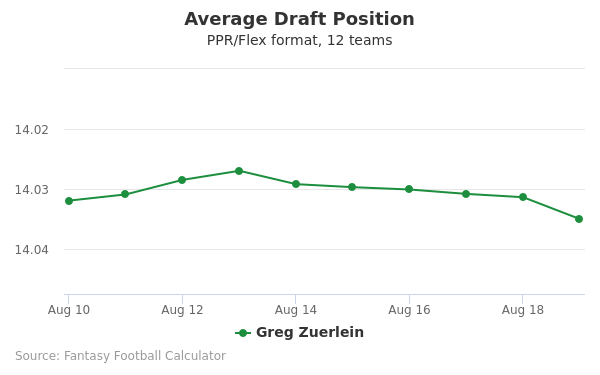 The code below will display a graph that updates every day to show the ADP data for Greg Zuerlein for the past 30 days in 12-team PPR leagues.
You may use this graph on your website for free with a link back to this page for attribution.
Player News
Greg Zuerlein: Bounces back with Dallas
Zuerlein connected on 34 of 41 field-goal attempts and 33 of 36 extra points over 16 games for the Cowboys in 2020.
Analysis: In his first season for a team other than the Rams, the veteran kicker rebounded from a rough 2019, setting a new career high with 41 FG attempts while converting them at better than 80 percent for the fourth time in the last five years. Zuerlein has two more seasons left on the contract he signed last offseason, and he's given Dallas little reason to go looking for a replacement.
Jan. 9, 2021 10:33 AM EST
Player Stats
YEAR
TM
GM
Kicking
FGM
FGA
FG%
EPM
EPA
EP%
Recent Articles
One more win to reach the finals. The 2020 Fantasy Football Playoffs are well underway and it's the semi-final round this week. Try not...
Read more »
December 17, 2020. Premium
December 17, 2020
Premium
Learn more about every fantasy football topic there is. From beginner help to advanced draft strategies to daily fantasy strategy tips.
Read more »
February 27, 2020. Premium
Here are the latest players falling in fantasy football average draft position (ADP).
Read more »
July 16, 2019. Premium
Who Should You Start?
Who Should You Draft?