Hunter Renfrow
Las Vegas Raiders
Wide Receiver #13
Las Vegas Raiders
Wide Receiver #13
Personal
| | |
| --- | --- |
| Age | 26 |
| Birthdate | December 21, 1995 |
| Height | 5'10" |
| Weight | 184 lb |
Draft
College
Clemson
Year
2019
Pick
Round: 5, Overall: 149
Team
OAK
Fantasy Value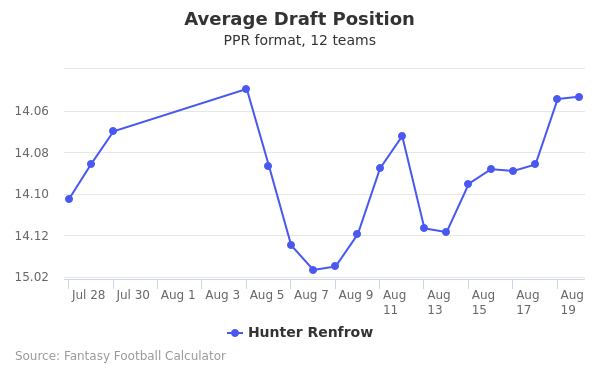 The code below will display a graph that updates every day to show the ADP data for Hunter Renfrow for the past 30 days in 12-team PPR leagues.
You may use this graph on your website for free with a link back to this page for attribution.
Player News
Hunter Renfrow: Makes eight catches
Renfrow caught eight passes for 58 yards on 11 targets against Cincinnati on Saturday.
Analysis: The Bengals really made Renfrow a focus of their defensive game plan, making it difficult for the slot receiver to generate his usual level of yardage per target. While Renfrow's season ends with a bit of a thud in this playoff loss, it was a highly impressive breakout season overall for the third-year wideout. Even if he's mostly a slot specialist, Renfrow produced in 2021 at a level that will compel the Raiders to give him a near three-down workload going forward.
Jan. 15, 2022 6:46 PM EST
Player Stats
YEAR
TM
GM
Receiving
Rushing
REC
TGT
%
YDS
TD
YPC
ATT
YDS
YPC
TD
FUM
2019
LV
16
49
71
69.0
605
4
12.3
0
0
0
0
0
2020
LV
16
56
77
72.7
656
2
11.7
0
0
0
0
1
Recent Articles
Your NFL Week 16 FanDuel Values and Busts
Read more »
December 23, 2021. Premium
December 23, 2021
Premium
Week 15's Dynasty Week In Review is dealing with Covid Chaos, says goodbye to two Bills dynasty assets, takes a look at ascending Joe...
Read more »
December 17, 2021. Premium
December 17, 2021
Premium
Top value picks and players to avoid for your DraftKings Sunday slate competitions.
Read more »
December 12, 2021. Premium
December 12, 2021
Premium
Who Should You Start?
Who Should You Draft?