Kareem Hunt
Cleveland Browns
Running Back #27
Cleveland Browns
Running Back #27
Photo: Icon Sportswire
Personal
| | |
| --- | --- |
| Age | 25 |
| Birthdate | August 6, 1995 |
| Height | 5'10" |
| Weight | 216 lb |
Draft
College
Toledo
Year
2017
Pick
Round: 3, Overall: 86
Team
KC
Fantasy Value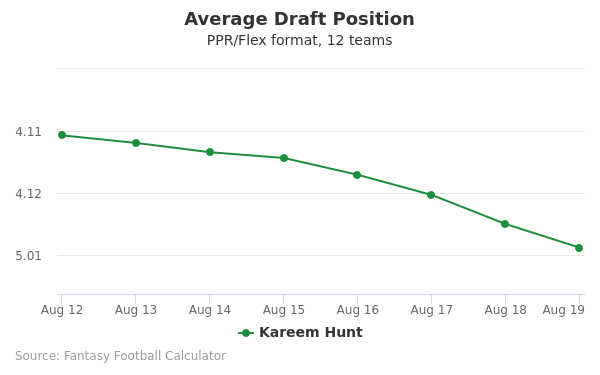 The code below will display a graph that updates every day to show the ADP data for Kareem Hunt for the past 30 days in 12-team PPR leagues.
You may use this graph on your website for free with a link back to this page for attribution.
Player News
Kareem Hunt: Finds end zone in playoff loss
Hunt rushed six times for 32 yards and a touchdown while catching his only target for two yards in Sunday's 22-17 loss to the Chiefs in the AFC divisional round.
Analysis: Hunt didn't register a touch in the first half, as the Browns took a 19-3 deficit into the locker room. He continued to play second fiddle to Nick Chubb in the third quarter, then took the spotlight himself early in the fourth with a three-yard rushing touchdown. Cleveland's offense got the ball only one more time after that and gained just 12 yards before punting the ball back to Kansas City, and the Chiefs ran out the clock from there. Hunt should continue to work as the 1B to Chubb in Cleveland's run-heavy offense next season after scoring 14 scrimmage touchdowns between the regular season and postseason.
Jan. 17, 2021 4:12 PM EST
Player Stats
YEAR
TM
GM
Rushing
Receiving
ATT
YDS
YPC
TD
FUM
REC
TGT
%
YDS
TD
YPC
Recent Articles
Week 2 of the playoffs features some of the best defenses in the NFL, so there will be a lot fewer high scoring games and more defensive...
Read more »
January 15, 2021. Premium
Top picks for your Saturday and Sunday Playoff slates
Read more »
January 15, 2021. Premium
Providing key insights on the most important Dynasty League fantasy football news, one week at a time.
Read more »
December 16, 2020. Premium
December 16, 2020
Premium
Who Should You Start?
Who Should You Draft?