Noah Fant
Denver Broncos
Tight End #87
Denver Broncos
Tight End #87
Photo: Icon Sportswire
Personal
| | |
| --- | --- |
| Age | 23 |
| Birthdate | November 20, 1997 |
| Height | 6'4" |
| Weight | 249 lb |
Draft
College
Iowa
Year
2019
Pick
Round: 1, Overall: 20
Team
DEN
Fantasy Value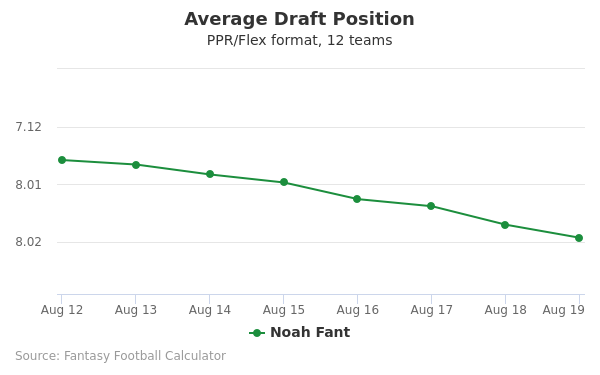 The code below will display a graph that updates every day to show the ADP data for Noah Fant for the past 30 days in 12-team PPR leagues.
You may use this graph on your website for free with a link back to this page for attribution.
Player News
Noah Fant: Snags team-leading 62 passes
Fant reeled in 62 of 93 passes for 673 yards and three touchdowns during the 2020 season.
Analysis: New offensive coordinator Pat Shurmur, a former tight ends coach himself, is known for loving the position and so it was intriguing to see how he was going to use Fant during his sophomore year. The answer was as more of a short-range, volume target than his predecessor Rich Scangarello. Fant averaged 4.1 catches per game in 2020, up from 2.5 in 2019, but his yards per catch fell by more than three -- from 14.1 in 2019 to 10.9 in 2020. Part of that was Fant was catching the ball shorter -- his yards before catch dropped from 5.8 in 2019 to 4.7 in 2020. Fant's ability to use his athleticism to cut up the field also was a factor. Fant fell off dramatically after injuring his ankle in Week 4 against the Jets -- an injury he never quite recovered from. Expect a junior jump for Fant with a full offseason in the offense and, hopefully, better health in 2021.
Jan. 13, 2021 7:30 PM EST
Player Stats
YEAR
TM
GM
Receiving
Rushing
REC
TGT
%
YDS
TD
YPC
ATT
YDS
YPC
TD
FUM
Recent Articles
There are a lot of potentially great matchups this week, including a few games that could be barnburners.  The Bills-Chargers,...
Read more »
November 27, 2020. Premium
November 27, 2020
Premium
Hopefully, you don't mind a new opinion in our weekly DraftKing article, and you probably won't mind too much if you've been losing...
Read more »
November 20, 2020. Premium
November 20, 2020
Premium
So far, injuries continue to overshadow the Covid-19 situation during the 2020 season. With a number of stars already out for the season...
Read more »
November 19, 2020. Premium
November 19, 2020
Premium
Who Should You Start?
Who Should You Draft?