Parris Campbell
Indianapolis Colts
Wide Receiver #21
Indianapolis Colts
Wide Receiver #21
Personal
| | |
| --- | --- |
| Age | 25 |
| Birthdate | March 8, 1996 |
| Height | 6'0" |
| Weight | 205 lb |
Draft
College
Ohio State
Year
2019
Pick
Round: 2, Overall: 59
Team
IND
Fantasy Value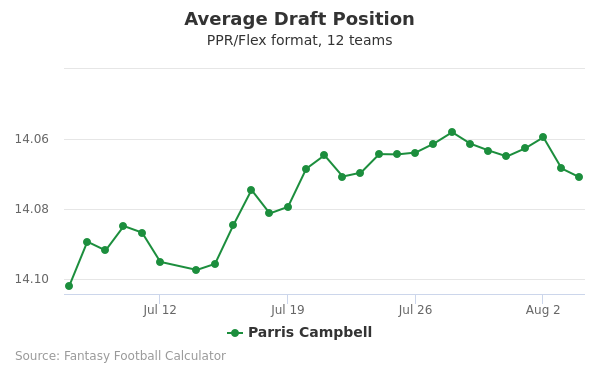 The code below will display a graph that updates every day to show the ADP data for Parris Campbell for the past 30 days in 12-team PPR leagues.
You may use this graph on your website for free with a link back to this page for attribution.
Player News
Parris Campbell: Back at full strength
Campbell is healthy for the start of training camp, Zak Keefer of The Athletic reports.
Analysis: Limited to nine games through two pro seasons, the 2019 second-round pick is coming back from October 2020 surgery to address MCL and PCL injuries in his left knee. He was medically cleared in May and should now be a full participant in training camp, where he'll compete for first-team reps with T.Y. Hilton, Michael Pittman and Zach Pascal. The No. 3 receiver job could come down to a camp battle between Campbell and Pascal, with the former more explosive while the latter has proven more reliable.
Jul. 26, 2021 9:12 AM EST
Player Stats
YEAR
TM
GM
Receiving
Rushing
REC
TGT
%
YDS
TD
YPC
ATT
YDS
YPC
TD
FUM
2019
IND
13
18
24
75.0
127
1
7.1
4
34
8.5
0
1
2020
IND
2
6
9
66.7
71
0
11.8
2
16
8.0
0
0
Recent Articles
Providing key insights on the most important Dynasty League fantasy football news, one week at a time.
Read more »
September 24, 2020. Premium
September 24, 2020
Premium
Week 2 saw a lot of high-scoring NFL games which translated to a lot of happy fantasy managers where we saw several players score well...
Read more »
September 22, 2020. Premium
September 22, 2020
Premium
Week 2 was probably one of the worst injury-ridden weeks we've seen in a long time.  Numerous players went down on Sunday with some...
Read more »
September 21, 2020. Premium
September 21, 2020
Premium
Who Should You Start?
Who Should You Draft?