Rashaad Penny
Seattle Seahawks
Running Back #20
Seattle Seahawks
Running Back #20
Photo: Icon Sportswire
Personal
| | |
| --- | --- |
| Age | 25 |
| Birthdate | February 2, 1996 |
| Height | 5'11" |
| Weight | 220 lb |
Draft
College
San Diego State
Year
2018
Pick
Round: 1, Overall: 27
Team
SEA
Fantasy Value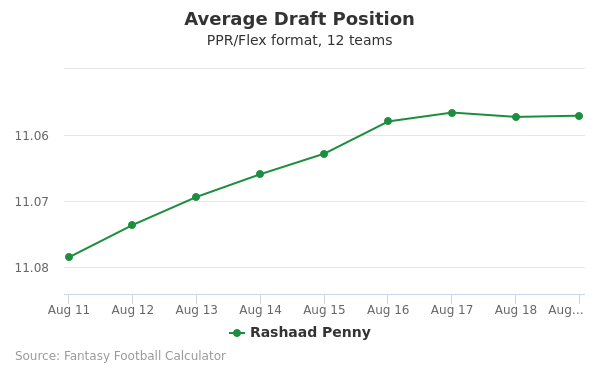 The code below will display a graph that updates every day to show the ADP data for Rashaad Penny for the past 30 days in 12-team PPR leagues.
You may use this graph on your website for free with a link back to this page for attribution.
Player News
Rashaad Penny: Recovering from cleanup procedure
Penny isn't participating at mandatory minicamp this week after undergoing a cleanup procedure on his knee earlier in the offeseason, Joe Fann of NBC Sports Northwest reports.
Analysis: Penny was limited to three games in 2020 while recovering from surgery for a torn ACL in late 2019, and the cleanup procedure was on the same knee. Coach Pete Carroll expects the 25-year-old to be ready for training camp at the end of July, but it remains a worrying sign for a tailback that's struggled to stay healthy over the past couple years.
Jun. 15, 2021 4:00 PM EST
Player Stats
YEAR
TM
GM
Rushing
Receiving
ATT
YDS
YPC
TD
FUM
REC
TGT
%
YDS
TD
YPC
Recent Articles
Learn more about every fantasy football topic there is. From beginner help to advanced draft strategies to daily fantasy strategy tips.
Read more »
February 27, 2020. Premium
With Week 15 approaching, most NFL teams have suffered their fair share of injuries. At this point multiple stars have hit injured...
Read more »
December 12, 2019. Premium
December 12, 2019
Premium
Who Should You Start?
Who Should You Draft?