Travis Etienne
Jacksonville Jaguars
Running Back #1
Jacksonville Jaguars
Running Back #1
Photo: Icon Sportswire
Personal
| | |
| --- | --- |
| Age | 23 |
| Birthdate | January 26, 1999 |
| Height | 5'10" |
| Weight | 215 lb |
Draft
College
Clemson
Year
2021
Pick
Round: 1, Overall: 25
Team
JAX
Fantasy Value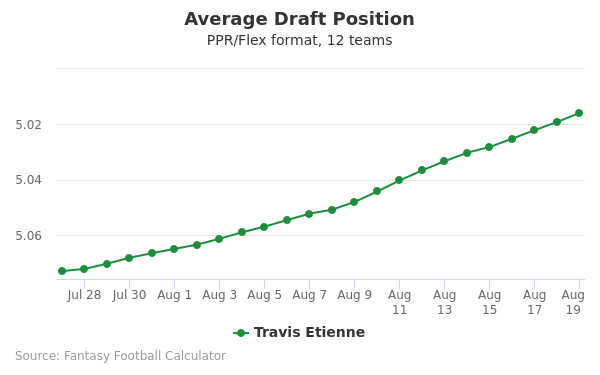 The code below will display a graph that updates every day to show the ADP data for Travis Etienne for the past 30 days in 12-team PPR leagues.
You may use this graph on your website for free with a link back to this page for attribution.
Player News
Travis Etienne: Says he's 85-90 percent healthy
Etienne (foot) told reporters Tuesday that he's 85-90 percent recovered from his Lisfranc injury, Hays Carlyon of 1010 AM WJXL Jacksonville reports.
Analysis: Etienne also said he wouldn't notice the screw in his foot if he didn't already know it was there, per Gene Frenette of The Florida Times-Union. Two weeks prior, new Jaguars coach Doug Pederson told reporters he expects the young running back to participate in offseason workouts, whereas third-year pro James Robinson (torn Achilles) won't participate in OTAs. The extent of Etienne's participation this spring remains to be seen, but the timing of the injuries does mean he's at less risk than Robinson of missing the beginning of the 2022 season. Both figure to have roles when healthy, with Etienne being a 2021 first-round pick and Robinson sitting on 2,403 total yards and 18 touchdowns through two NFL seasons (28 games).
Apr. 12, 2022 1:17 PM EST
Player Stats
YEAR
TM
GM
Rushing
Receiving
ATT
YDS
YPC
TD
FUM
REC
TGT
%
YDS
TD
YPC
Recent Articles
Week 17's Dynasty Week stashes all the running backs, also stashes a Detroit wide receiver, wonders about Trey Lance, and tries to sort...
Read more »
January 1, 2022. Premium
Who Should You Start?
Who Should You Draft?