Cardinals Top Fantasy Players
These are the top fantasy football players of the Arizona Cardinals as ranked by Average Draft Position (ADP) in PPR-format mock drafts.
Data as of February 25, 2021.
DeAndre Hopkins
DeAndre Hopkins's current ADP is 1.12, which is the 12th pick of the 1st round, and 12th selection overall.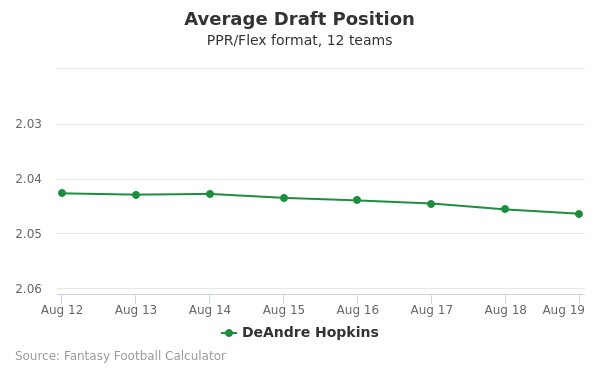 Kyler Murray
Kyler Murray's current ADP is 4.02, which is the 2nd pick of the 4th round, and 37th selection overall.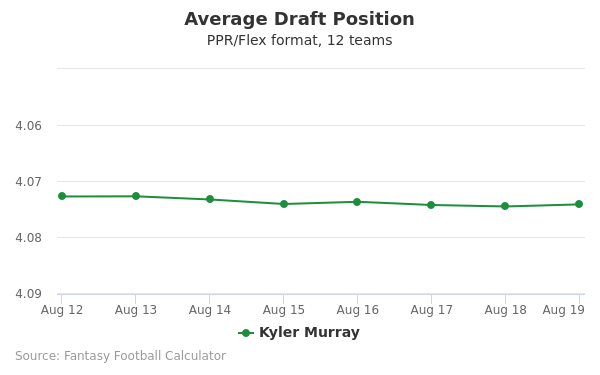 Kenyan Drake
Kenyan Drake's current ADP is 5.09, which is the 9th pick of the 5th round, and 57th selection overall.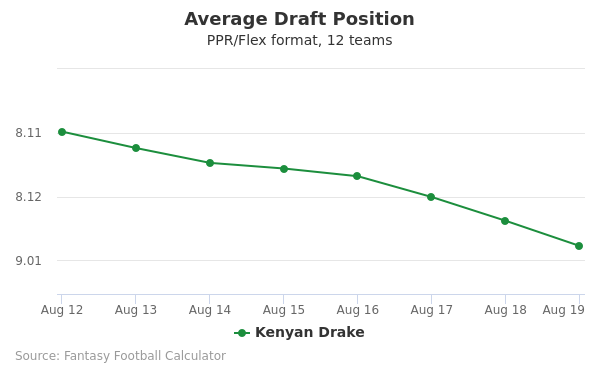 Chase Edmonds
Chase Edmonds's current ADP is 7.10, which is the 10th pick of the 7th round, and 82nd selection overall.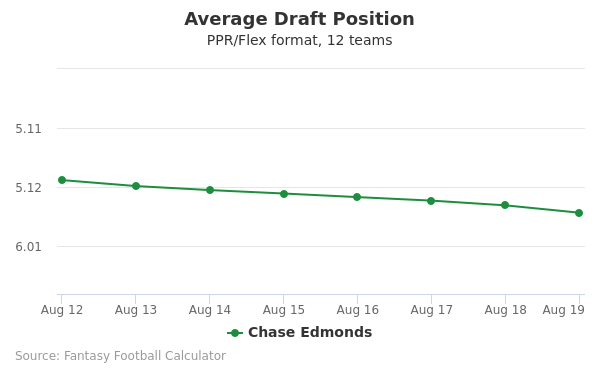 Christian Kirk
Christian Kirk's current ADP is 11.04, which is the 4th pick of the 11th round, and 124th selection overall.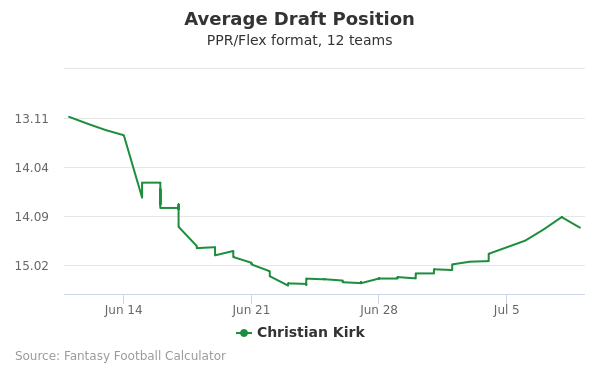 Larry Fitzgerald
Larry Fitzgerald's current ADP is 12.07, which is the 7th pick of the 12th round, and 139th selection overall.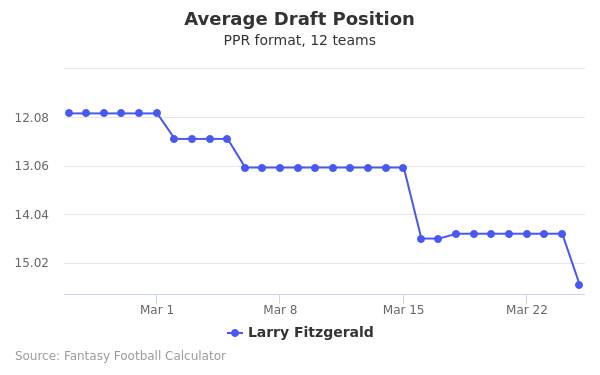 Arizona Defense
Arizona Defense's current ADP is 15.01, which is the 1st pick of the 15th round, and 169th selection overall.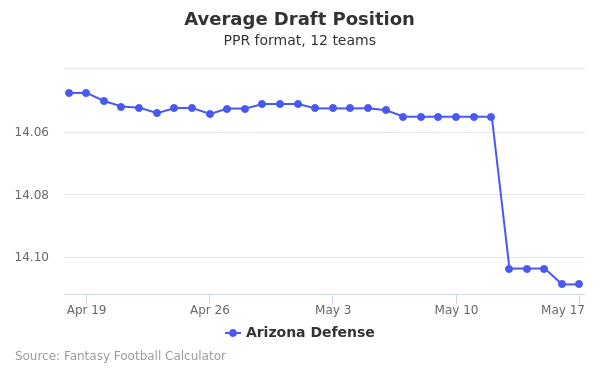 Zane Gonzalez
Zane Gonzalez's current ADP is 15.07, which is the 7th pick of the 15th round, and 174th selection overall.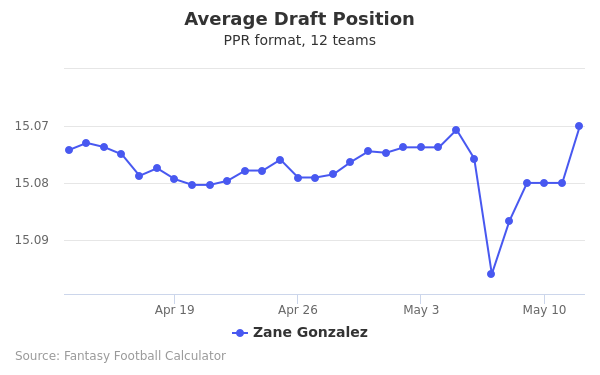 Arizona Cardinals 2020 Schedule
| Week | Home/Away | Opponent |
| --- | --- | --- |
| 1 | Away | San Francisco 49ers |
| 2 | Home | Washington Redskins |
| 3 | Home | Detroit Lions |
| 4 | Away | Carolina Panthers |
| 5 | Away | New York Jets |
| 6 | Away | Dallas Cowboys |
| 7 | Home | Seattle Seahawks |
| 9 | Home | Miami Dolphins |
| 10 | Home | Buffalo Bills |
| 11 | Away | Seattle Seahawks |
| 12 | Away | New England Patriots |
| 13 | Home | Los Angeles Rams |
| 14 | Away | New York Giants |
| 15 | Home | Philadelphia Eagles |
| 16 | Home | San Francisco 49ers |
| 17 | Away | Los Angeles Rams |
Arizona Cardinals News
Younghoe Koo, Likely staying with Falcons
Koo will be an exclusive-rights free agent, which "practically guarantees" he'll be back with the Falcons for 2021, D. Orlando Ledbetter of The Atlanta Journal-Constitution reports.
Analysis: An exclusive-rights "free agent" (ERFA) is any player who reaches the end of his contract with less than three accrued seasons in the NFL. These players don't actually have any negotiating power, as they can only play for their original team, so long as the team offers them a minimum salary tender. Koo's impressive performance the past two years ensures he'll get that tender, unless he receives a long-term extension first. Either way, he figures to be Atlanta's kicker in 2021, hoping to build on a 2020 campaign in which he converted 37 of 39 field-goal attempts and 33 of 36 PATs.
February 17, 2021 8:21 AM EST
---
Drew Stanton, Sent back to practice squad
Stanton reverted back to Tampa Bay's practice squad Monday, per the NFL's official transaction log.
Analysis: Stanton was elevated to the Buccaneers' active roster for Sunday's Super Bowl against the Chiefs, and he unsurprisingly failed to take a snap.
February 8, 2021 7:13 PM EST
---
Drew Stanton, Joins Bucs' active roster
Stanton was promoted to the team's active roster Saturday, Scott Smith of the Buccaneers' official site reports.
Analysis: Stanton has not thrown an NFL pass since 2017, but he'll join the Bucs ahead of their Super Bowl matchup with the Chiefs. The veteran will essentially act as the super emergency quarterback come Sunday.
February 6, 2021 1:24 PM EST
---
Trent Sherfield, Sticks mostly to special teams
Sherfield had five receptions (on seven targets) for 50 yards in 15 contests during the 2020 season. He also compiled nine tackles (six solo) and two fumble recoveries.
Analysis: As one of the Cardinals' core special teamers, Sherfield logged nearly three times as many snaps (221) in that realm than on offense (79). Considering he's a restricted free agent in the offseason, Arizona seems apt to bring back a cost-controlled player. If he does return, Sherfield likely will be hard-pressed to climb a receiving depth chart occupied by DeAndre Hopkins, Christian Kirk, KeeSean Johnson and Andy Isabella, even with Larry Fitzgerald (groin) still contemplating whether to come back or retire.
February 2, 2021 5:48 PM EST
---
J.J. Nelson, Signs with Indy
Nelson has signed a reserve/future contract with the Colts.
Analysis: A 2015 fifth-round pick, Nelson spent his first four seasons with the Cardinals, catching 81 passes for 1,439 yards and 10 touchdowns in 56 regular-season games. He made just two appearances for the Raiders in 2019 and was then released by the 49ers in September 2020, so it won't be easy for the veteran speedster to re-establish himself in the NFL. Nelson ran a 4.28-second 40-yard dash back in 2015, but he's probably lost a step or two as he approaches his 29th birthday in April.
February 1, 2021 12:36 PM EST
---