Cardinals Top Fantasy Players
These are the top fantasy football players of the Arizona Cardinals as ranked by Average Draft Position (ADP) in PPR-format mock drafts.
Data as of March 31, 2020.
DeAndre Hopkins
DeAndre Hopkins's current ADP is 1.06, which is the 6th pick of the 1st round, and 6th selection overall.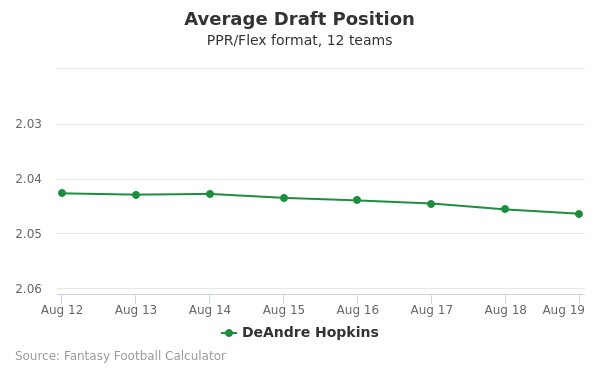 Christian Kirk
Christian Kirk's current ADP is 5.11, which is the 11th pick of the 5th round, and 59th selection overall.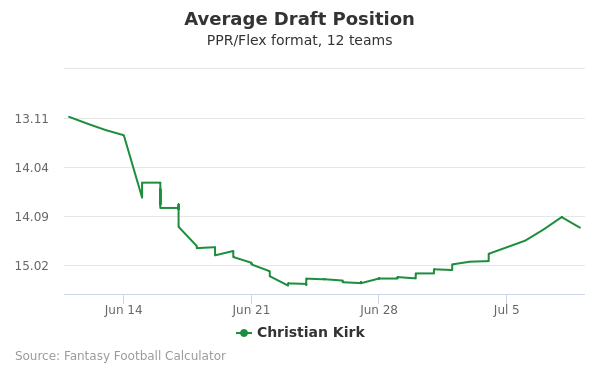 Kenyan Drake
Kenyan Drake's current ADP is 6.01, which is the 1st pick of the 6th round, and 61st selection overall.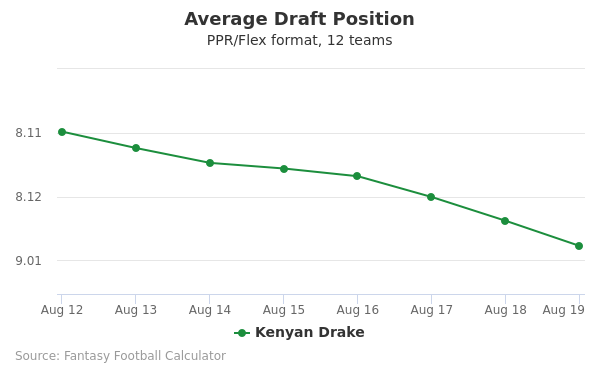 Kyler Murray
Kyler Murray's current ADP is 6.02, which is the 2nd pick of the 6th round, and 61st selection overall.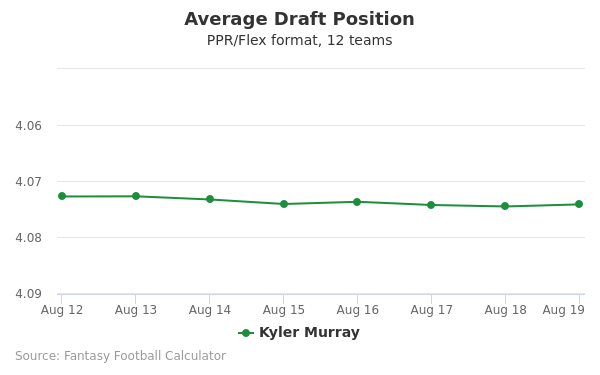 Andy Isabella
Andy Isabella's current ADP is 11.11, which is the 11th pick of the 11th round, and 131st selection overall.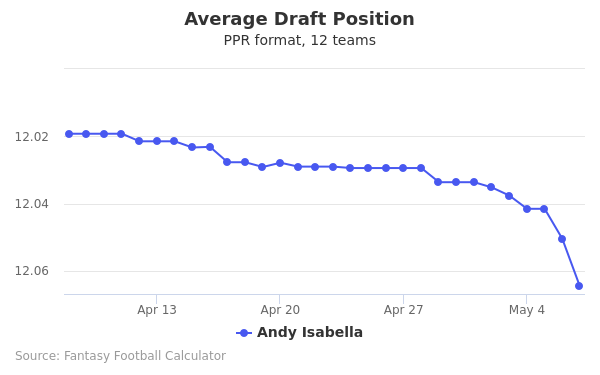 Chase Edmonds
Chase Edmonds's current ADP is 13.02, which is the 2nd pick of the 13th round, and 146th selection overall.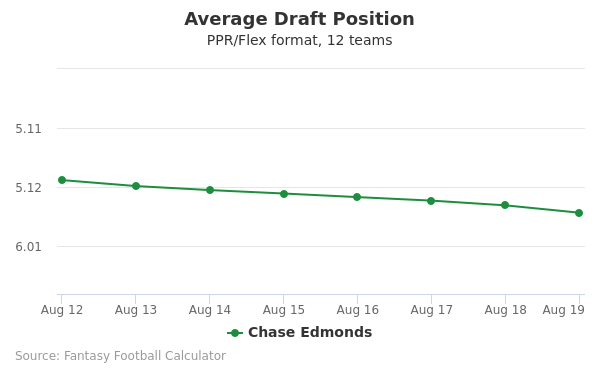 Larry Fitzgerald
Larry Fitzgerald's current ADP is 13.12, which is the 12th pick of the 13th round, and 155th selection overall.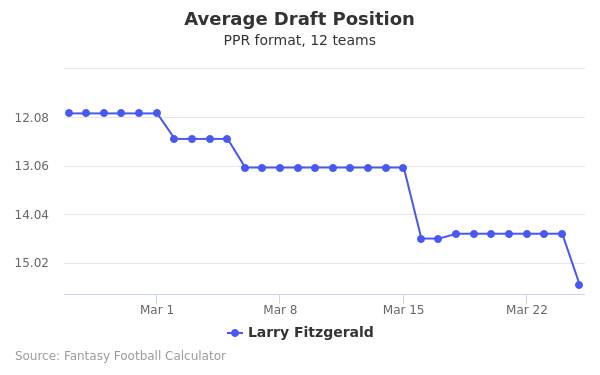 Zane Gonzalez
Zane Gonzalez's current ADP is 15.05, which is the 5th pick of the 15th round, and 173rd selection overall.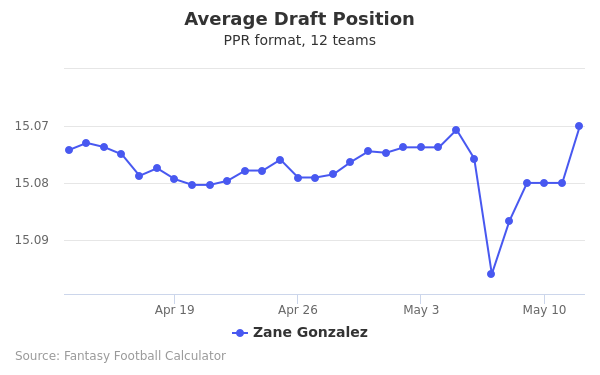 Arizona Cardinals 2019 Schedule
| Week | Home/Away | Opponent |
| --- | --- | --- |
| 1 | Home | Detroit Lions |
| 2 | Away | Baltimore Ravens |
| 3 | Home | Carolina Panthers |
| 4 | Home | Seattle Seahawks |
| 5 | Away | Cincinnati Bengals |
| 6 | Home | Atlanta Falcons |
| 7 | Away | New York Giants |
| 8 | Away | New Orleans Saints |
| 9 | Home | San Francisco 49ers |
| 10 | Away | Tampa Bay Buccaneers |
| 11 | Away | San Francisco 49ers |
| 13 | Home | Los Angeles Rams |
| 14 | Home | Pittsburgh Steelers |
| 15 | Home | Cleveland Browns |
| 16 | Away | Seattle Seahawks |
| 17 | Away | Los Angeles Rams |
Arizona Cardinals News
DJ Foster, Back in desert
Foster (hamstring) re-signed with the Cardinals on a one-year contract Wednesday.
Analysis: Foster appeared in six contests as a special-teams asset with the Cardinals in 2019 prior to sustaining a season-ending hamstring injury. When back to full health, he'll spend the summer competing for a similar reserve role behind Kenyan Drake and Chase Edmonds.
March 25, 2020 4:03 PM EST
---
Anthony Sherman, Committed to Kansas City
Sherman is re-signing with the Chiefs on a one-year deal, Nate Taylor of The Athletic reports.
Analysis: The Pro Bowl fullback serves primarily as a blocker in the Chiefs potent offense, as he only touted the rock four times for nine yards and added two catches for 22 yards across 16 regular-season games last season.
March 24, 2020 7:15 PM EST
---
John Brown, Crowded house?
Brown will work with Stephon Diggs as the starting wideout tandem after the Bills traded away a large haul of draft picks to acquire the former Minnesota receiver this week.
Analysis: While in theory Diggs could draw much attention away from the speedy Brown, who served as the team's clear-cut No. 1 receiver last season, Diggs is certain to get a large number of looks himself. To a lessor extent, Cole Beasley, running back Devin Singletary and tight end Dawson Knox also need to get the ball. For a team that prefers to run the ball more than most, it may end up being tough for Brown to replicate his 72-1,060-6 line from 2019. We don't see a significant drop-off coming, but much of Brown's value last season came from week-to-week consistency. That could change now that there may be weeks where Diggs steals the show.
March 21, 2020 11:44 PM EST
---
Ricky Seals-Jones, Enters free agency
Seals-Jones didn't receive a contract tender from the Browns and is now an unrestricted free agent, Mike Clay of ESPN.com reports.
Analysis: The Browns brought in Austin Hooper to lead the tight end room, making Seals-Jones an expendable depth option. The 25-year-old is coming off a 2019 season in which he notched 14 catches for 229 yards and four touchdowns across 14 games, and he should garner fair interest around the league as a developmental/depth piece.
Ricky Seals-Jones player page.
March 20, 2020 10:34 AM EST
---
Kyler Murray, Gets another weapon
The Cardinals provided Murray with another proven wide receiver following the acquisition of DeAndre Hopkins from the Texans.
Analysis: Despite having few reliable WR options beyond Larry Fitzgerald and Christian Kirk and an uneven ground game until the midseason addition of Kenyan Drake in 2019, Murray completed 64 percent of his passes en route to 3,722 yards (15th in the NFL), 20 touchdowns (21st) and 12 interceptions (tied for 11th) as a rookie. Murray also ripped off 544 yards at 5.8 YPC -- both good for second behind last year's MVP Lamar Jackson -- and added four more scores on the ground. It's safe to consider that stat line as Murray's floor, and the 22-year-old's ceiling has been boosted with Hopkins, a perennial 1,000-yard receiver who's averaged 1.1 20-plus-yard catches per game in seven pro seasons, on board.
March 19, 2020 12:08 PM EST
---