Cam Newton QB (CAR)
Cam Newton Throwing without limitations: Newton (shoulder) threw without any limitations during Thursday night's practice, Steve Reed of The News & Observer reports.
What it means: Newton was able to take part in 11-on-11 drills for the first time since undergoing shoulder surgery, and he was also able to complete a few deep passes, including a 45-yard bomb to Chris Manhertz . "Everything that we saw (leading up to camp) really just pointed to him being ready to go," stated head coach Ron Rivera. "It not only did a lot for us, but I think it did a lot for him just uncorking one like he did and letting it go." It's also worth noting that Newton threw around 40 passes during individual drills and 40 more during team drills, per Reed.
The fantasy value of Cam Newton is measured by his average draft position (ADP). The graph below shows how it's trending in the latest mock drafts . In recent drafts, Newton's current ADP is 9.07
How much this impacts Newton remains to be seen.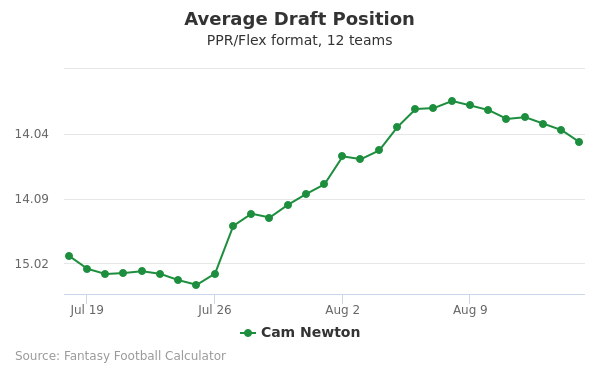 Josh Rosen QB (MIA)
Josh Rosen Shaky on first day of camp: Rosen said he got off to a slow start Thursday at the first practice of training camp, Armando Salguero of The Miami Herald reports.
Fantasy impact: Ryan Fitzpatrick took the first snap, continuing a trend from the offseason program. Rosen theoretically makes more sense as the starting quarterback for a rebuilding team, but the Dolphins won't put him on the field Week 1 unless he at least looks decent in the coming weeks. Omar Kelly of the South Florida Sun Sentinel reports that Rosen was penalized for a pair of mental mistakes on the first day of practice, but the young quarterback then rebounded with some nice throws later on. Don't expect the Dolphins to decide on their Week 1 starter anytime soon.
Rosen isn't currently being drafted in fantasy drafts right now.
Ryan Fitzpatrick QB (MIA)
Ryan Fitzpatrick Opens camp with starters: Fitzpatrick took the first snap of training camp, Barry Jackson of the Miami Herald reports.
Our take: Fitzpatrick also handled most of the reps with the starters throughout the offseason program, though Josh Rosen got his chances. The quarterback battle will continue in the coming weeks, and there's a good chance both players make starts during the upcoming season.
Fitzpatrick isn't currently being drafted in fantasy drafts right now.
Dwayne Haskins QB (WAS)
Dwayne Haskins Splitting camp reps: Coach Jay Gruden said Haskins, Case Keenum and Colt McCoy all will get reps throughout training camp, with their competition potentially coming down to the wire, JP Finlay of NBC Sports Washington reports.
Our take: With a veteran head coach and a promising defense, the Redskins aren't likely to place much weight on long-term upside when they make their decision on the Week 1 starter. Haskins' age and draft status might give him the tiebreaker in a close call, but the competition mostly will come down to performance in training camp and preseason games. Gruden made it clear after June minicamp that the rookie will be given a fair shot to win the job.
Haskins isn't currently being drafted in fantasy drafts right now.
Danny Etling QB (NE)
Danny Etling Sees some positional work: Etling did some special teams work Thursday, working mostly with the Patriots' wide receivers, NESN's Doug Kyed reports.
Our take: Drafted as a QB last season, Etling faces an uphill battle in regard to securing a 53-man roster spot, given that the Patriots took Jarrett Stidham in the fourth round of the 2019 NFL Draft. It's therefore not a bad idea for the 6-foot-3, 220-pound Etling to display some positional versatility, which is something the Patriots' coaching staff values. At this point, Etling doesn't seem likely to survive final cut-downs, but that could change if injuries thin out the team's QB depth. Another season as a New England practice squad member is probably the most likely scenario for Etling.
Etling isn't currently being drafted in fantasy drafts right now.
News and analysis powered by RotoWire.
---
Filed under: Free Articles