Philip Rivers QB (LAC)
Philip Rivers Does not play in preseason finale: Rivers did not play in the team's 27-24 preseason win over the 49ers on Thursday.
Our take: Neither the 49ers or Chargers played any of their projected starters so this is far from shocking. The 37-year-old should be good to go for his 16th professional season and remains one of the more reliable quarterbacks in the NFL, having never missed a start since taking over the role in 2006.
Up until now, Philip Rivers has been drafted at the 10.07 in PPR leagues.
How much this impacts Rivers remains to be seen.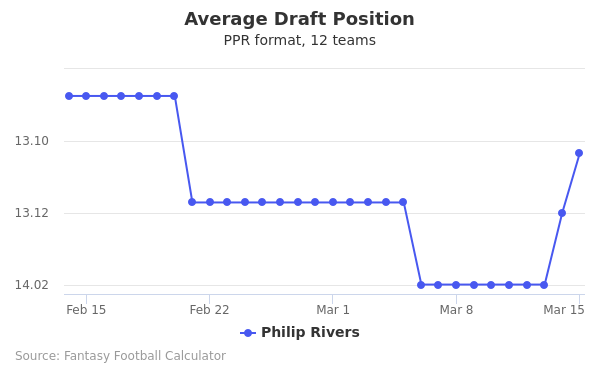 Jordan Ta'amu QB (HOU)
Jordan Ta'amu Enters for injured Webb: Ta'amu entered Thursday's preseason finale after Joe Webb suffered a foot injury and completed 4-of-6 passes for 21 yards with an interception in a loss to the Rams.
What it means: Webb's foot injury appears to be serious, per team officials, so Ta'amu, who was signed after No. 2 quarterback AJ McCcaron suffered a thumb injury Aug. 6, may stick around the roster for a while longer. McCarron shed his cast and threw prior to Thursday's game, so he looks on track to play Week 1 against the Saints.
Ta'amu isn't currently being drafted in fantasy drafts right now.
AJ McCarron QB (HOU)
AJ McCarron Out of cast, throwing: McCarron (thumb) had the cast removed from his hand and threw during warmups prior to Thursday's preseason finale against the Rams, Aaron Wilson of the Houston Chronicle reports.
What it means: McCarron dressed for the game but, as expected, did not play. This is a positive sign for the Texans, who lost No. 3 quarterback to a serious foot injury Thursday. He appears on track for Week 1 against the Saints after he broke his right thumb during joint practice sessions against the Packers on Aug. 6.
McCarron isn't currently being drafted in fantasy drafts right now.
Geno Smith QB (SEA)
Geno Smith Will have knee evaluated: Head coach Pete Carroll called Smith's knee injury a "tweak," stating that he will need to have it examined in the coming days, Bob Condotta of The Seattle Times reports.
Our take: Smith had to exit Thursday's final preseason game with what appeared to be a minor knee injury (was able to stand on the sideline in pads after exiting). The team will have the knee looked at, but assuming the injury isn't serious, Smith is the strong favorite to begin the season as Russell Wilson 's primary backup.
Smith isn't currently being drafted in fantasy drafts right now.
Mike Glennon QB (OAK)
Mike Glennon Efficient preseason finale: Glennon completed 9 of 13 pass attempts for 78 yards in Thursday's preseason finale against Seattle.
Fantasy impact: Glennon controlled an otherwise stagnant Raiders offense for the first half of this contest. The veteran was unable to lead a touchdown drive, but he was able to protect the ball well and complete a high percentage of passes. Fellow backup Nate Peterman has been hot on Glennon's tail this preseason, but the latter is still considered the favorite to win the backup job behind Derek Carr , according to Scott Bair of NBC Sports Bay Area.
Glennon isn't currently being drafted in fantasy drafts right now.
News and analysis powered by RotoWire.
---
Filed under: Free Articles