Sam Darnold QB (NYJ)
Sam Darnold IR not being considered: Head coach Adam Gase said Friday morning that Darnold (illness) is not a candidate for injured reserve, Connor Hughes of The Athletic reports.
Fantasy impact: It's still not clear exactly how long Darnold will be out, but keeping him off IR signals that the Jets expect him to be out fewer than eight weeks. Fantasy players and Jets fans are no doubt hoping he will be back well before that, but with a Week 4 bye on the horizon, it seems likely he won't be back on the field again until Week 5 at the earliest.
Darnold isn't currently being drafted in fantasy drafts right now.
Cam Newton QB (CAR)
Cam Newton Posts 300-yard effort in loss: Newton completed 25 of 51 passes for 333 yards with no touchdowns or interceptions in the Panthers' 20-14 loss to the Buccaneers on Thursday. He also rushed twice for no gain and lost a fumble.
Fantasy impact: The night was a mixed bag for Newton despite his impressive yardage total, with the nine-year pro only able to lead the Panthers to four field goals. The veteran gunslinger also saw a third-quarter interception wiped out by penalty, but Newton then committed his fumble two plays later on one of the three sacks he took. On the brighter side, Newton was in synergy with Greg Olsen and DJ Moore, hitting the duo a combined 15 times for 199 yards. However, Newton was often wild while targeting Curtis Samuel, who produced only a 33.0 percent catch rate on his 12 looks. However, Newton was highly effective on an 11-play, 73-yard drive in the fourth quarter that culminated in a turnover on downs at the Buccaneers' two-yard line with 1:28 remaining. With his team now having suffered two straight home losses to open the season, Newton will look to bounce back against the Cardinals in a Week 3 road matchup a week from this Sunday.
The fantasy value of Cam Newton is measured by his average draft position (ADP). The graph below shows how it's trending in the latest mock drafts . In recent drafts, Newton's current ADP is 8.06
How much this impacts Newton remains to be seen.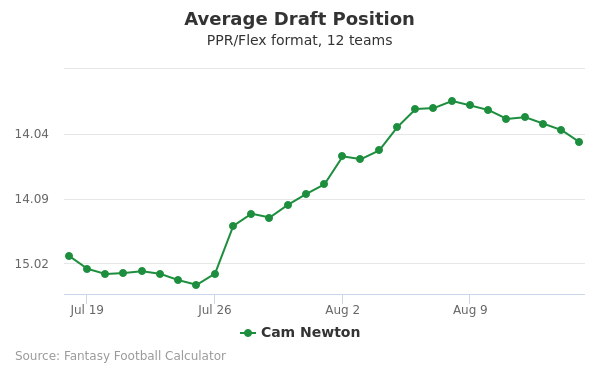 Jameis Winston QB (TB)
Jameis Winston Remains free of mistakes in win: Winston completed 16 of 25 passes for 208 yards with one touchdown and no interceptions in the Buccaneers' 20-14 win over the Panthers on Thursday. He also rushed four times for nine yards.
What it means: Although it was a sluggish offensive performance at times and Winston took three sacks, he managed to author two 70-yard-plus drives and a key 11-play fourth-quarter march as well. Winston showed his greatest synergy with Chris Godwin, with whom he connected on eight occasions for 121 yards. The fifth-year quarterback was also victimized by key drops, as neither Mike Evans nor Breshad Perriman could come down with strong throws they got their hands on in the end zone. Despite the rather ordinary fantasy night, Winston was able to remain free of interceptions after throwing three in the opener against the 49ers and did enough to lead the Buccaneers to a tough road win. He and his offensive teammates will now have some extra time to review their first two games in coach Bruce Arians' new offense before taking on the Giants in a Week 3 matchup a week from this coming Sunday.
It's possible to track the change in Jameis Winston's fantasy value over time by looking at where he's drafted. According to the latest PPR average draft position data, he's being drafted in at the 9.07 spot.
Watch out to see if Winston's value changes in light of this update.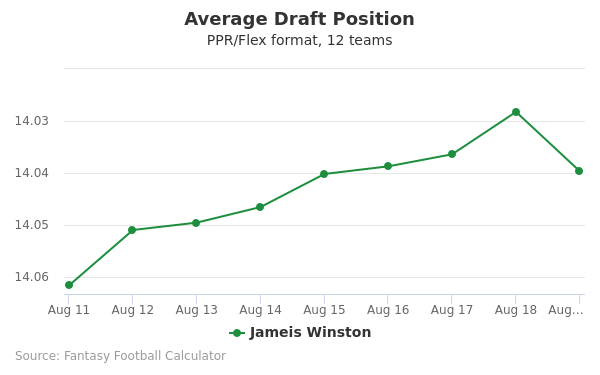 Philip Rivers QB (LAC)
Philip Rivers Not worried about contract: Rivers expects to stay with the Chargers beyond 2019, NFL.com's Jelani Scott reports. "I really just feel at peace about that," Rivers said. "[General manager Tom Telesco] and I had really good conversations throughout the last couple months. I think it's sincere, the both of us, really desire I'm still a Charger in 2020."
Our take: The two sides weren't able to work out an extension before the first game of Rivers' contract season, but it doesn't like there's much concern about eventually reaching an agreement, even if it waits until the offseason. As for the immediate future, Rivers will face a challenge Sunday in Detroit, with the Chargers missing TE Hunter Henry (knee) and possibly WR Mike Williams (knee).
The fantasy value of Philip Rivers is measured by his average draft position (ADP). The graph below shows how it's trending in the latest mock drafts. In recent drafts, Rivers's current ADP is 10.10
How much this impacts Rivers remains to be seen.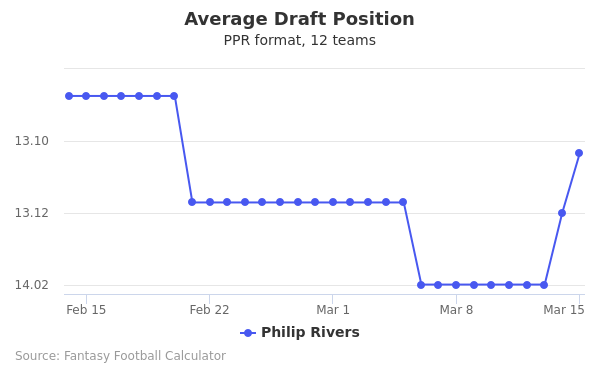 Baker Mayfield QB (CLE)
Baker Mayfield No limitations at practice: Mayfield (wrist) isn't listed on the initial injury report for Monday's game against the Jets, Scott Petrak of the Elyria Chronicle-Telegram reports.
What it means: Mary Kay Cabot of The Cleveland Plain Dealer reports Mayfield had tape over some fingers on his left hand during Thursday's practice, but he didn't show any visible issues with his throwing hand. The quarterback appears ready to go for Monday's game in New York, facing an injury-riddled Jets team that may have to play without ILB C.J. Mosley (groin) and DL Quinnen Williams (ankle). The Jets already ruled out QB Sam Darnold (illness) and also have RB Le'Veon Bell dealing with a shoulder injury.
Up until now, Baker Mayfield has been drafted at the 6.01 in PPR leagues.
How much this impacts Mayfield remains to be seen.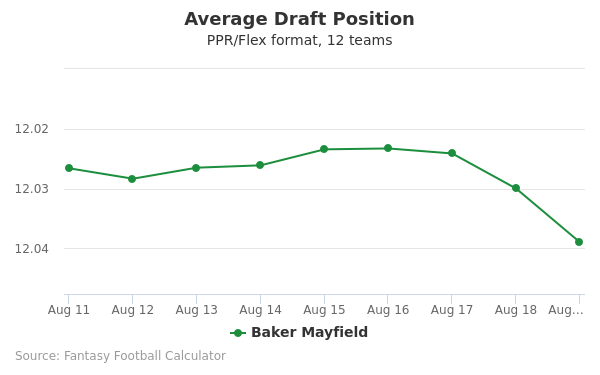 News and analysis powered by RotoWire.
---
Filed under: Free Articles