Hunter Henry
New England Patriots
Tight End #86
New England Patriots
Tight End #86
Photo: Icon Sportswire
Personal
| | |
| --- | --- |
| Age | 27 |
| Birthdate | December 7, 1994 |
| Height | 6'5" |
| Weight | 250 lb |
Draft
College
Arkansas
Year
2016
Pick
Round: 2, Overall: 35
Team
SD
Fantasy Value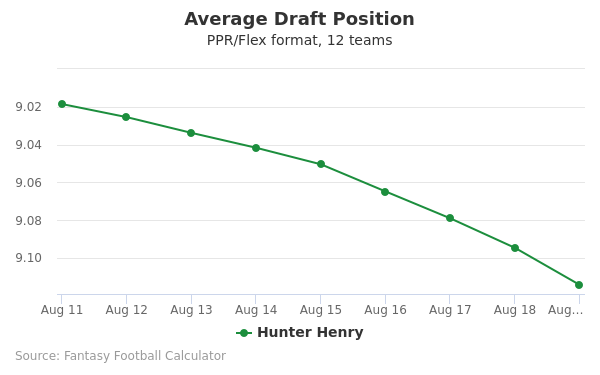 The code below will display a graph that updates every day to show the ADP data for Hunter Henry for the past 30 days in 12-team PPR leagues.
You may use this graph on your website for free with a link back to this page for attribution.
Player News
Hunter Henry: Sets career mark for TDs
Henry finished the 2021 regular season with 50 catches on 75 targets for 603 yards and a career-high nine touchdowns in 17 games.
Analysis: For the first time in his NFL career, the 2016 second-rounder played his team's full slate of games. Henry, who is signed through 2023, joined the Patriots as a splashy free agent signing last March along with fellow tight end Jonnu Smith. Though the duo operated in a time-share, it was Henry who was more involved in the passing game in his first campaign with New England. This coming season, Henry and Smith -- who is signed through 2024 -- are in line to continue to work in tandem, an arrangement that caps Henry's volume when both are available, but should still yield fantasy utility for Henry, given his nose for the end zone.
Jan. 26, 2022 8:39 AM EST
Player Stats
YEAR
TM
GM
Receiving
Rushing
REC
TGT
%
YDS
TD
YPC
ATT
YDS
YPC
TD
FUM
2016
LAC
16
36
53
67.9
478
8
13.3
0
0
0
0
1
2017
LAC
14
45
62
72.6
579
4
12.9
0
0
0
0
0
2019
LAC
16
55
76
72.4
652
5
11.9
0
0
0
0
1
2020
LAC
16
60
93
64.5
613
4
10.2
0
0
0
0
0
Recent Articles
If your fantasy squads were not sunk by the torpedoes that were Jonathan Taylor and Austin Ekeler last week, congratulations! The pair...
Read more »
November 25, 2021. Premium
November 25, 2021
Premium
With "bye-mageddon" in the rearview, it's time to look ahead to Week 8. Congratulations if you escaped last week with a win, especially...
Read more »
October 27, 2021. Premium
Top value picks and players to avoid for your DraftKings Sunday slate competitions.    
Read more »
September 19, 2021. Premium
September 19, 2021
Premium
Who Should You Start?
Who Should You Draft?
Hunter Henry Biography
Childhood and High School
He was born in Little Rock Arkansas on December 7, 1994. His father played as a defensive lineman for the Arkansas Razorbacks during 1987 to 1991. Henry attended a private college prep school where he played for the Los Angles Chargers for four years. He began his sophomore year winning the state championship with the Bruins. Rivals.com ranked him the 2nd best tight end in the United States. During his senior year he made 1,449 passes and 15 touchdowns. His coach was Kevin Kelly.
College
In college he attended the University of Arkansas where he played for the Arkansas Razorbacks. In 2015 he helped the team win the game against the Ole Miss Rebels from the University of Mississippi. His unique pass helped the team win the game and lead to a large amount of media coverage on this game. Henry won the John Mackey Award for the best tight end in the nation. During his four years at University of Arkansas he helped the Razorbacks beat their rival the Texas Longhorns in the 2014 Texas Bowl. He won many awards and trophies. In this video Hunter Henry receives the John Mackey Award.
NFL Draft
The 2016 NFL Draft took place in the Auditorium Theater in Chicago, IL from April 28 to the 30th. Henry Hunter was chosen by the San Diego Chargers during the second round of the draft. He was able to skip most of the drills at the NFL Combine. His ability to block other players was a big part of his success and as a player. He entered the NFL draft in his junior year after an outstanding year of playing on the team. He is considered one of the best tight ends in NFL Draft history. He was called a first round pick by an NFL scout. His strengths are he can catch, run and block.
2015
In 2015 Henry Hunter was a junior at Arkansas University. He excelled at football during his junior year. He finished second on his team with 51 catches for a distance of 739 yards, and scored 3 touchdowns. He earned first team All Sec Honors and entered the NFL Draft skipping his senior year at college. He was voted the number 2 recruit in the state. He was 6 foot 5 inches tall and weighed 253 pounds in his junior year. He received a very high draft evaluation rating from the NFL according to his coach Coach Bret Bielema.
2016 NFL
In 2016 he signed a four year contract with the San Diego Chargers for a salary of $3.98 million. He received a signing bonus of $2.84 million. He entered training camp and competed against Sean McGrath and Asante Cleveland two seasoned veterans. The team named him third tight end to begin a regular season. The second week he helped them win a game against the Jacksonville Jaguars. These are some of the highlights of his career. In his rookie season he scored the second most touchdowns of a player in the last decade. In this video are highlights of Hunter Henry's 2016 season.
Personal Life
He was named Parade All American when he was a senior in high school. His parents were Mark and Jenny Henry. You can follow him on twitter. His 40 time range or yard dash is 4.68. His vertical jump is 31 1/2. These are statistics that show why he is a superior player.