Derrius Guice RB (WAS)
Derrius Guice Injures hamstring: Guice (knee) injured his hamstring and now appears questionable for training camp, Erin Hawksworth of 106.7 The Fan reports.
Our take: Any player in the first season back from a major knee/leg/foot injury faces heightened risk of other lower-body issues. Guice reportedly was on track for the start of training camp before this new development, though he was limited to individual drills and a rehab program throughout OTAs and minicamp. In addition to the health concerns, Guice faces tough competition for playing time in a backfield that also has Adrian Peterson and Chris Thompson on hand. Running backs coach Randy Jordan said in June that he envisions a 50-50 or 60-40 carry split between Guice and Peterson. A return to health for the preseason would give Guice a better shot to tilt the Week 1 workload split in his favor.
Up until now, Derrius Guice has been drafted at the 6.09 in PPR leagues.
How much this impacts Guice remains to be seen.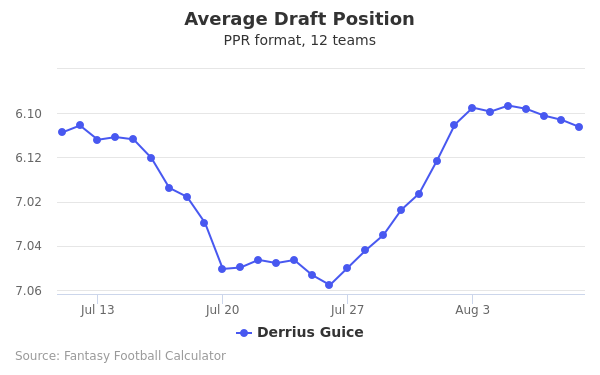 Cameron Artis-Payne RB (CAR)
Cameron Artis-Payne Facing backup competition: Artis-Payne faces competition for backup work from Jordan Scarlett, Elijah Hood (knee), Elijah Holyfield and Reggie Bonnafon, Brendan Marks of The Charlotte Observer reports.
Fantasy impact: The Panthers have talked about reducing Christian McCaffrey 's workload, but a lack of investment in their backfield points toward another season full of lofty snap counts. Artis-Payne is the only other Carolina tailback with an NFL carry to his name, while Scarlett has the advantage of being a recent draft pick (2019 fifth-round pick). There's no runaway favorite to earn the No. 2 job, and it's still possible the Panthers bring in a veteran to improve the competition.
Artis-Payne isn't currently being drafted in fantasy drafts right now.
Duke Johnson RB (CLE)
Duke Johnson Signs with Drew Rosenhaus: Johnson signed Thursday with agent Drew Rosenhaus, hoping his new representative can facilitate a trade, Adam Schefter of ESPN reports.
Fantasy impact: Johnson separated from his old representation earlier this week, apparently frustrated to still be on the Cleveland roster months after he first asked for a trade. He said the desire to play elsewhere is motivated by his knowledge that the Browns tried to trade him back in February when they signed Kareem Hunt (suspension). Unsatisfied with the offers, Cleveland then pivoted to keeping Johnson around, with potential to reopen trade negotiations later. Rosenhaus reportedly helped facilitate the trade that sent DE Emmanuel Ogbah from Cleveland to Kansas City after the Browns acquired Olivier Vernon. Johnson's situation is trickier, as he's entering the first season of a three-year, $15.6 million contract, including $5 million in bonuses the Browns have already paid, per overthecap.com. The Browns seem serious about extracting significant compensation, knowing that any team acquiring Johnson would have him on a reasonable three-year contract with no guarantees beyond 2019.
The fantasy value of Duke Johnson is measured by his average draft position (ADP). The graph below shows how it's trending in the latest mock drafts . In recent drafts, Johnson's current ADP is 14.02
Keep an eye out on his value going forward.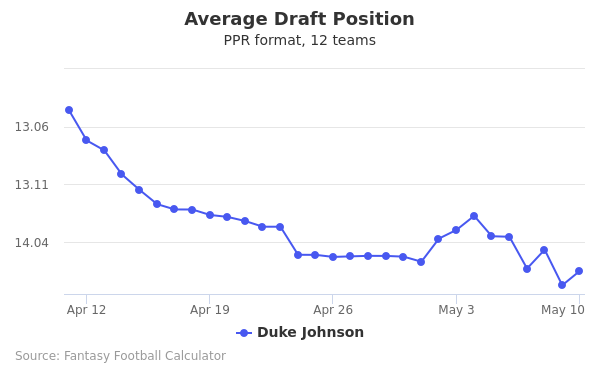 Melvin Gordon RB (LAC)
Melvin Gordon Could skip regular-season games: Gordon's agent said there's a "strong possibility" the running back will hold out into the regular season if he doesn't receive a new contract, Tom Pelissero of NFL.com reports.
What it means: Gordon reportedly will ask for a trade if he doesn't get his contract before July 24 when the Chargers report to training camp. The team still hopes to reach an agreement, but Gordon's public reveal of his plan for a holdout suggests the two sides are far apart on money. Despite missing four games last season, the 26-year-old achieved personal bests in a slew of statistical categories, including yards per carry (5.1), yards per target (7.4), scrimmage yards per game (114.6) and total touchdowns (14). Backup running back Austin Ekeler also had an efficient campaign, but he struggled when tasked with a larger role, averaging 3.2 YPC and 3.8 YPT in three starts. Justin Jackson and Detrez Newsome are the other leading candidates to see carries if things ultimately don't work out between Gordon and the Chargers.
Up until now, Melvin Gordon has been drafted at the 1.08 in PPR leagues.
How much this impacts Gordon remains to be seen.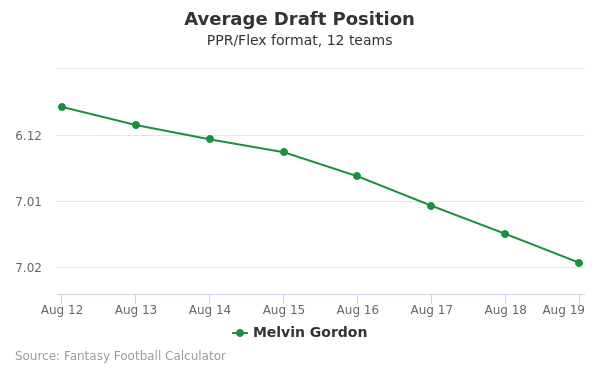 Jeremy Hill RB (FA)
Jeremy Hill Hoping for signing soon: Hill (knee) anticipates signing with a team once he receives medical clearance, Herbie Teope of The New Orleans Advocate reports.
What it means: Hill tore the ACL in his right knee during a Week 1 game with the Patriots last season, after beating out Mike Gillislee for a roster spot. The 27-year-old running back never lived up to the promise of his impressive rookie season, but he may still have something to offer as a bruiser for short-yardage situations and clock-killing work. Even so, Hill will face an uphill battle to earn a spot on the 53-man roster if/when he signs with an NFL team.
Hill isn't currently being drafted in fantasy drafts right now.
News and analysis powered by RotoWire.
---
Filed under: Free Articles