Dallas Goedert TE (PHI)
Dallas Goedert Impressing in camp: Goedert has made a number of plays and seen increased reps so far in camp, Dave Zangaro of NBC Sports Philadelphia reports.
Our take: The Eagles seem to be emphasizing two-tight end formations more this preseason and are getting the ball in his hands close to the line of scrimmage. After a solid spring, Goedert has continued to make plays early in camp. If his role continues to grow, he could have value beyond being merely Zach Ertz 's handcuff.
Goedert isn't currently being drafted in fantasy drafts right now.
Dawson Knox TE (BUF)
Dawson Knox Hamstring issue: Knox did not practice Sunday due to a hamstring injury, The Buffalo News reports.
Fantasy impact: With presumed starter Tyler Kroft nowhere near a return from a broken foot and Lee Smith predominantly a blocker, Knox appears to be the current leader for Week 1 fantasy production. As a rookie, however, he needs to be practicing as much as possible, so we'll see if this is minor when the Bills return to practice Tuesday.
Knox isn't currently being drafted in fantasy drafts right now.
Tyler Eifert TE (CIN)
Tyler Eifert Back at practice: Eifert (ankle) participated in team drills during Saturday's practice, Jay Morrison of The Athletic reports.
Fantasy impact: Eifert missed June minicamp while progressing in his recovery from a broken right ankle that limited him to four games in 2018, and now appears to have returned to health. The 28-year-old has yet to play a full 16 game season in his NFL career, and has not surpassed 10 appearances in a season since 2015. Now signed to a one-year, incentive-rich contract, Eifert will work to stay healthy and reestablish himself as a dangerous red zone threat. With A.J. Green (lower leg) having exited Saturday's practice with an injury of uncertain severity, the Bengals could potentially need to rely on Eifert as a primary target in the passing game.
Eifert isn't currently being drafted in fantasy drafts right now.
Jared Cook TE (NO)
Jared Cook Building chemistry: Cook is receiving increased looks from Drew Brees in training camp with Michael Thomas (contract dispute) holding out, Luke Johnson of The New Orleans Times-Picayune reports.
Fantasy impact: Cook signed with the Saints in May, and appears to be making the most of his increased reps with Brees. The veteran tight end is coming off a career year in Oakland, in which he notched career-highs in catches (68), yards (896) and touchdowns (6). Cook stands to play a big role in New Orleans' receiving game in 2019 if he and Brees are able to establish solid chemistry before Week 1.
It's possible to track the change in Jared Cook's fantasy value over time by looking at where he's drafted. According to the latest PPR average draft position data, he's being drafted in at the 7.07 spot.
How much this impacts Cook remains to be seen.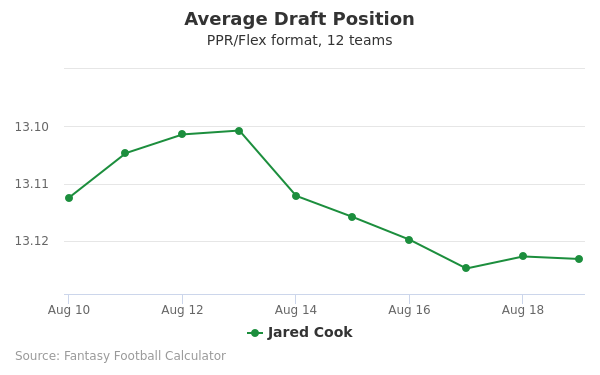 T.J. Hockenson TE (DET)
T.J. Hockenson Making strong first impression: Hockenson has made a strong first impression during the opening days of training camp, Michael Rothstein of ESPN reports.
Fantasy impact: Hockenson reportedly drew a standing ovation from the crowd after a practice in which he made numerous eyebrow-raising catches in traffic. While we need to keep in mind that the pads have yet to come on, Hockenson has been drawing these kinds of reviews since he came to Detroit and he seems to be on track for a significant role in the Lions passing game. His primary competition for snaps, Jesse James , is reportedly being positioned as the team's primary blocking tight end.
The fantasy value of T.J. Hockenson is measured by his average draft position (ADP). The graph below shows how it's trending in the latest mock drafts . In recent drafts, Hockenson's current ADP is 11.02
Watch out to see if Hockenson's value changes in light of this update.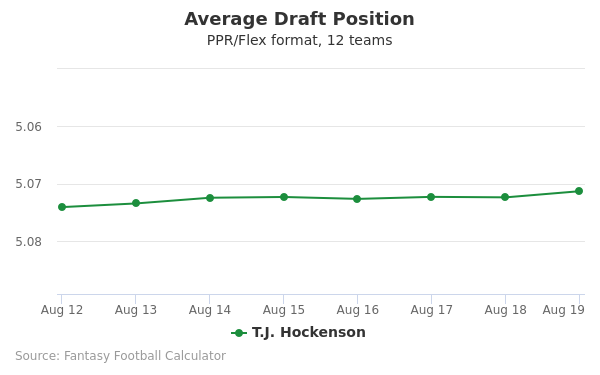 News and analysis powered by RotoWire.
---
Filed under: Free Articles