Wide receivers are critical in fantasy football.
A good fantasy roster is deep in pass catching talent, especially in PPR leagues.
These 5 players are the latest ones in the news.
Use this information to help start the right players, monitor the waiver wire and identify trade targets.
Quincy Enunwa WR (NYJ)
Quincy Enunwa Likely out for 2020 season: The Jets informed Enunwa (neck) on Tuesday that he'll be placed on the reserve/PUP list, Ian Rapoport of NFL Network reports.
Our take: New York also moved Josh Bellamy (shoulder) to the same list, with Rapoport relaying that the organization doesn't expect either receiver to play during the 2020 season. Considering Enunwa has played just 12 regular-season contests dating back to 2017 as a result of neck issues, his time in the NFL could well be over. The injuries to Enunwa and Bellamy likely had a hand in the Jets' decision to invest a second round pick into Baylor receiver Denzel Mims during April's draft.
Enunwa isn't currently being drafted in fantasy drafts right now.
Odell Beckham Jr WR (CLE)
Odell Beckham Jr Pleased with recovery process: Beckham (abdomen) posted a workout video Monday, noting that his recovery from January surgery is going well, Mary Kay Cabot of The Cleveland Plain Dealer reports.
What it means: Beckham provided some details on his medical history, referring to his quad and abdomen issues from the past two seasons as "compensation injuries" stemming from the severe ankle injury he suffered Oct. 2018. He first noticed discomfort in his groin/abdomen area last June, eventually suffering a sports hernia during the third week of training camp. Beckham managed to play all 16 games, but his practice time was scaled back and his average of 64.7 yards per game was easily a career low. By the end of the season, he was dealing with a torn abductor and torn rectus abdominis, which led to what Beckham describes as "probably one of the worst surgeries I've ever had." Regardless, Beckham expects to come back stronger and faster, hoping to hit the "reset button" and get his body properly aligned. The 27-year-old wideout will be working with a new coaching staff led by Kevin Stefanski and offensive coordinator Alex Van Pelt.
Up until now, Odell Beckham Jr has been drafted at the 5.05 in PPR leagues.
Keep an eye out on his value going forward.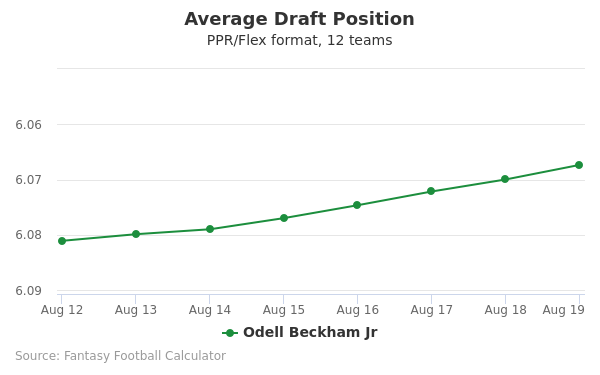 Alshon Jeffery WR (PHI)
Alshon Jeffery Possible PUP list candidate: Jeffery (foot) could open the 2020 season on the Physically Unable to Perform list, Mike Kaye of NJ.com reports.
Our take: Jeffery remains in the midst of a lengthy rehab process after having undergone Lisfranc surgery in December, and even discounting the possibility of quarantine-related challenges inhibiting his recovery, there's no guarantee that the 30-year-old wideout will be ready to go by Week 1. Heading into the third season of his four-year deal with Philadelphia, Jeffery's fully guaranteed $9.91 million base salary for 2020 essentially guarantees that he won't be cut, and he's the team's best option as an X receiver when healthy, but it's possible that continued injury concerns could incentive the exploration of a tentative trade. Though rookie first-round pick Jalen Reagor's skillset doesn't overlap with Jeffery's, his arrival could make moving on from the veteran a more realistic possibility for the Eagles.
Up until now, Alshon Jeffery has been drafted at the 9.08 in PPR leagues.
How much this impacts Jeffery remains to be seen.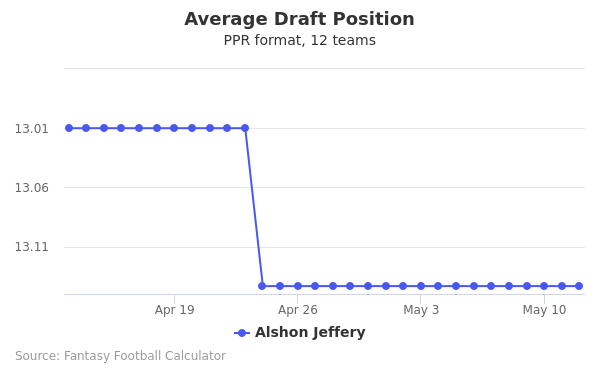 John Ross WR (CIN)
John Ross No fifth-year option: Ross will not have his fifth-year option picked up by the Bengals, Adam Schefter of ESPN reports.
Our take: Ross has played just 24 of 48 eligible games since being drafted No. 9 overall by the Bengals in the 2017 NFL Draft due to a number of injuries, so it doesn't come as much surprise to see Ross fail to receive the fifth-year option. The speedy wide receiver has largely been productive during the few times he's been on the field, but with the addition of 2020 second-round pick, Tee Higgins, and the expected healthy return of A.J. Green (ankle), it might be a tall task for Ross to see enough opportunities to break out in a meaningful way next season.
The fantasy value of John Ross is measured by his average draft position (ADP). The graph below shows how it's trending in the latest mock drafts . In recent drafts, Ross's current ADP is 13.03
Watch out to see if Ross's value changes in light of this update.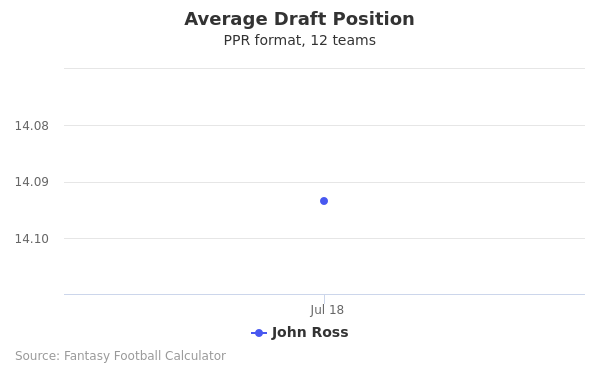 Corey Davis WR (TEN)
Corey Davis Fifth-year option declined: Davis' fifth-year option was not picked up by the Titans, Tom Pelissero of NFL Network reports.
Our take: The former No.5 pick overall has had a rocky start to his career and will now be eligible to hit free agency after the 2020 season. Davis was surpassed by rookie A.J. Brown as the lead dog in the Titans' passing game in 2019 and his targets plummeted from 112 in 2018 to just 69. The Titans declining Davis' fifth-year option doesn't preclude them from working out a new contract next offseason, but it is a statement that the former Western Michigan receiver needs to get things turned around in a hurry.
The fantasy value of Corey Davis is measured by his average draft position (ADP). The graph below shows how it's trending in the latest mock drafts. In recent drafts, Davis's current ADP is 11.07
Keep an eye out on his value going forward.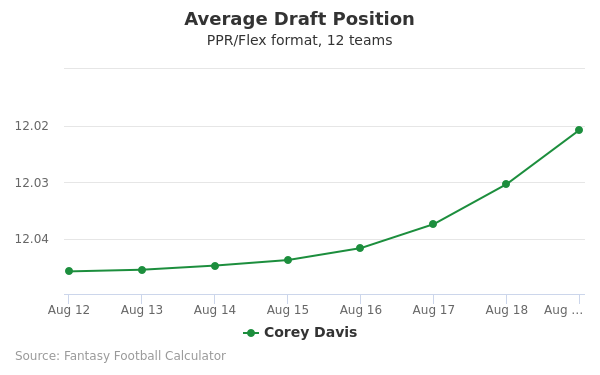 News and analysis powered by RotoWire.
---
Filed under: Free Articles