A.J. Brown
Philadelphia Eagles
Wide Receiver #1
Philadelphia Eagles
Wide Receiver #1
Photo: Icon Sportswire
Personal
| | |
| --- | --- |
| Age | 24 |
| Birthdate | June 30, 1997 |
| Height | 6'0" |
| Weight | 226 lb |
Draft
College
Ole Miss
Year
2019
Pick
Round: 2, Overall: 51
Team
TEN
Fantasy Value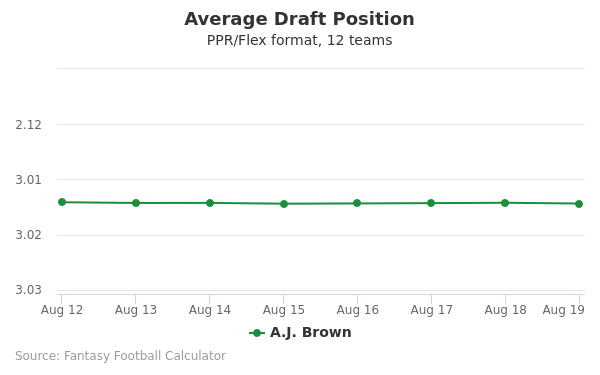 The code below will display a graph that updates every day to show the ADP data for A.J. Brown for the past 30 days in 12-team PPR leagues.
You may use this graph on your website for free with a link back to this page for attribution.
Player News
A.J. Brown: Part of blockbuster trade to Philly
Brown was traded to the Philadelphia Eagles for the 18th overall pick and a third-round selection in the 2022 NFL Draft, Dianna Russini of ESPN reports.
Analysis: Philadelphia used one of its first-round picks to move up and select Jordan Davis, then used its other to bolster its receiving corps in a big way by securing one of the best young wide receivers in the league in Brown. Now in Philadelphia, Brown stands to lead a promising young receiving corps that also features DeVonta Smith.
Apr. 28, 2022 7:05 PM EST
Player Stats
YEAR
TM
GM
Receiving
Rushing
REC
TGT
%
YDS
TD
YPC
ATT
YDS
YPC
TD
FUM
2019
TEN
16
52
84
61.9
1,051
8
20.2
3
60
20.0
1
0
2020
TEN
16
70
106
66.0
1,075
11
15.4
0
0
0
0
1
Recent Articles
Your FanDuel Values and Busts for the Divisional Round Playoffs
Read more »
January 20, 2022. Premium
Your NFL Week 17 FanDuel Values and Busts
Read more »
January 1, 2022. Premium
Between the Buccaneers' offense dropping like flies and COVID running rampant, there are plenty of injuries worth talking about this...
Read more »
December 22, 2021. Premium
December 22, 2021
Premium
Who Should You Start?
Who Should You Draft?