A.J. Brown
Tennessee Titans
Wide Receiver #1
Tennessee Titans
Wide Receiver #1
Photo: Icon Sportswire
Personal
| | |
| --- | --- |
| Age | 23 |
| Birthdate | June 30, 1997 |
| Height | 6'0" |
| Weight | 226 lb |
Draft
College
Ole Miss
Year
2019
Pick
Round: 2, Overall: 51
Team
TEN
Fantasy Value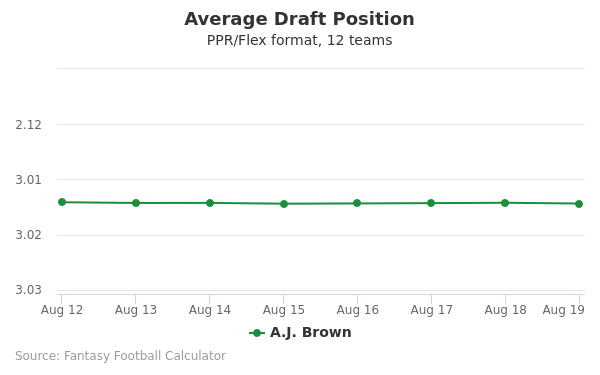 The code below will display a graph that updates every day to show the ADP data for A.J. Brown for the past 30 days in 12-team PPR leagues.
You may use this graph on your website for free with a link back to this page for attribution.
Player News
A.J. Brown: Underwent surgery on both knees
Brown revealed on social media Tuesday that he underwent surgery on both of his knees, Terry McCormick of TitanInsider.com reports.
Analysis: Brown explained the severity of his injuries by revealing that the Titans' medical staff suggested he should be shut down for the year in Week 2. Nevertheless, the second-year receiver battled through the pair of injuries and piled up 70 receptions (106 targets) for 1,075 yards and 11 touchdowns, receiving Pro Bowl honors in the process. It's unclear whether Brown will miss any of the offseason program or training camp.
Jan. 19, 2021 3:57 PM EST
Player Stats
YEAR
TM
GM
Receiving
Rushing
REC
TGT
%
YDS
TD
YPC
ATT
YDS
YPC
TD
FUM
Recent Articles
After watching 6 games this past Super Wild Card Weekend, we not only learned a lot about players who have moved on to the divisional...
Read more »
January 15, 2021. Premium
Week 1 of the playoffs is played over two days, so we will be lumping all six games into one article this week. DraftKings (and other...
Read more »
January 8, 2021. Premium
For most leagues - this was it. Championship week has come and gone and we saw a ton of players who almost single-handedly won you your...
Read more »
December 28, 2020. Premium
December 28, 2020
Premium
Who Should You Start?
Who Should You Draft?