Eagles Top Fantasy Players
These are the top fantasy football players of the Philadelphia Eagles as ranked by Average Draft Position (ADP) in PPR-format mock drafts.
Data as of October 25, 2020.
Miles Sanders
Miles Sanders's current ADP is 3.07, which is the 7th pick of the 3rd round, and 31st selection overall.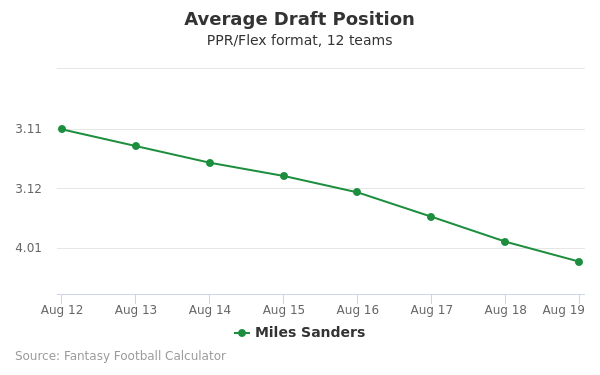 Zach Ertz
Zach Ertz's current ADP is 4.10, which is the 10th pick of the 4th round, and 45th selection overall.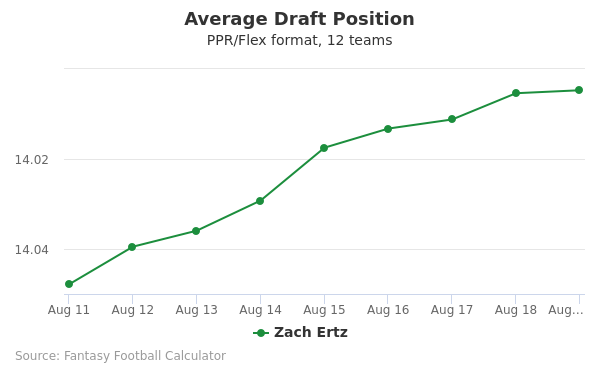 Boston Scott
Boston Scott's current ADP is 9.05, which is the 5th pick of the 9th round, and 101st selection overall.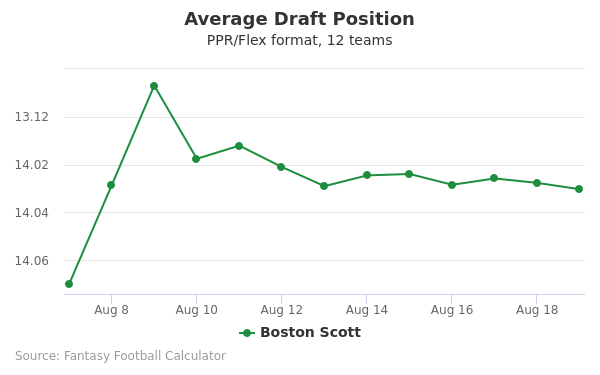 Carson Wentz
Carson Wentz's current ADP is 10.02, which is the 2nd pick of the 10th round, and 110th selection overall.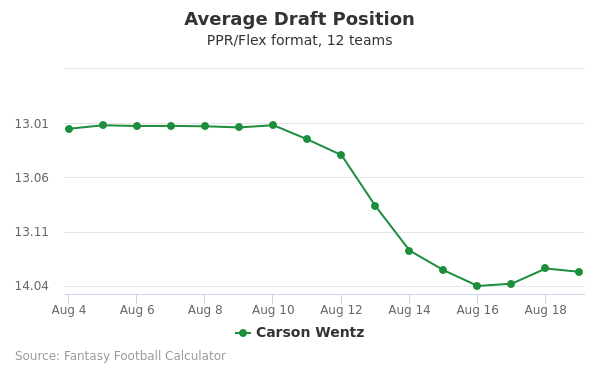 DeSean Jackson
DeSean Jackson's current ADP is 10.07, which is the 7th pick of the 10th round, and 114th selection overall.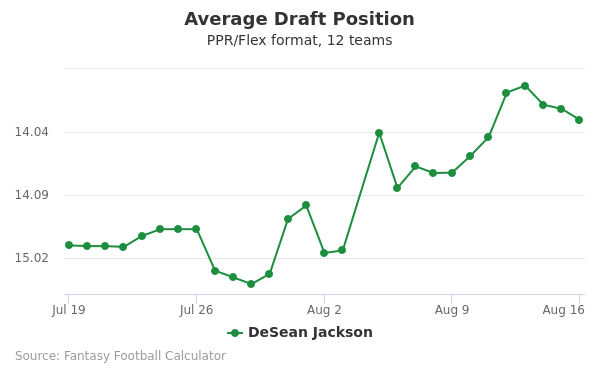 Jalen Reagor
Jalen Reagor's current ADP is 11.09, which is the 9th pick of the 11th round, and 128th selection overall.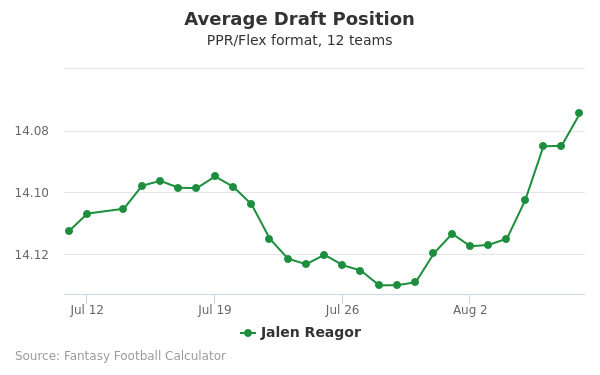 Philadelphia Eagles 2020 Schedule
| Week | Home/Away | Opponent |
| --- | --- | --- |
| 1 | Away | Washington Redskins |
| 2 | Home | Los Angeles Rams |
| 3 | Home | Cincinnati Bengals |
| 4 | Away | San Francisco 49ers |
| 5 | Away | Pittsburgh Steelers |
| 6 | Home | Baltimore Ravens |
| 7 | Home | New York Giants |
| 8 | Home | Dallas Cowboys |
| 10 | Away | New York Giants |
| 11 | Away | Cleveland Browns |
| 12 | Home | Seattle Seahawks |
| 13 | Away | Green Bay Packers |
| 14 | Home | New Orleans Saints |
| 15 | Away | Arizona Cardinals |
| 16 | Away | Dallas Cowboys |
| 17 | Home | Washington Redskins |
Philadelphia Eagles News
Corey Clement, Gets three touches in win
Clement rushed twice for nine yards and caught his lone target for 12 yards in Thursday's 22-21 win over the Giants.
Analysis: Clement saw just 18 snaps on offense even with Miles Sanders inactive due to a knee injury. Boston Scott worked as the lead back in the win, playing 56 total snaps on offense. It doesn't look like Clement will see much action unless both Sanders and Scott are forced to miss time.
October 24, 2020 12:18 AM EST
---
Jake Elliott, Makes lone field-goal try in win
Elliott made his only field-goal attempt and added an extra point in Thursday's 22-21 win over the Giants
Analysis: It was Elliot's first successful field-goal conversion since Week 4 against San Francisco. Opportunities have been few and far between for the 25-year-old this season, and he has also been inconsistent from long distance. He has a get-right matchup in Week 8 with Dallas, however.
October 24, 2020 12:08 AM EST
---
John Hightower, Big fourth-quarter grab
Hightower secured one of two targets for 59 yards in the Eagles' 22-21 win over the Giants on Thursday night.
Analysis: As was the case in Week 6 against the Ravens, Hightower's one reception covered plenty of ground, and in Thursday's case, it came at a critical juncture of the contest. The rookie got loose down the right sideline for his 59-yard grab with Philadelphia down by 11 and 6:05 remaining, setting up the Eagles at the Giants' 14-yard line ahead of what would be one of two fourth-quarter touchdowns. Hightower has lived by the big play in the last two games, but he's still been unable to fully capitalize on the plethora of injuries to the Eagles' pass-catching corps. He'll look to offer his downfield dimension once again versus the Cowboys in a Week 8 battle on Sun., Nov. 1.
October 22, 2020 10:07 PM EST
---
Greg Ward, Crosses goal line in win
Ward hauled in five of six targets for 42 yards and a touchdown and returned one punt for 11 yards in the Eagles' 22-21 win over the Giants on Thursday night.
Analysis: The converted college quarterback turned in a strong effort as a possession option for Carson Wentz throughout the night, Ward checked in second in receptions and third in targets, and his three-yard scoring grab with 4:38 remaining began the comeback from a 21-10 deficit. The 25-year-old had seen his catch total dwindle from four to two between Weeks 5 and 6, so Thursday's resurgence was a welcome sight. However, depending on the statuses of Alshon Jeffery (foot) and DeSean Jackson (leg) for a Week 8 battle against the Cowboys on Sunday, Nov. 1, it's possible Ward is no better than the No. 4 wideout in that contest.
October 22, 2020 9:59 PM EST
---
Carson Wentz, Leads furious comeback
Wentz completed 25 of 43 passes for 359 yards with two touchdowns and one interception in the Eagles' 22-21 win over the Giants on Thursday night. He also rushed seven times for 14 yards and another score.
Analysis: Down 21-10 after a Sterling Shepard touchdown reception with 6:17 remaining, the Eagles found themselves in a similar position to that of a narrow Week 6 loss to the Ravens that saw them nearly pull off a comeback from a two-possession deficit. Wentz quickly went to work, driving his team 78 yards in just four plays, a march highlighted by a 59-yard completion to rookie John Hightower. Following a subsequent Giants punt, Wentz then put what would prove to be the dagger in the collective heart of Big Blue, capping off a six-play, 71-yard drive with a perfectly thrown 18-yard scoring pass to Boston Scott down the right sideline with just 40 seconds left. Prior to his late-game heroics, the embattled quarterback had opened the scoring with a tough one-yard rushing touchdown on Philadelphia's first possession. Wentz and his fantasy managers needed this season-best performance from him after he'd significantly underdelivered on preseason expectations over the first six contests, with multiple injuries to his pass-catching corps playing a part. Wentz will now look to carry over the momentum into a Week 8 divisional showdown against the Cowboys on Sunday, Nov. 1.
October 22, 2020 9:02 PM EST
---