Eagles Top Fantasy Players
These are the top fantasy football players of the Philadelphia Eagles as ranked by Average Draft Position (ADP) in PPR-format mock drafts.
Data as of March 30, 2020.
Miles Sanders
Miles Sanders's current ADP is 3.12, which is the 12th pick of the 3rd round, and 35th selection overall.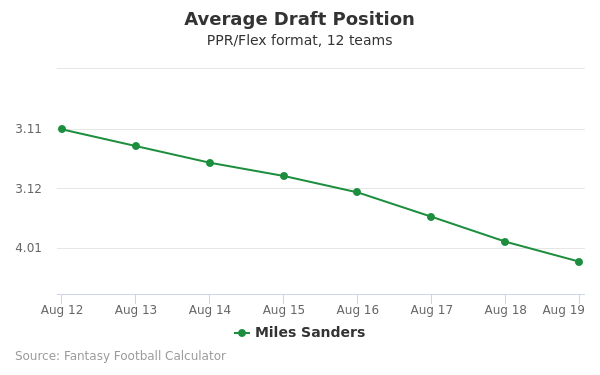 Zach Ertz
Zach Ertz's current ADP is 5.04, which is the 4th pick of the 5th round, and 51st selection overall.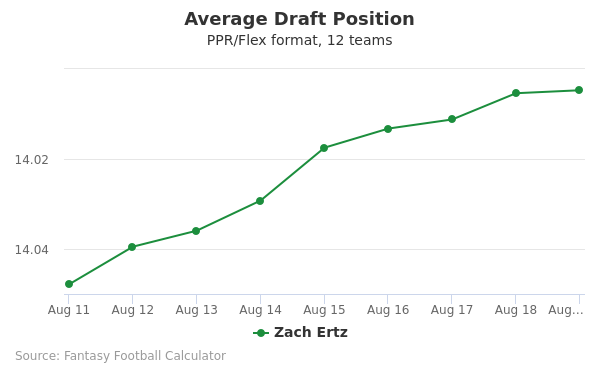 Carson Wentz
Carson Wentz's current ADP is 7.08, which is the 8th pick of the 7th round, and 79th selection overall.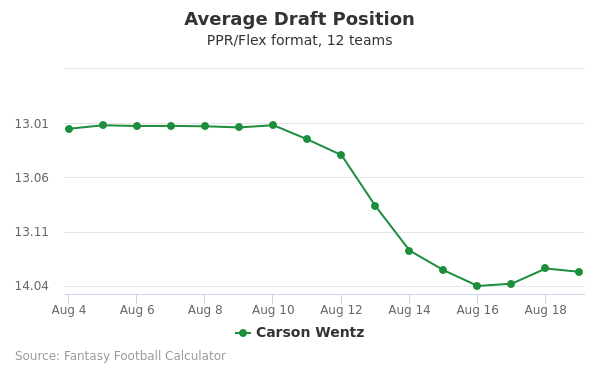 Alshon Jeffery
Alshon Jeffery's current ADP is 9.06, which is the 6th pick of the 9th round, and 101st selection overall.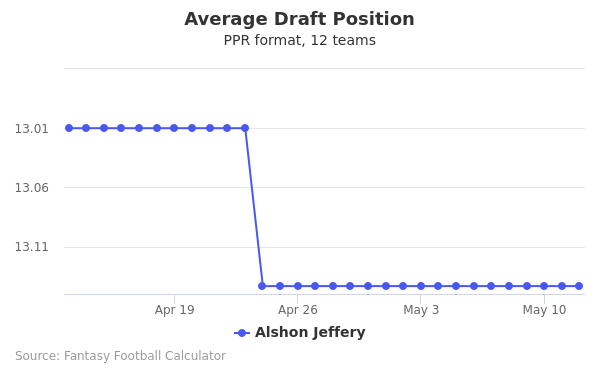 Dallas Goedert
Dallas Goedert's current ADP is 9.08, which is the 8th pick of the 9th round, and 104th selection overall.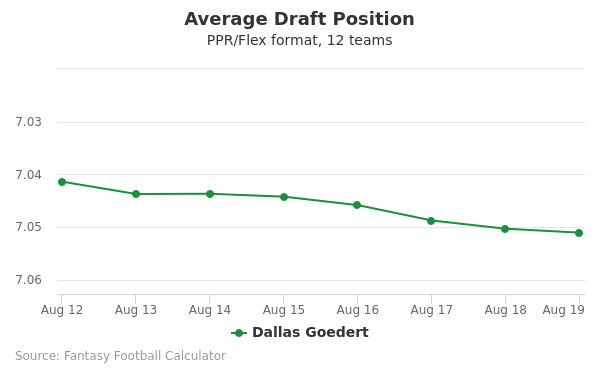 JJ Arcega-Whiteside
JJ Arcega-Whiteside's current ADP is 11.12, which is the 12th pick of the 11th round, and 131st selection overall.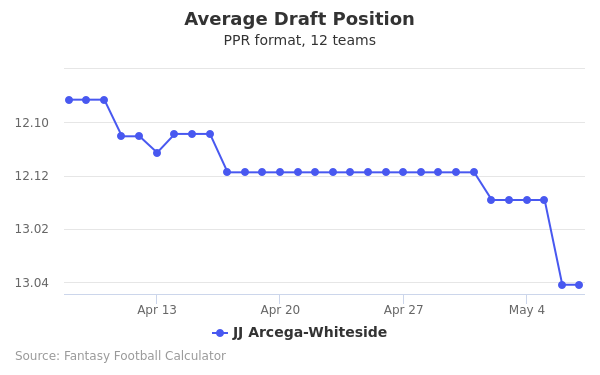 Boston Scott
Boston Scott's current ADP is 14.01, which is the 1st pick of the 14th round, and 156th selection overall.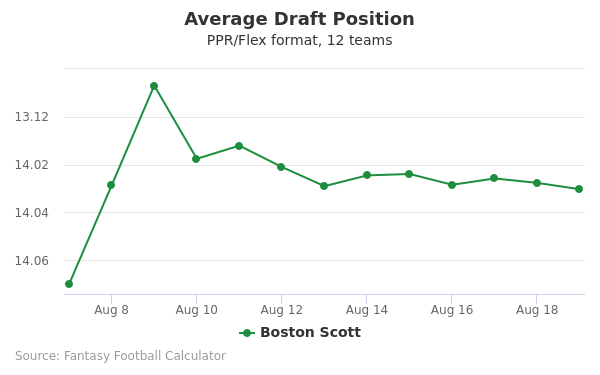 DeSean Jackson
DeSean Jackson's current ADP is 14.01, which is the 1st pick of the 14th round, and 157th selection overall.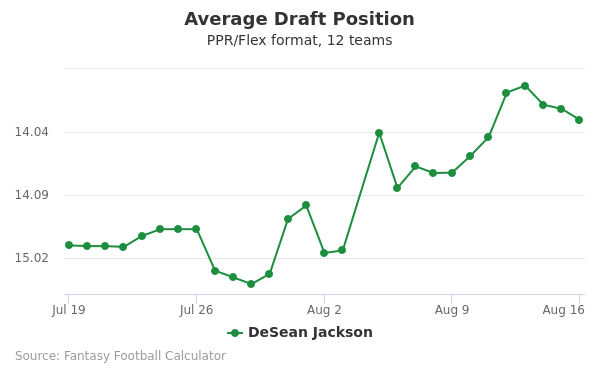 Philadelphia Defense
Philadelphia Defense's current ADP is 14.07, which is the 7th pick of the 14th round, and 162nd selection overall.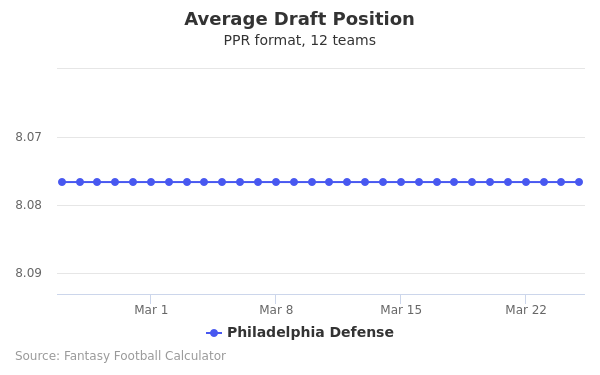 Jake Elliott
Jake Elliott's current ADP is 15.03, which is the 3rd pick of the 15th round, and 170th selection overall.
Philadelphia Eagles 2019 Schedule
| Week | Home/Away | Opponent |
| --- | --- | --- |
| 1 | Home | Washington Redskins |
| 2 | Away | Atlanta Falcons |
| 3 | Home | Detroit Lions |
| 4 | Away | Green Bay Packers |
| 5 | Home | New York Jets |
| 6 | Away | Minnesota Vikings |
| 7 | Away | Dallas Cowboys |
| 8 | Away | Buffalo Bills |
| 9 | Home | Chicago Bears |
| 11 | Home | New England Patriots |
| 12 | Home | Seattle Seahawks |
| 13 | Away | Miami Dolphins |
| 14 | Home | New York Giants |
| 15 | Away | Washington Redskins |
| 16 | Home | Dallas Cowboys |
| 17 | Away | New York Giants |
Philadelphia Eagles News
Carson Wentz, Option picked up for 2020
The Eagles officially exercised Wentz's (concussion) team option for 2020 on Friday, Jeff Kerr of CBS Sports reports.
Analysis: The move was merely procedural, as Wentz's (head) 2020 salary would have risen to $31.38 million while voiding the remaining years on his deal had Philadelphia declined to exercise the option. Wentz was forced out early in the Eagles' wild-card round loss to the Seahawks on Jan. 5 with a concussion, but he cleared all five phases of the NFL's concussion protocol three days later and would have been available had Philadelphia advanced to the divisional round, per Derrick Gunn of NBC Sports Philadelphia.
March 29, 2020 10:42 AM EST
---
Jordan Howard, Moves past shoulder injury
Howard (shoulder) said Thursday that he's fully healthy after a shoulder stinger sidelined him for most of the second half of the 2019 season, Joe Schad of the Palm Beach Post reports. "I'm back to 100 percent now," Howard said. "It took a while, but I'm finally back to being 100 percent."
Analysis: As a member of the Eagles last season, Howard was the team's leading rusher through its first nine games, but he logged just one snap over Philadelphia's final eight games -- including a wild-card round loss to Seattle -- while managing the injury. After being active but going unused in the playoffs, Howard admitted afterward that he hadn't fully regained strength in his shoulder, but he now looks to be in a good spot health-wise following two-plus months of rest and rehab. The Dolphins' decision to sign Howard to a two-year, $10 million deal in the first week of free agency implies confidence in his health, and the 25-year-old tentatively looks in line to lead Miami's ground game in 2020. He could face more of a challenge for the top job, however, if the Dolphins invest an early round pick into a running back during April's draft.
March 29, 2020 7:11 AM EST
---
Zach Ertz, Eagles exercise 2021 option
Philadelphia picked of Ertz's contract option for 2021 Friday, Tom Pelissero of NFL Network reports.
Analysis: The news isn't a major surpise as the 29-year-old is set to earn $8 million and $8.5 million over the next two seasons, but the move officially puts him on the books for 2021. Ertz sustained a cracked rib and lacerated kidney Week 16 and missed the regular-season finale, but he returned to play 61 offensive snaps in the wild-card loss to the Seahawks. He finished the season with 88 catches for 916 yards and six touchdowns in 2019, and he'll enter next season as a top target for quarterback Carson Wentz.
March 27, 2020 7:02 AM EST
---
JJ Arcega-Whiteside, Facing heightened expectations
Eagles GM Howie Roseman hopes Arcega-Whiteside can "take a big jump" in 2020, Martin Frank of The Delaware News Journal reports.
Analysis: The Eagles' failure to add wideout talent early in the offseason has drawn criticism, prompting Roseman to tell reporters the following: "I don't feel like the cupboard is as bare as you're describing. Doesn't mean we're ready to roll there." One aspect of Roseman's logic is that Arcega-Whiteside is now fully healthy, whereas last offseason he entered the NFL with lower body injuries (something that wasn't reported publicly at the time). The young wideout dealt with heel, leg and foot ailments at various points throughout his rookie season, ultimately catching 10 passes on 486 offensive snaps. The Eagles are hoping for better health and better production from each of Arcega-Whiteside, DeSean Jackson and Alshon Jeffery (if he isn't traded), but they also figure to use at least one early draft pick on a wide receiver. There's also time to add a veteran or two, though the top names on the free agent market have already signed elsewhere.
JJ Arcega-Whiteside player page.
March 26, 2020 9:06 AM EST
---
Alshon Jeffery, Aware of negative rumors
Eagles GM Howie Roseman referred to Jeffery (foot) as "the elephant in the room" when he spoke to reporters Thursday, adding that the priority for the wide receiver is to get healthy, Dave Zangaro of NBC Sports Philadelphia reports.
Analysis: Roseman also acknowledged that Jeffery is aware of what's being said about him, presumably including trade rumors and (unconfirmed) reports of a fractured relationship with quarterback Carson Wentz. Roseman gave the impression Jeffery is still part of the plan in Philadelphia, but Eliot Shorr-Parks of Sports Radio 94 WIP Philadelphia is quick to note that the Eagles GM has every incentive to project that image, regardless of what the plan actually is. Jeffery is in the midst of a lengthy recovery process from Lisfranc surgery in December, entering the third season of a four-year contract with a full guarantee for his $9.91 million base salary in 2020. The Eagles thus have no incentive to release him, but they might be able to find a trade.
March 26, 2020 8:49 AM EST
---