Saquon Barkley
New York Giants
Running Back #26
New York Giants
Running Back #26
Photo: Icon Sportswire
Personal
| | |
| --- | --- |
| Age | 24 |
| Birthdate | February 7, 1997 |
| Height | 6'0" |
| Weight | 233 lb |
Draft
College
Penn State
Year
2018
Pick
Round: 1, Overall: 2
Team
NYG
Fantasy Value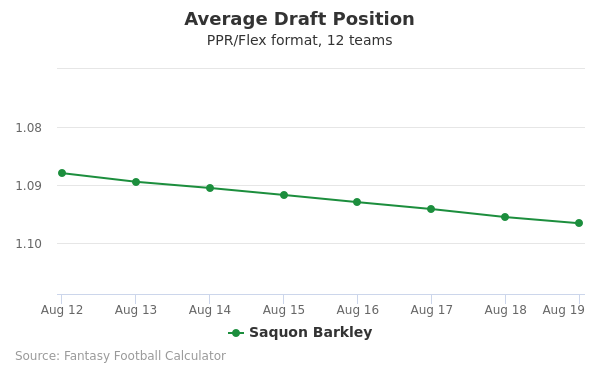 The code below will display a graph that updates every day to show the ADP data for Saquon Barkley for the past 30 days in 12-team PPR leagues.
You may use this graph on your website for free with a link back to this page for attribution.
Player News
Saquon Barkley: Making progress in rehab
Coach Joe Judge said Barkley (knee) has shown "tangible progress" while doing rehab work that mirrors what the Giants do in practice, Jim Wyatt of the Titans' official site reports.
Analysis: The running back seems to be running, jumping and cutting at full speed, but he hasn't been cleared to practice, leaving Devontae Booker as the Giants' top back early in training camp. Barkley should eventually get in on the fun at camp, though an appearance in a preseason game this August seems unlikely. He's thus far been unwilling to comment on a rehab timeline or make any comments about a potential return date, leading to speculation that he could miss Week 1. However, a return to practice within the next couple weeks likely would put Barkley on track for the season opener.
Aug. 2, 2021 7:00 AM EST
Player Stats
YEAR
TM
GM
Rushing
Receiving
ATT
YDS
YPC
TD
FUM
REC
TGT
%
YDS
TD
YPC
2018
NYG
16
261
1,307
5.0
11
0
91
121
75.2
721
4
7.9
2019
NYG
16
217
1,003
4.6
6
0
52
73
71.2
438
2
8.4
2020
NYG
2
19
34
1.8
0
0
6
9
66.7
60
0
10.0
Recent Articles
Saquon Barkley's 2020 season came to an abrupt stop after suffering a torn ACL against the Chicago Bears in Week 2. This also came with...
Read more »
June 17, 2021. Premium
Who Should You Start?
Who Should You Draft?