Saquon Barkley
New York Giants
Running Back #26
New York Giants
Running Back #26
Photo: Icon Sportswire
Personal
| | |
| --- | --- |
| Age | 24 |
| Birthdate | February 7, 1997 |
| Height | 6'0" |
| Weight | 233 lb |
Draft
College
Penn State
Year
2018
Pick
Round: 1, Overall: 2
Team
NYG
Fantasy Value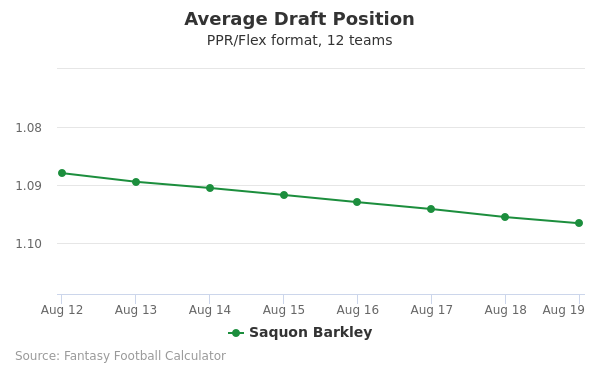 The code below will display a graph that updates every day to show the ADP data for Saquon Barkley for the past 30 days in 12-team PPR leagues.
You may use this graph on your website for free with a link back to this page for attribution.
Player News
Saquon Barkley: Locked in through 2022
The Giants picked up the fifth-year option on Barkley's (knee) rookie contract Wednesday, Adam Schefter of ESPN reports.
Analysis: Following this decision, Barkley will earn a shade over $7.2 million guaranteed during the 2022 campaign. Currently in the midst of his recovery from a torn ACL in Week 2 of last season, he's on pace to be ready for Week 1 once September arrives. At the moment, Devontae Booker is the primary backup to Barkley, barring a selection in the upcoming NFL Draft.
Apr. 28, 2021 2:55 PM EST
Player Stats
YEAR
TM
GM
Rushing
Receiving
ATT
YDS
YPC
TD
FUM
REC
TGT
%
YDS
TD
YPC
Recent Articles
With the 2020 fantasy season finishing, many players deserve recognition for their performance in a season unlike any other. Between...
Read more »
January 7, 2021. Premium
Providing key insights on the most important Dynasty League fantasy football news, one week at a time.
Read more »
December 10, 2020. Premium
December 10, 2020
Premium
Week 13 rivals Week 12 in terms of being a bit boring on the waiver wire, but we are seeing a few players start to pop thanks to...
Read more »
December 1, 2020. Premium
Who Should You Start?
Who Should You Draft?