Antonio Gibson
Washington Redskins
Running Back #24
Washington Redskins
Running Back #24
Photo: Icon Sportswire
Personal
| | |
| --- | --- |
| Age | 23 |
| Birthdate | June 23, 1998 |
| Height | 6'0" |
| Weight | 228 lb |
Draft
College
Memphis
Year
2020
Pick
Round: 3, Overall: 66
Team
WAS
Fantasy Value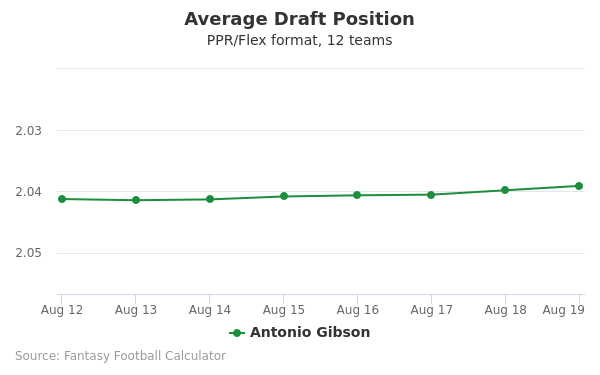 The code below will display a graph that updates every day to show the ADP data for Antonio Gibson for the past 30 days in 12-team PPR leagues.
You may use this graph on your website for free with a link back to this page for attribution.
Player News
Antonio Gibson: Shines at OTAs despite toe issue
Gibson (toe) hasn't shown any limitations during OTAs in June, John Keim of ESPN.com reports.
Analysis: Running backs coach Randy Jordan and head coach Ron Rivera both had lofty praise for Gibson, with Jordan even using the term "night and day" to describe the running back's development since last year. However, it wasn't all good news coming out of OTAs, as Gibson revealed he's still receiving treatment for the toe injury that sidelined him for Weeks 14 and 15 of his rookie season. It sounds like a matter of maintenance rather than an acute issue, considering Gibson was a full participant in every workout that was open to the media. There's certainly some risk of re-injury, but the toe shouldn't prevent Gibson from practicing at the start of training camp, where he'll be locked in as Washington's starting running back and lead ballcarrier.
Jun. 28, 2021 8:31 AM EST
Player Stats
YEAR
TM
GM
Rushing
Receiving
ATT
YDS
YPC
TD
FUM
REC
TGT
%
YDS
TD
YPC
2020
WAS
16
170
795
4.7
11
2
36
44
81.8
247
0
6.9
Recent Articles
In this article we will take a quick look at the dynasty fantasy football landscape, noting who is rising, who is falling, and who are...
Read more »
July 24, 2021. Premium
Week 1 of the playoffs is played over two days, so we will be lumping all six games into one article this week. DraftKings (and other...
Read more »
January 8, 2021. Premium
This week, instead of the usual topics, I thought it would be fun to look at the fastest dynasty trade value risers heading into the 2021 season.
Read more »
January 7, 2021. Premium
Who Should You Start?
Who Should You Draft?