D'Andre Swift
Detroit Lions
Running Back #32
Detroit Lions
Running Back #32
Photo: Icon Sportswire
Personal
| | |
| --- | --- |
| Age | 22 |
| Birthdate | January 14, 1999 |
| Height | 5'8" |
| Weight | 212 lb |
Draft
College
Georgia
Year
2020
Pick
Round: 2, Overall: 35
Team
DET
Fantasy Value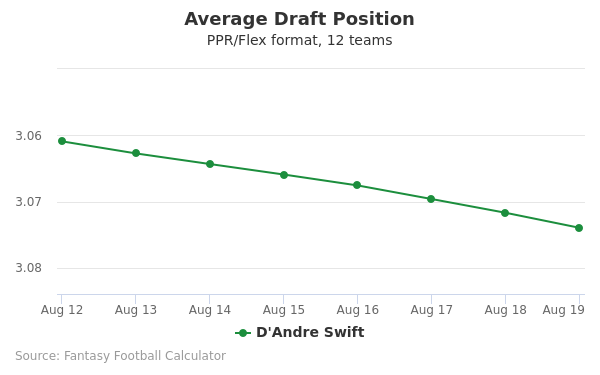 The code below will display a graph that updates every day to show the ADP data for D'Andre Swift for the past 30 days in 12-team PPR leagues.
You may use this graph on your website for free with a link back to this page for attribution.
Player News
D'Andre Swift: Heavy workload incoming
Assistant head coach Duce Staley made it sound like Swift's role could significantly grow in 2021, suggesting that the "star" and "three-down back" could have 25 touches per game, Benjamin Raven of MLive.com reports.
Analysis: Staley's comments are clearly an exaggeration considering no running back reached 25 touches per game in 2020. The only one who came close to reaching that feat, Derrick Henry, wasn't sharing time with another running back like Swift probably will be with Jamaal Williams, who was guaranteed over $3 million by Detroit in free agency this spring. However, given how many high-value touches Swift is expected to see in the passing game and around the goal line this year, the second-year pro probably won't need to see Henry-level usage to pay off his rising third-round ADP. After all, someone like Alvin Kamara -- who Swift is regularly compared to -- became a fantasy stalwart without ever topping 18.4 touches per game in any one season.
Jul. 22, 2021 2:45 PM EST
Player Stats
YEAR
TM
GM
Rushing
Receiving
ATT
YDS
YPC
TD
FUM
REC
TGT
%
YDS
TD
YPC
2020
DET
16
114
521
4.6
8
2
46
57
80.7
357
2
7.8
Recent Articles
This is it, championship week for fantasy football. All of the FAB and time spent on waiver wire pickups, and countless start/sit...
Read more »
December 24, 2020. Premium
December 24, 2020
Premium
Top picks for your Thanksgiving FanDuel slate. 
Read more »
November 26, 2020. Premium
November 26, 2020
Premium
Providing key insights on the most important Dynasty League fantasy football news, one week at a time.
Read more »
November 19, 2020. Premium
November 19, 2020
Premium
Who Should You Start?
Who Should You Draft?