Deebo Samuel
San Francisco 49ers
Wide Receiver #1
San Francisco 49ers
Wide Receiver #1
Photo: Icon Sportswire
Personal
| | |
| --- | --- |
| Age | 25 |
| Birthdate | January 15, 1996 |
| Height | 5'11" |
| Weight | 214 lb |
Draft
College
South Carolina
Year
2019
Pick
Round: 2, Overall: 36
Team
SF
Fantasy Value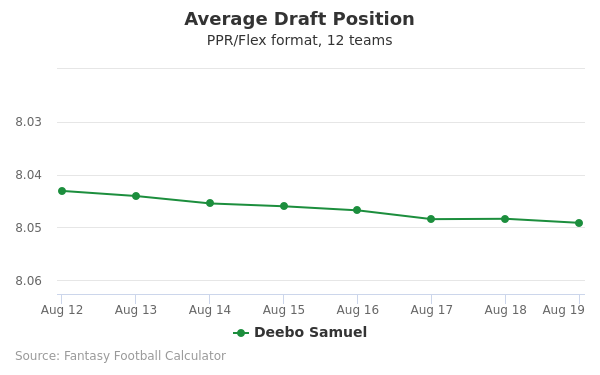 The code below will display a graph that updates every day to show the ADP data for Deebo Samuel for the past 30 days in 12-team PPR leagues.
You may use this graph on your website for free with a link back to this page for attribution.
Player News
Deebo Samuel: Won't play final two weeks
Head coach Kyle Shanahan reaffirmed Tuesday that Samuel (hamstring) won't play in either of the 49ers' final two games of the season, Jennifer Lee Chan of NBC Sports Bay Area reports.
Analysis: Just over a week ago, Shanahan said Samuel would be shut down for the regular season, but the coach left the door open for the wideout to return to action during a potential postseason run. However, after the 49ers were officially eliminated from playoff contention following Sunday's loss to the Cowboys, Samuel will now have to wait until 2021 to see his next competitive action. The second-year player only suited up in seven games for the 49ers this season, but he was productive during his time on the field with 33 receptions for 391 yards and a touchdown to go with 26 more yards on the ground.
Dec. 23, 2020 8:58 AM EST
Player Stats
YEAR
TM
GM
Receiving
Rushing
REC
TGT
%
YDS
TD
YPC
ATT
YDS
YPC
TD
FUM
Recent Articles
Week 14 went on without any weird hitches, which is a nice return to normal after a few weeks of schedule changes.  We did see a few...
Read more »
December 14, 2020. Premium
December 14, 2020
Premium
So far, injuries continue to overshadow the Covid-19 situation during the 2020 season. With a number of stars already out for the season...
Read more »
November 29, 2020. Premium
November 29, 2020
Premium
With a lot of COVID-related cases popping up over this past week, waiver-wire pickups continue to be important. Start and sit decisions...
Read more »
November 5, 2020. Premium
Who Should You Start?
Who Should You Draft?