Diontae Johnson
Pittsburgh Steelers
Wide Receiver #3
Pittsburgh Steelers
Wide Receiver #3
Photo: Icon Sportswire
Personal
| | |
| --- | --- |
| Age | |
| Birthdate | None |
| Height | 5'10" |
| Weight | 183 lb |
Draft
College
Toledo
Year
2019
Pick
Round: 3, Overall: 66
Team
PIT
Fantasy Value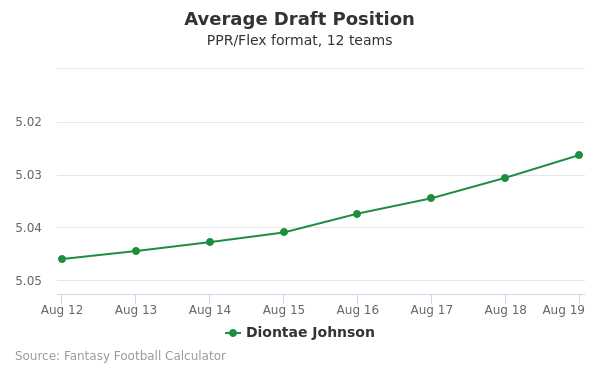 The code below will display a graph that updates every day to show the ADP data for Diontae Johnson for the past 30 days in 12-team PPR leagues.
You may use this graph on your website for free with a link back to this page for attribution.
Player News
Diontae Johnson: Finds end zone in losing effort
Johnson had five receptions (10 targets) for 34 yards and a touchdown in Sunday's 42-21 loss to the Steelers.
Analysis: Johnson finished first among all Pittsburgh receiving option with 10 targets even with JuJu Smith-Schuster returning for Ben Roethlisberger's swan song. The 24-year-old finished the regular season with team highs in receptions (107) and receiving yardage (1,161) while cashing in eight scores. Johnson was already usurping the veteran Smith-Schuster before the latter went down to injury earlier this year, but the Steelers' quarterback situation in 2022 will determine how much fantasy value Johnson will carry next season.
Jan. 17, 2022 1:01 AM EST
Player Stats
YEAR
TM
GM
Receiving
Rushing
REC
TGT
%
YDS
TD
YPC
ATT
YDS
YPC
TD
FUM
2019
PIT
16
59
92
64.1
680
5
11.5
4
41
10.2
0
2
2020
PIT
16
88
144
61.1
923
7
10.5
3
15
5.0
0
1
Recent Articles
Your FanDuel Values and Busts for NFL Wild Card Weekend 2022
Read more »
January 16, 2022. Premium
Top value picks and players to avoid for your DraftKings Sunday slate competitions.
Read more »
January 16, 2022. Premium
Week 14's Dynasty Week In Review is here for Minshew Mania, is afraid of the Seattle situation, and needs Big Ben to retire yesterday.
Read more »
December 12, 2021. Premium
December 12, 2021
Premium
Who Should You Start?
Who Should You Draft?