Dustin Hopkins
Los Angeles Chargers
Place Kicker #3
Los Angeles Chargers
Place Kicker #3
Photo: Icon Sportswire
Personal
| | |
| --- | --- |
| Age | 31 |
| Birthdate | October 1, 1990 |
| Height | 6'2" |
| Weight | 193 lb |
Draft
College
Florida State
Year
2013
Pick
Round: 6, Overall: 177
Team
BUF
Fantasy Value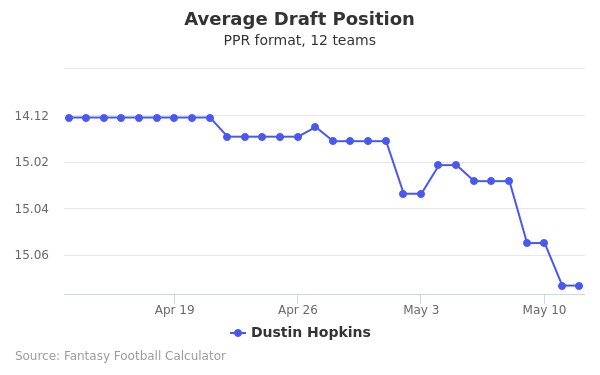 The code below will display a graph that updates every day to show the ADP data for Dustin Hopkins for the past 30 days in 12-team PPR leagues.
You may use this graph on your website for free with a link back to this page for attribution.
Player News
Dustin Hopkins: Lands extension with Chargers
Hopkins will sign a three-year, $9 million extension with the Chargers on Sunday, Adam Caplan of SiriusXM NFL Radio reports.
Analysis: Hopkins was let go by Washington midway through the 2021 season, but he latched on with the Chargers for the final 11 games of the year. During his time in Los Angeles, he converted 18 of 20 field-goal attempts and 30 of 32 extra-point tries. The 31-year-old will return to the team on a multi-year deal that includes $4.6 million of guaranteed money.
Mar. 13, 2022 7:00 PM EST
Player Stats
YEAR
TM
GM
Kicking
FGM
FGA
FG%
EPM
EPA
EP%
2013
BUF
5
0
0
0
0
0
0
2015
WAS
15
25
28
89.3
39
40
97.5
2016
WAS
16
34
42
81.0
36
39
92.3
2017
WAS
14
14
17
82.4
18
19
94.7
2018
WAS
16
26
29
89.7
25
26
96.2
2019
WAS
16
25
30
83.3
21
22
95.5
2020
WAS
16
27
34
79.4
30
32
93.8
Recent Articles
Week 14 marks the last regular-season game in most leagues and now is not the time to get fancy with your lineup. A win means you're in...
Read more »
December 10, 2021. Premium
December 10, 2021
Premium
Streaming options and players you must consider for your lineup in this week's edition of Start 'Em or Sit 'Em. 
Read more »
September 16, 2021. Premium
September 16, 2021
Premium
We've seen waiver-wire pickups continue to be an important part of fantasy football and some have even become full-time starters for...
Read more »
December 3, 2020. Premium