Julio Jones (WR) #11
| | |
| --- | --- |
| ADP: | Round: 1, Pick: 12 |
| Team: | Atlanta |
| Ht / Wt: | 6'3" / 220 lb. |
| College: | Alabama |
| Age: | 27 |
| Born: | February 3, 1989 |
| Drafted: | 2011 / Rd. 1 (6) |
| Draft Team: | ATL |
Injury Status - Week 18
Not on injury report
.
News
May get improved contract terms
Tuesday, January 29, 11:20 AM
Falcons general manager Thomas Dimitroff said Jones (chest) may have his contract addressed during the offseason, Matthew Tabeek of the team's official site reports.
.
Average Draft Position (ADP) Value
March 25, 2019
Julio Jones's fantasy value is measured by his average draft position (ADP) in fantasy football mock drafts. In recent drafts, Jones's current ADP is 1.12, which indicates that his fantasy outlook is to be the 12th pick of the 1st round, and 12th selection overall.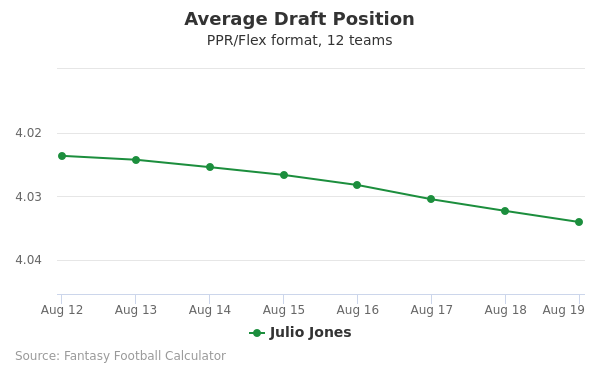 The code below will display a graph that updates every day to show the ADP data for Julio Jones for the past 30 days in 12-team PPR leagues.
You may use this graph on your website for free with a link back to this page for attribution.
Data from fantasy football 12-team standard scoring average draft position data, based off of the latest fantasy football mock drafts.
Recent drafts with Julio Jones:
| Draft # | Date | Format | Jones's Draft Pick |
| --- | --- | --- | --- |
| 5961896 | 3/25/2019 | Standard | 17th |
| 5961804 | 3/25/2019 | Standard | 13th |
| 5961800 | 3/25/2019 | Standard | 16th |
| 5961795 | 3/25/2019 | Standard | 13th |
| 5961702 | 3/25/2019 | Standard | 12th |
| 5961586 | 3/25/2019 | Standard | 14th |
| 5961497 | 3/25/2019 | Standard | 14th |
| 5961381 | 3/25/2019 | Standard | 18th |
| 5961281 | 3/25/2019 | Standard | 10th |
Players drafted after Julio Jones:
.
Julio Jones Biography
Julio Jones, birth name Quintorris Lopez Jones, is a wide receiver for the Atlanta Falcons. He most notably kicked off his career playing college football for the Crimson Tide, where Jones assisted in leading the Crimson Tide to a 14-0 season and a win in the 2010 BCS National Championship Game, but was later drafted into the Atlanta Falcon's sixth overall in the 2011 draft.

High School Beginnings
Jones played wide receiver for Foley High School in Foley, Alabama from 2004 to 2007. As a rookie, Jones received recognition for his 75 caught passes and 16 touchdowns. While participating for the High School Under Armour All-American Game at the Boston Rouge Nike Camp, he accomplished a 4.55 second 40-yard dash and an event best with a 38.6 inch vertical jump in May, 2007. Jones was also a standout track athlete, and attained the title of state champion long jumper and triple jumper in 2006 and 2007, and was named the 2006-2007 Gatorade T&F Athlete Of The Year in Alabama. During the all-country selection in 2005, 06, and 07, he was named All-Country selection, and in 2007 he won Mr. Alabama Track & Field athlete of the year. He less notably competed as a sprinter in 2008.
College
As a generally favorite player for the Crimson Tide, Jones was the first freshman receiver to start in a season opener for the Tide, where Jones scored a 34-10 rout touchdown and caught 4 passes.
Combine Jones's 5 passes for 94 yards and a 22 yard touchdown reception against the Georgia Bulldogs, and you see Jones's breakthrough performance. During his sophomore year, he went into a bit of a sophomore slump. But during a game against LSU, Jones attained his first 100 yard performance of that season. With 4 catches and 102 yards, he scored the winning touchdown in Alabama's 24-15 win. Jones was a key player in the annual Iron Bowl game against their rival; Auburn, where he caught 3 very crucial third down passes in just 8 minutes.
NFL
Jones decided to skip his senior season of college football in pursuit of the NFL Draft. Soon after, he was invited to the All-Star Football College by ESPN. He later scored the longest long jump and 3rd fastest 40 time dash among receivers, despite a broken bone in his foot. Jones officially came to terms with the Atlanta Falcons in 2011 after he signed a four year contract that was worth $16.2 million. His first NFL touchdown was against the Indianapolis Colts later that year. The following year, Julio scored 10 touchdowns, 79 receptions, and was even selected for the 2013 Pro Bowl. Jones and Roddy White were the first 1,000 yard receiving tandem for the falcons since 1998. They finished the season 13-3 and attained top seed for the NFL playoffs. Jones's first career interception was on the final play in a Hail Mary pass attempt in the division playoff game against the Seattle Seahawks. In 2015, Jones signed a 5 year contract with a $71.5m salary with the Falcons, and later set a Falcons record; ending the 2015 season with 1,871 yards. He set a franchise record, which highlights his career with 136 receptions, and in 2016, was named First-team All-pro for the second consecutive year. He can be found on Twitter at @juliojones_11
.
Player Comparison
Who should you draft?
Julio Jones or Odell Beckham Jr
JuJu Smith-Schuster or Julio Jones
Julio Jones or Leonard Fournette