Larry Fitzgerald (WR) #11
| | |
| --- | --- |
| ADP: | Round: 9, Pick: 6 |
| Team: | Arizona |
| Ht / Wt: | 6'3" / 218 lb. |
| College: | Pittsburgh |
| Age: | 33 |
| Born: | August 31, 1983 |
| Drafted: | 2004 / Rd. 1 (3) |
| Draft Team: | ARZ |
Injury Status - Week 18
Not on injury report
.
News
Will make nearly $16M in 2019
Thursday, January 24, 5:52 AM
The one-year extension Fitzgerald agreed to with the Cardinals on Wednesday will include a $4.85 million signing bonus in addition to a $11 million base salary, Field Yates of ESPN reports.
.
Average Draft Position (ADP) Value
March 22, 2019
Larry Fitzgerald's fantasy value is measured by his average draft position (ADP) in fantasy football mock drafts. In recent drafts, Fitzgerald's current ADP is 9.06, which indicates that his fantasy outlook is to be the 6th pick of the 9th round, and 102nd selection overall.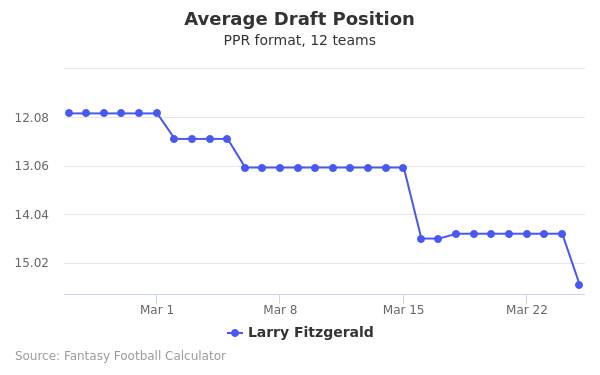 The code below will display a graph that updates every day to show the ADP data for Larry Fitzgerald for the past 30 days in 12-team PPR leagues.
You may use this graph on your website for free with a link back to this page for attribution.
Data from fantasy football 12-team standard scoring average draft position data, based off of the latest fantasy football mock drafts.
Recent drafts with Larry Fitzgerald:
| Draft # | Date | Format | Fitzgerald's Draft Pick |
| --- | --- | --- | --- |
| 5947772 | 3/22/2019 | Standard | 104th |
| 5947133 | 3/22/2019 | Standard | 108th |
| 5947130 | 3/22/2019 | Standard | 108th |
| 5947041 | 3/22/2019 | Standard | 110th |
| 5947032 | 3/22/2019 | Standard | 108th |
| 5947029 | 3/22/2019 | Standard | 109th |
| 5947028 | 3/22/2019 | Standard | 108th |
| 5946847 | 3/21/2019 | Standard | 117th |
| 5946844 | 3/21/2019 | Standard | 108th |
| 5946842 | 3/21/2019 | Standard | 105th |
Players drafted after Larry Fitzgerald:
.
Larry Fitzgerald Biography
Childhood
Born Larry Darnell Fitzgerald Jr. on the 31st of August 1983. He was born in Minnesota, Minneapolis to Carol Fitzgerald and Larry Fitzgerald Sr., a prominent sportswriter in the Minnesota area. Larry Sr. worked in both print and radio and did about thirty years as sports editor and columnist for the Minnesota Spokesman-Recorder, a vertical career he began at Indiana State University as a Communications major.
Larry Jr. worked as the ball boy for the Minnesota Vikings as a teenager, giving him the opportunity to meet professional football players, Randy Moss and Cris Carter. He spent a lot of time around sports, while his father was in the press box, and he and his brothers got to meet the baseball pros.
He attributed learning a lot of work ethics in this period of his life. His mother Carol was a steadying influence in his life who influenced him to combine an education and get a college degree alongside his football career.
High school
Fitzgerald was two times an All-state, prep All- American high school football receiver while playing at the Academy of the Holy Angels High school. Fitzgerald had a record of 73 receptions for 1,254 yards and 17 touchdowns as a senior, 54 catches for 1,347 yards, 12 touchdowns, and ten consecutive 100-yard receiving games as a junior.
College career
Larry Fitzgerald attended the University of Pittsburgh and played for the Pittsburgh Panthers under Coach Walt Harris. Larry was considered as one of the best college wide receivers for between 2002 and 2003. He got recognition for best NCAA player with the Walter Camp 2003 award (the first sophomore to get the honor) and Touchdown Club of Columbus's Chic Harley Award, plus Touchdown Club's Paul Warfield Award and he was a runner-up Heisman Trophy awardee. He played a total of 26 games with the Panthers, in which he caught a total of 161 passes for some 2,677 yards while setting a new Pittsburgh record of 34 receiving touchdowns, and a Pitts record setter for back to back 1000yard receiving touchdowns. He also won the Biletnikoff Award as the top receiver in the country.
He also holds a NCAA record of at least one touchdown catch in 18 straight games. He had a no1 jersey in the Pittsburgh Panthers, which was retired on July 1st, 2013, only the 9th person to receive such an award.
NFL draft
Larry Fitzgerald Jr. officially declared intentions to enter the NFL draft in 2004 after breaking numerous records in his two seasons with the Pittsburgh Panthers. He was selected as a rookie by the Arizona Cardinals with the third overall pick, and the first receiver picked. He has remained with the team, all twelve years of his career. He has been picked six times for Pro Bowl and is currently the fourth in all-time NFL history for the receiving yards (76.0 yards) per game in one career. In 2011, he signed an eight-year contract extension with a salary worth $120 million on the 20th of August.
2015 NFL season
On February 18, Larry signed a multimillion contract worth about $11 million to cover the next two seasons. He caught three touchdown passes in just two weeks against the Chicago Bears, his first tie accomplishing such, during the regular season of his career. Fitzgerald achieved nine touchdowns and 109 catches in 1,215 yards in this season, a feat that got him a 9th Pro Bowl selection.
2016 NFL Season
January 16th had Larry helping Cardinal's quarterback Carson Palmer get the first-time playoff wins of 8 catches for 176yards while playing the only offense the entire overtime. He got a 75-yard reception to open up the overtime, and two plays later got a 5-yard touchdown from Palmer. Fitzgerald is now a ten-time Pro-Bowl honoree, leading all active players with 14,389 receiving yards, 9th best in NFL history.
Personal Life - Highlights
He has two sons, Devin, his first, with then-girlfriend, Angela Nazario; an Oakland Raiders former cheerleader. He lost his mom in April 2003 to breast cancer which she had battled for about seven years before her death. Larry Jr. was committed to getting his college degree because of the promise he had made to her to complete his education. He currently holds a degree in communications and a minor in marketing.
Social media
Twitter; @LarryFitzgerald
Instagram; larryfitzgerald
.
Player Comparison
Who should you draft?
Chicago Defense or Larry Fitzgerald
Larry Fitzgerald or Peyton Barber
Lamar Jackson or Larry Fitzgerald
David Montgomery or Larry Fitzgerald
Isaiah Crowell or Larry Fitzgerald
Gus Edwards or Larry Fitzgerald
Courtland Sutton or Larry Fitzgerald
Dion Lewis or Larry Fitzgerald
Jamaal Williams or Larry Fitzgerald
Carlos Hyde or Larry Fitzgerald
John Brown or Larry Fitzgerald
Dede Westbrook or Larry Fitzgerald
Kareem Hunt or Larry Fitzgerald