Marvin Jones
Jacksonville Jaguars
Wide Receiver #11
Jacksonville Jaguars
Wide Receiver #11
Photo: Icon Sportswire
Personal
| | |
| --- | --- |
| Age | 31 |
| Birthdate | March 12, 1990 |
| Height | 6'2" |
| Weight | 200 lb |
Draft
College
California
Year
2012
Pick
Round: 5, Overall: 166
Team
CIN
Fantasy Value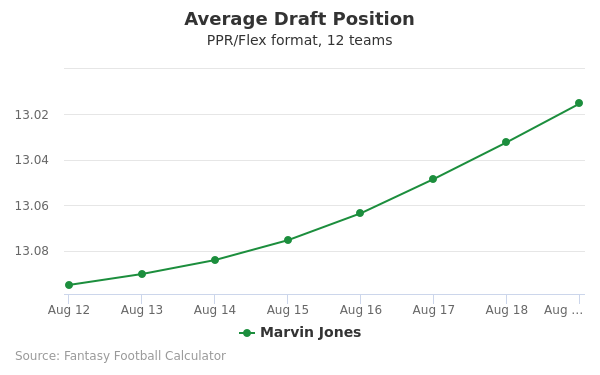 The code below will display a graph that updates every day to show the ADP data for Marvin Jones for the past 30 days in 12-team PPR leagues.
You may use this graph on your website for free with a link back to this page for attribution.
Player News
Marvin Jones: Added by Jaguars
The Jaguars and Jones have agreed to a two-year, $14.5 million deal, Adam Schefter of ESPN reports.
Analysis: Jones' deal with Jacksonville reportedly includes $9.2 million fully guaranteed. At first glance, this looks like a pretty solid value for the team, with the 31-year-old having logged a 76/978/9 stat line for the Lions in 2020. Jones joins a wideout corps that also includes DJ Chark and Laviska Shenault and an Jaguars offense that's soon expected to include next month's projected No. 1 overall draft pick, QB Trevor Lawrence.
Mar. 16, 2021 2:27 PM EST
Player Stats
YEAR
TM
GM
Receiving
Rushing
REC
TGT
%
YDS
TD
YPC
ATT
YDS
YPC
TD
FUM
Recent Articles
Just like that, the fantasy season has come and gone, but over this past week, we had a ton of great performances. In this week's...
Read more »
January 5, 2021. Premium
For most leagues - this was it. Championship week has come and gone and we saw a ton of players who almost single-handedly won you your...
Read more »
December 28, 2020. Premium
December 28, 2020
Premium
Week 15 has a bit fewer selection thanks to two Saturday games, and there are quite a few less "dream" matchups this week as well.  This...
Read more »
December 19, 2020. Premium
December 19, 2020
Premium
Who Should You Start?
Who Should You Draft?